Santa Fe Stuffed Twice Baked Potatoes Topped With A Spicy Mango Salsa
Hi Folks!
Last week was #fruitsandveggiesmonday one year anniversary and as the guest judge I wasn't able to participate in the festivities. Although a fun job and might I add difficult, I am truly glad to back as a contender. Thank you @lenasveganliving for orchestrating this wonderful contest for so long. Your Pad Thai Buddha Bowl looks insanely delicious. Who am I kidding, all of your food looks ridiculously good every week :)
As I've said before, I train for food entries every day (cough cough #foodfightfriday cough) so there is no shortage of my chef-ing progress pictures in my phone. About two weeks ago I fooled around with a twice baked potato recipe: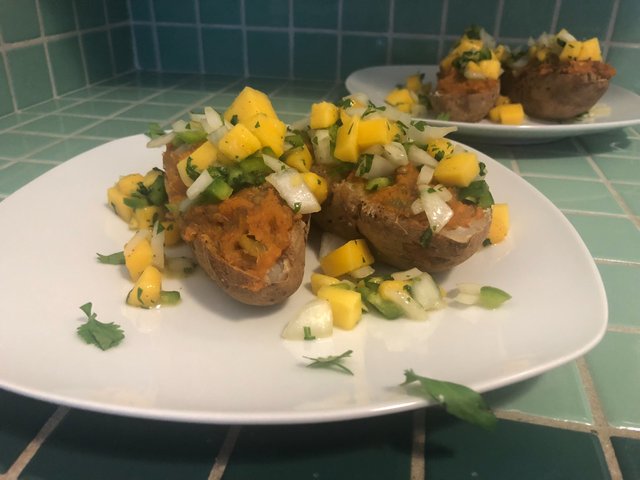 Santa Fe Stuffed Twice Baked Potatoes Topped With A Spicy Mango Salsa
If you can't tell we clearly love mango salsas in my house. The trick is to pick the perfectly ripe mango for the job. I've made the mistake of grabbing a mango I thought would ripen up by salsa time but failed to do so and became the worlds driest mango ever. Haha… don't make the same mistake!
To start, I cook up some lentils (about 45 minutes) and subsequently cook up some quinoa (another 15 minutes). These items will comprise the guts of the twice baked potato. I am simultaneously baking two russet potatoes at 450 that I've dusted in sea salt, black pepper, cumin, oregano and garlic powder.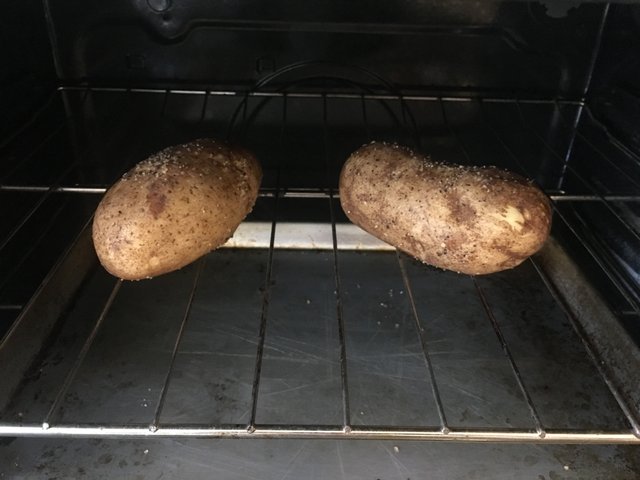 I left a cookie sheet underneath to catch any fallen spice and keep my oven clean :)
While those are baking and lentils are cooking I get started on the mango salsa.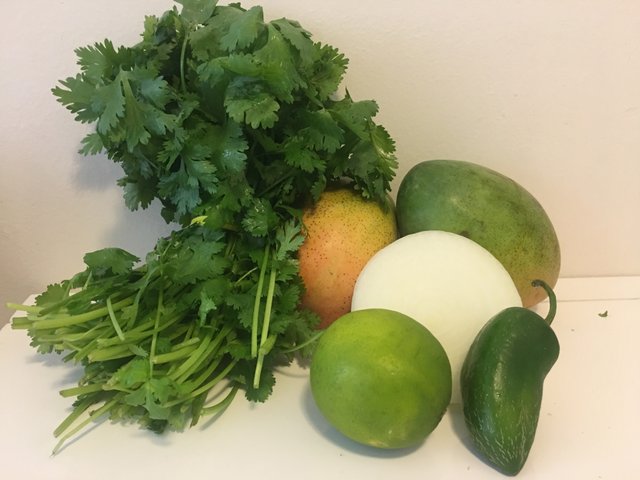 Mango Salsa Ingredients:
2 Mangos (make sure they are ripe)
1/2 Lrg. Sweet Onion
1-2 Jalapeño
1/3 Cup Chopped Cilantro
1 Lime
Salt and pepper to taste!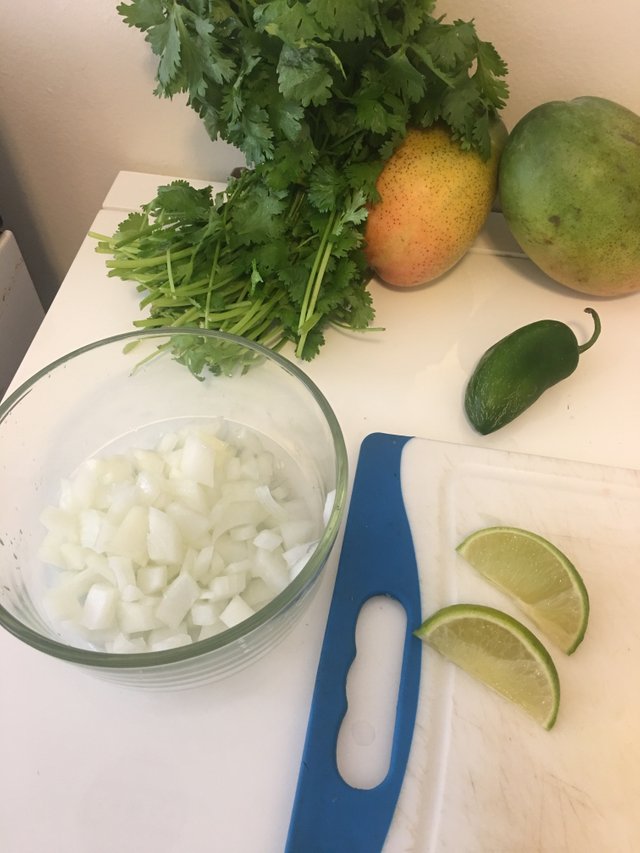 I always start with my onions first because I like to get that lime juice on them right away, giving them time to soak up the flavor.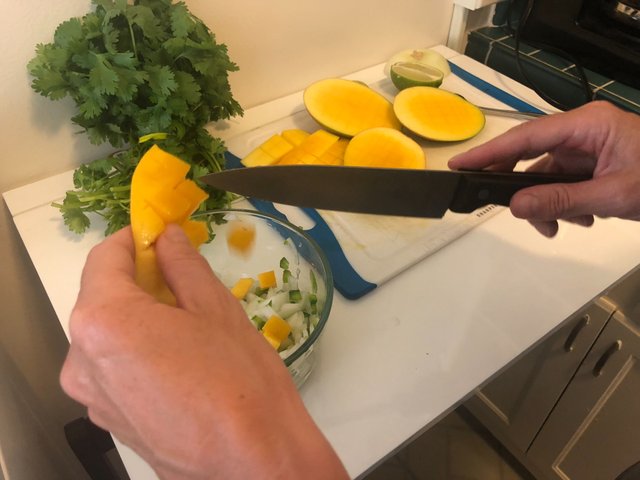 After adding the jalapeño (add as much as you want-to taste) carve the mango. If you've never carved a mango (don't worry, I had to google it myself my first time) all you do is cut along the seed of the mango like you would an avocado. Then take your knife and slice vertical lines down one side then cross them with horizontal lines (try to make square sizes that you'd want to see make up your salsa pieces). Here is the fun part, turn the sliced pieces of mango inside out and gently cut off each square. Taaaaddaaaa… kind of fun right?!?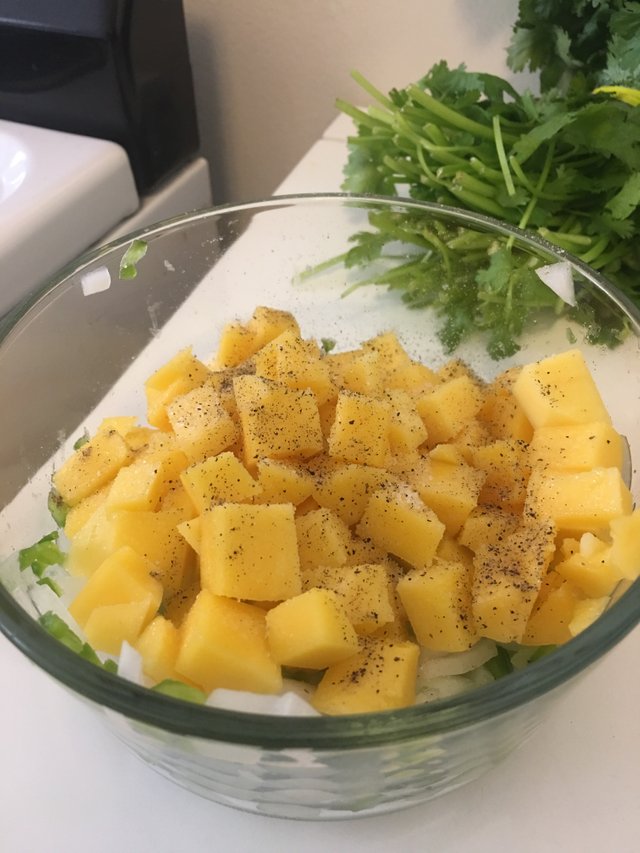 I love pepper so I'm pretty liberal with it. I used a pinch of sea salt and a healthy shake, shake, shake, shake, of pepper before mixing the ingredients this far. Finally I'll add my chopped cilantro…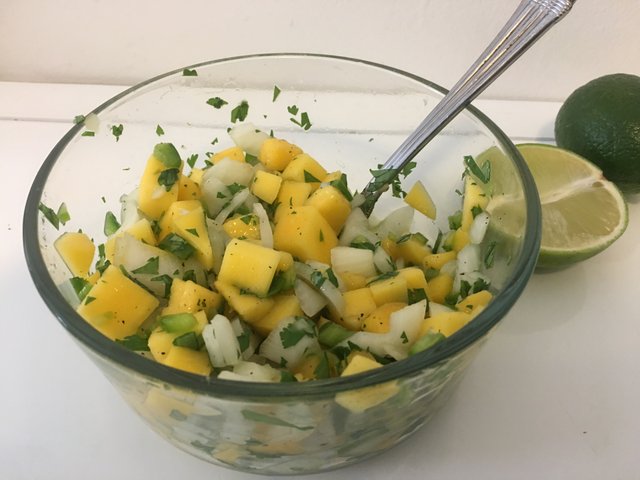 At this point add as much lime juice, sea salt and black pepper as you desire. Mix everything well and put it in the fridge to allow all of the flavors to meld together.
Soon the lentils and quinoa should be done so you can now get started on making the guts of the potato. I have a very limited pots/pans selection so have to make my lentils first followed by my quinoa, which takes a total of about 60 minutes for both.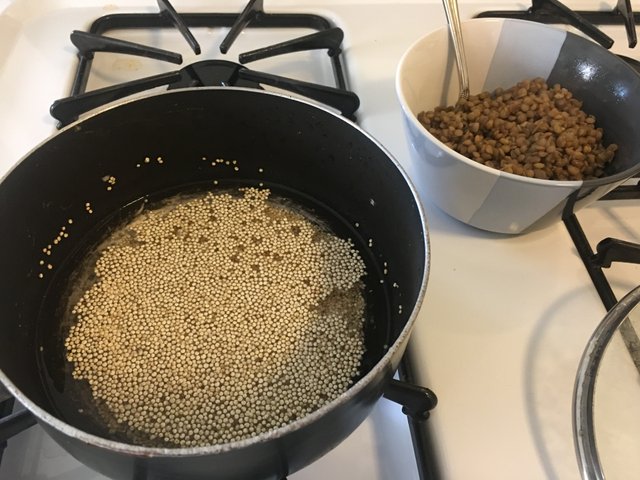 I add in these tid bits about minimalism because there have been far too many recipes I've shyed away from thinking I couldn't do them for lack of equipment. However, upon gutsy trials I've realized that just about anything can be manipulated to work with what you have on hand (except cupcakes, you definitely need a cupcake sheet to make cupcakes 🤷🏼‍♀️).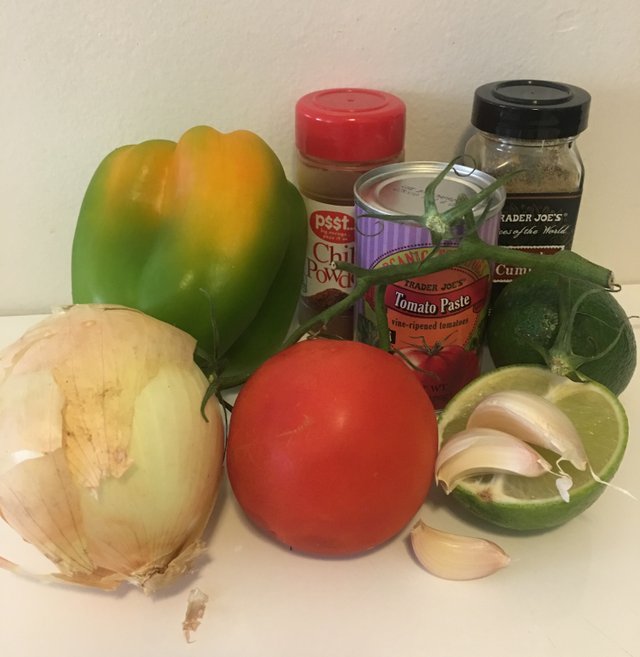 The guts of the potato will be mixed with all of these goodies.
Sant Fe Twice Baked Potato Stuffing:
1 Cup Lentils
1 Cup Quinoa
1 Sweet Onion
1 Green Bell Pepper
3-4 Garlic Cloves (minced)
1 Tomato
3 Tbsp Tomato Paste
1 Tbsp Chili Powder
1 Tbsp Cumin
1/2 Lime Juice
Pinch Cayenne (optional)
Sea Salt and Pepper to taste!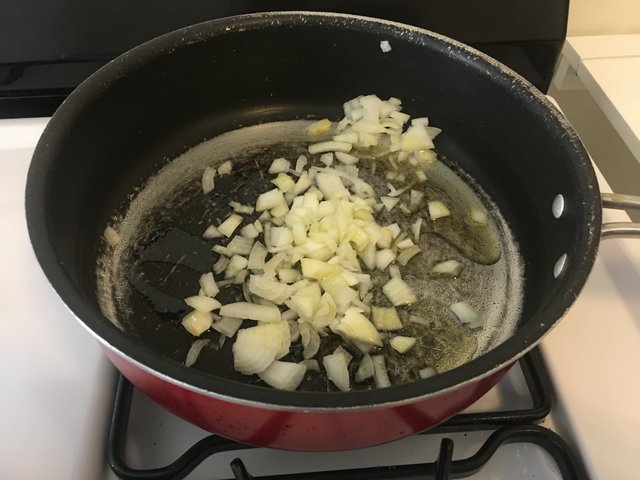 Sauté the chopped onions until fragrant and translucent, then add the bell pepper and do the same. The garlic will go in last and cook just long enough to make your husband say "it smells good already". Add in the cooked quinoa, the goal is to crisp the grains up a little bit.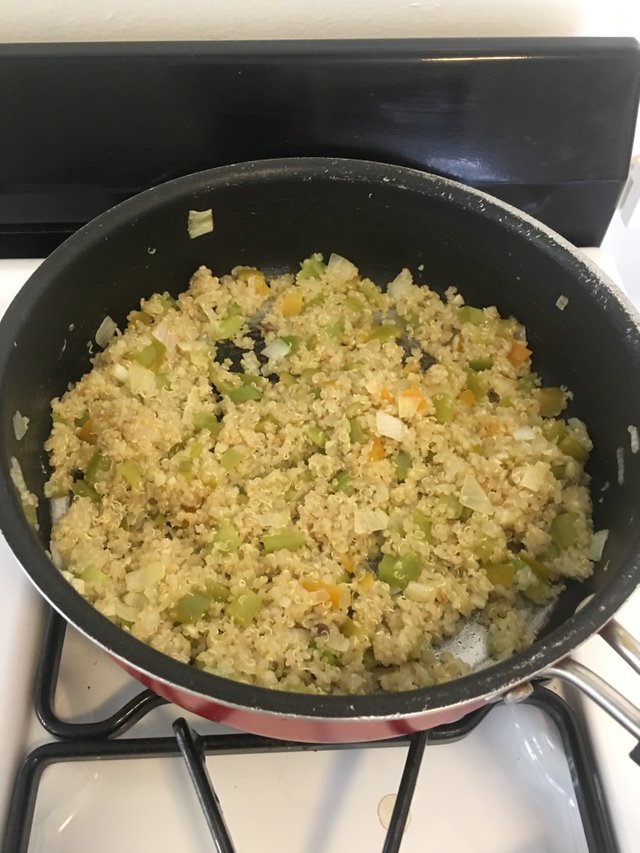 Now, mix in the lentils, diced tomato, chili powder, cumin, other spices, tomato paste and a few tablespoons of water.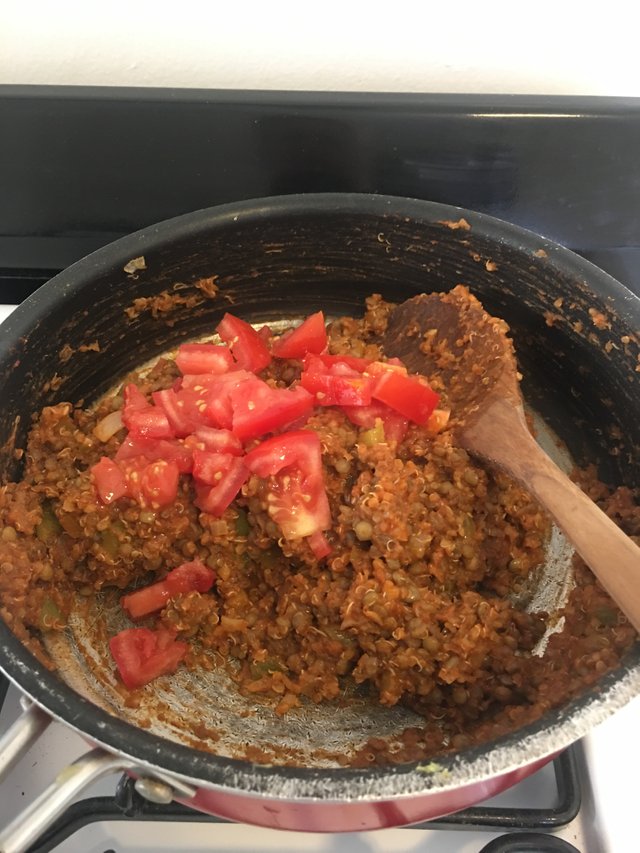 Stir everything together really well and put a lid on it to keep the guts warm. About now the potatoes should be perfectly baked.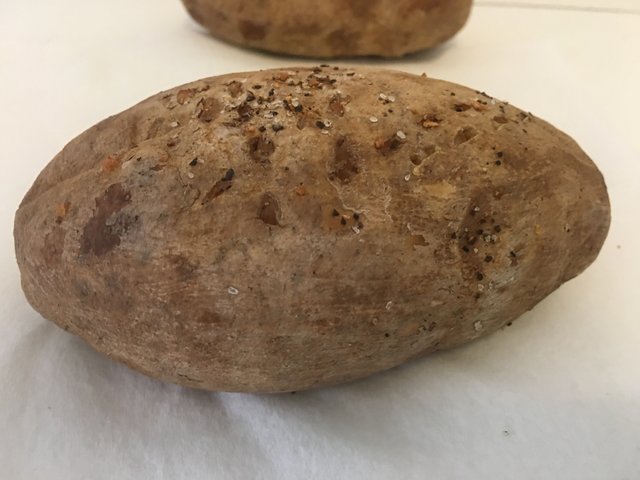 Some would advise waiting 15 minutes or so to gut the potatoes but I'm a rebel and I decide to do so while pissing and moaning about burning my hands :)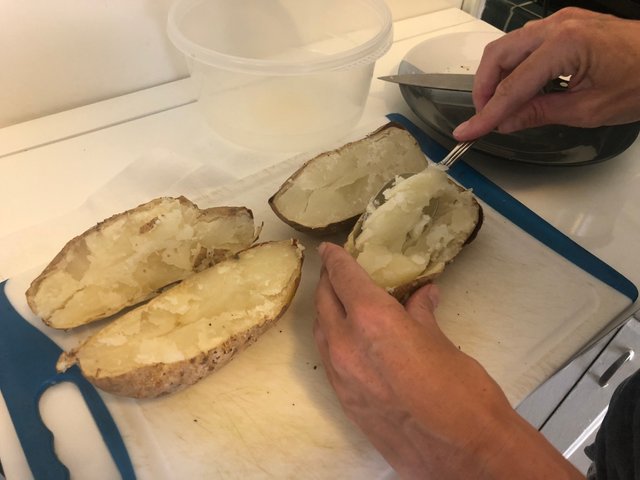 Carefully scoop the inside of the potato into a bowl. I added about a tablespoon of 'Good Earth Butter' and 1/4-1/2 cup of almond milk to the potatoes.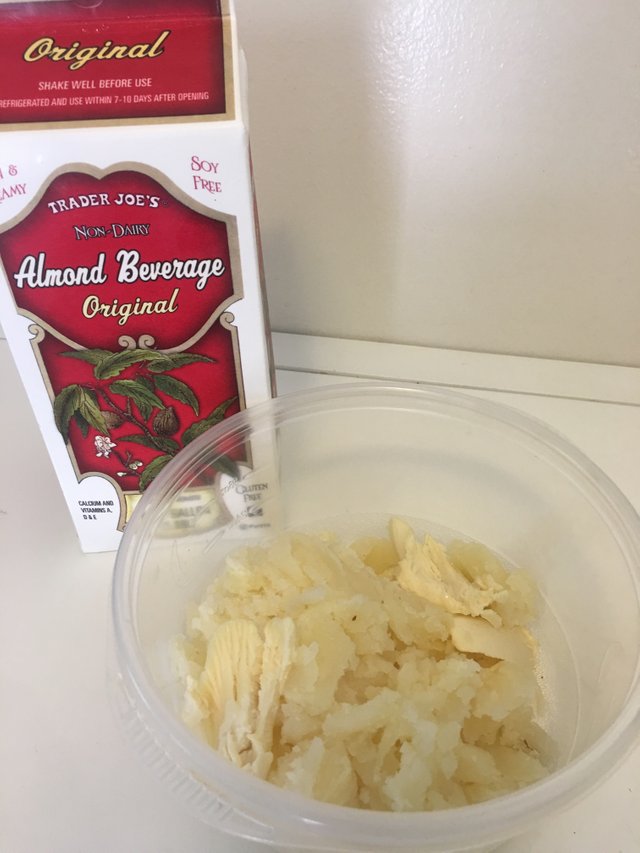 Mash them up real well (I used a fork) and add the potato gut mixture. I also grabbed a brownie dish to bake my stuffed potatoes in.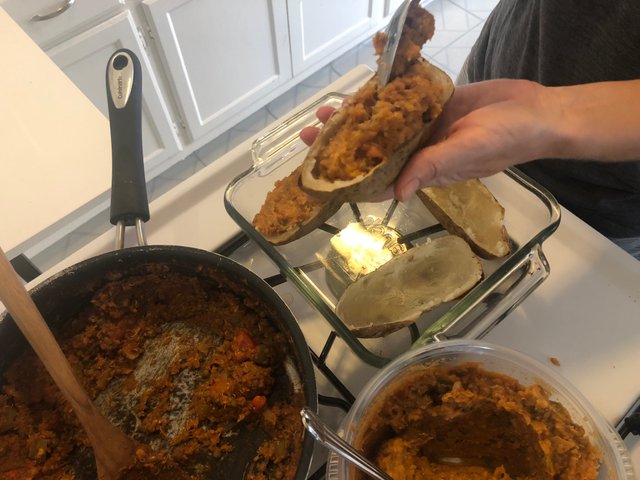 I had a small amount of lentil/quinoa mixture left because I didn't want to overwhelm the potato. This was A-okay with me, it makes for a great taco lunch or a good chip dip.
When stuffing the potato shells don't be afraid to lay it on thick. Once stuffed I pop them back in the oven, at 425, for another 20 minutes.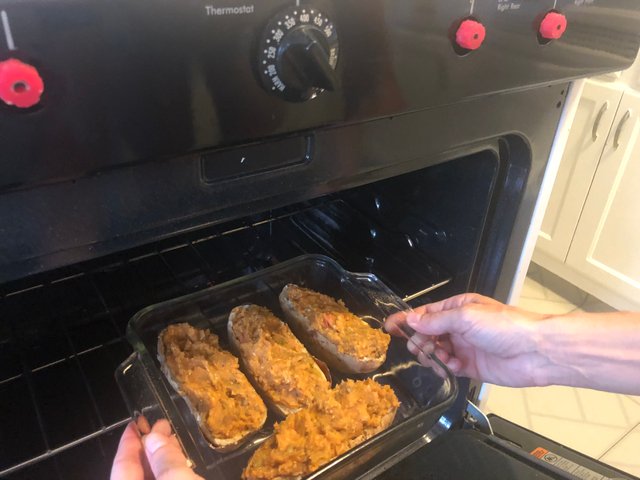 By this time I'm starving and my husband was already sniffing around the potato mixture so we've both worked up quite an appetite. If you're in a rush this recipe might not be a good one as it takes quite a bit of time. I love being in the kitchen and enjoy the process of creating food so for me time isn't an issue. The entire shtick took about 2.5 hrs start to finish (I take my time though, I'm sure some of you can achieve this much sooner than me).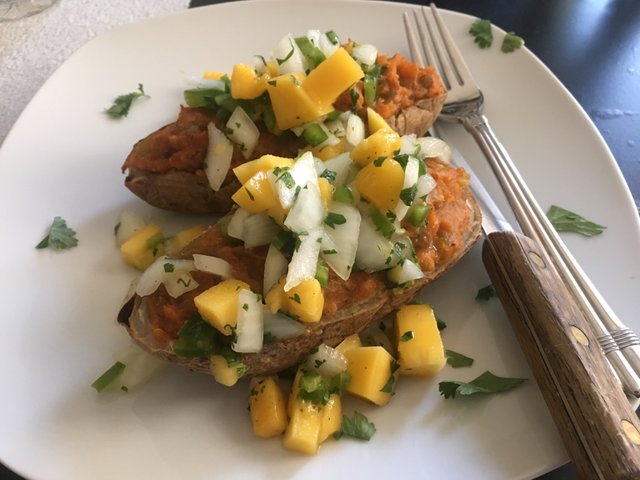 Yes, the extra cilantro sprinkled about was for the plating purposes of #fruitsandveggiesmonday!
Thank you so much for reading my content and enjoying my recipes. It truly brings warmth to my heart that anyone at all likes what I make. All of your support is appreciated and please let me know if you have a go at it yourself- would love to hear about the results!
Thanks again friends and happy Monday to all :)
Pura Vida! ✌️