Quick and Easy Vegan Tzatziki
Happy Monday, my friends!
I was scrolling recipes to find the perfect one for tzatziki. Who knew it's so challenging to decide which recipe you'll try to follow... I ended up on Jamie Oliver's recipe, and I must say, no matter how great a chef he is, no one has two hours to wait for shredded cucumber to drain… So, I speeded up the recipe a little to make it quick and easy, as we love it! Some of you may know how to make tzatziki even in your dreams, but the reason I want to share this recipe is that everyone needs an easy, quick and yummy tzatziki recipe! 😋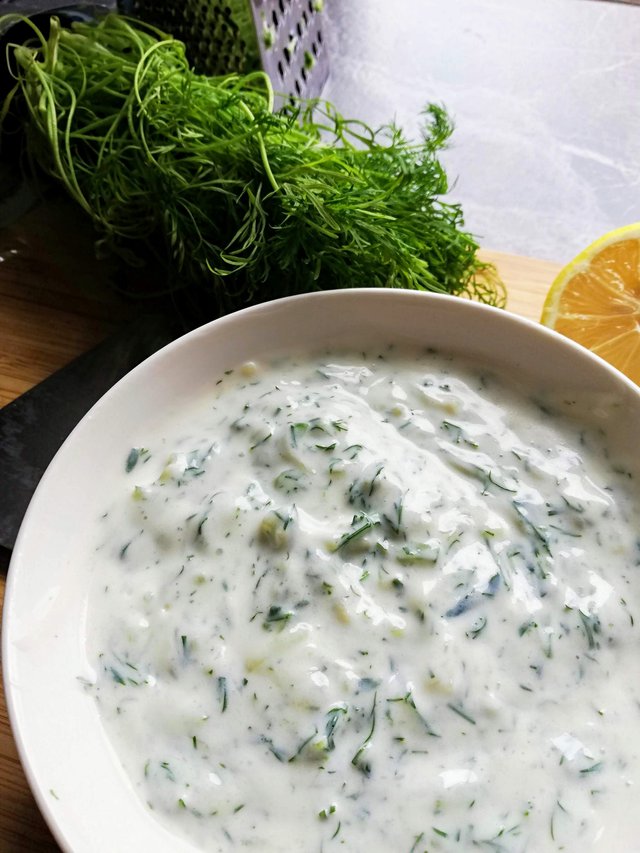 Quick and Easy Tzatziki
Ingredients:
1 cup soy yogurt (I used alpro's unsweetened)
small bunch of fresh dill
1 tbsp vegetable oil
½ lemon
½ cucumber
½-1 clove garlic
salt to taste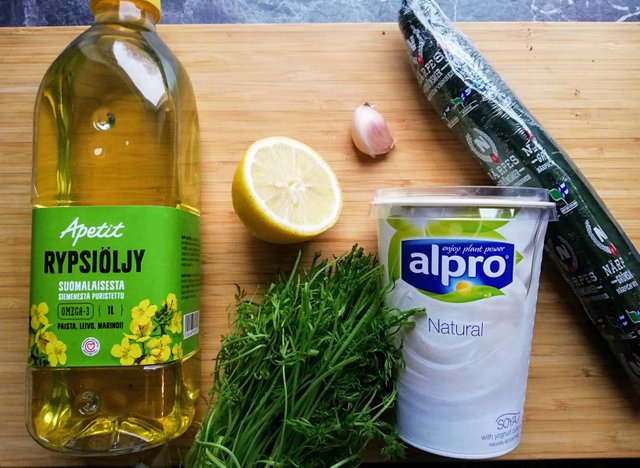 Method:
Cut the cucumber in half and scrape the seeds out. Grate the cucumber and place it into a sieve. Squeeze the grated cucumber against the sieve (you can also use your hands to squeeze the liquid out). Chop the dill and grate the garlic. If you like your tzatziki garlicy, go with one whole clove (or even more!), but if you're more like me, and rather enjoy a subtle taste of garlic, use only half a clove. Mix the soy yogurt, oil, dill, grated cucumber and garlic in a bowl, squeeze in the juice of half a lemon and add salt to taste. Let it sit in the freezer for a while, in that way the taste will be much nicer!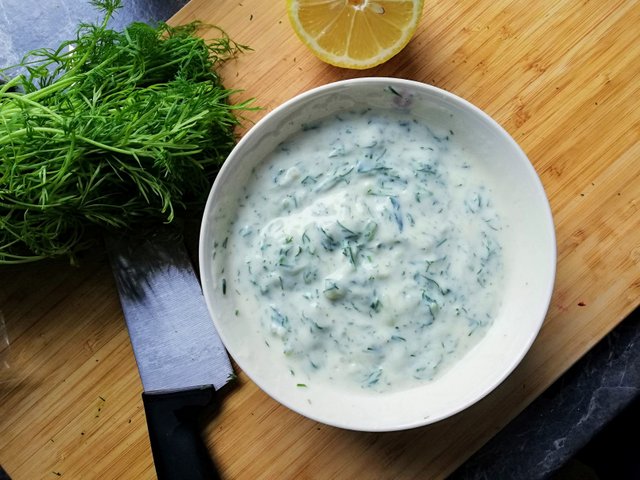 Don't forget that it's Fruits and Veggies Monday again! That means we all should head to Lena's post first of all to praise her amazing Autumn Cookies topped with chocolate and hazelnuts (🤤) and to check out what this community has came up with for this Monday!
I have a question, though. With what do you like to have tzatziki? I have one recipe coming for you soon, but I don't know all the options out there. Let's share our favorite combos, so we all can benefit from them!
Have an amazing week!
---
-Jasmin ❤