Day: 256: 5 Minute Freewrite: Monday-Prompt: chips
Day 256: 5 Minute Freewrite initiated by @mariannewest. Monday-Prompt: chips
This is the fifth and final part to my story.
Part 1: https://steemit.com/freewrite/@whatisnew/day-252-5-minute-freewrite-thursday-prompt-talking-dog
Part 2: https://steemit.com/freewrite/@whatisnew/day-253-5-minute-freewrite-friday-prompt-grand-piano
Part 3: https://steemit.com/freewrite/@whatisnew/weekend-freewrite-6-30-2018-single-prompt-option-before-midnight
Part 4: https://steemit.com/freewrite/@whatisnew/day-255-5-minute-freewrite-sunday-prompt-ornate
Part 5
Bud was difficult to train, as he was more interested in playing with his ball. It took me forever just to teach him his commands so I knew it wasn't going to be easy to teach him to talk. My goal was to teach him how to say his name, "Budweiser." First try was "Bud" with no luck. Second try was "Weis" and once again, nothing. Bud liked to lie on the floor and push his ball to you with his nose or paw. So every time I rolled the ball back to him I said, "ER." That went on for about 3 weeks.
One night while cooking fish and chips for dinner, Bud came into the kitchen, walked up to me with his ball in his mouth and proudly said a long, "ERRRRRR!" Of course I went berserk and praised him with treats galore. From that day forward, every time Bud had his ball in his mouth, out came a long, deep alto "ERRRRRR!"
Delilah, Bud, Sam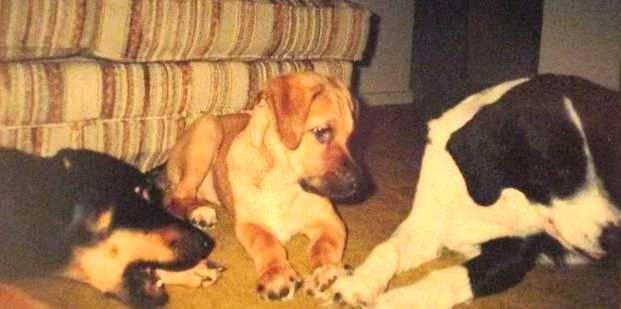 The talking dog, the singing dog and the frog talking dog were quite a trio. They all left in the same order they came. Sam died when he was 16 years old; next was Delilah at age 14, followed by Bud at age 13. One week after Bud was gone, Maverick stopped eating and drinking, and died in his sleep a few weeks later. It is my belief that Maverick didn't want to go on living without his beloved Bud.
The End.
Image Source: My own.