Day 255: 5 Minute Freewrite: Sunday-Prompt: ornate
Day 255: 5 Minute Freewrite initiated by @mariannewest. Sunday-Prompt: ornate
This is Part 4 of my true story.
Part 1: https://steemit.com/freewrite/@whatisnew/day-252-5-minute-freewrite-thursday-prompt-talking-dog
Part 2: https://steemit.com/freewrite/@whatisnew/day-253-5-minute-freewrite-friday-prompt-grand-piano
Part 3: https://steemit.com/freewrite/@whatisnew/weekend-freewrite-6-30-2018-single-prompt-option-before-midnight
We were able to find good homes for three of the puppies and since we couldn't find a home for puppy number four, we kept him; with the understanding that they would all be spayed and neutered. Agreeing on a name was pointless until watching television one night. The Budweiser Beer commercial came on; the one with the frogs that said, "Bud Weis Er." We laughed, looked at each other and said, "That's it! That is the puppy's name." It was a perfect fit for his personality and it was my partner's favorite beer.
From left to right: Delilah, Bud, Sampson. Bud was only 2 months old in this photo.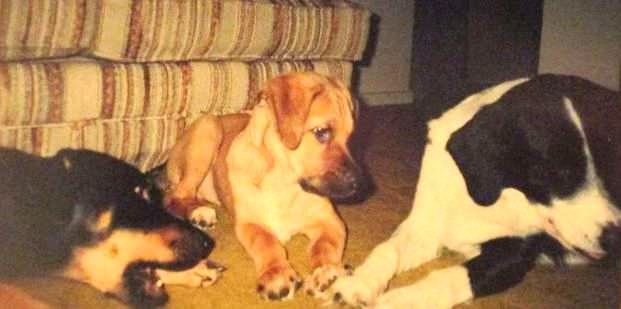 There was nothing ornate about Bud. When full grown, he was much larger than Sam and Delilah, with the temperament of a Basset Hound. He was subdued, stubborn at times and he had a healthy appetite. His favorite friend was our cat, Maverick. Bud's face and ears were constantly being groomed by Maverick, which put Bud to sleep every single time. After grooming, Maverick nestled up against Bud's broad chest and they slept together for hours. Bud was a lovable, gentle giant.
I wish I had a photo of Bud and Maverick to show you, but they are in a box that is somewhere in the basement with all of the other boxes. It would take too much time for me to find it.
To be continued...
Image Source: My own.