Japanese Clear Onion Soup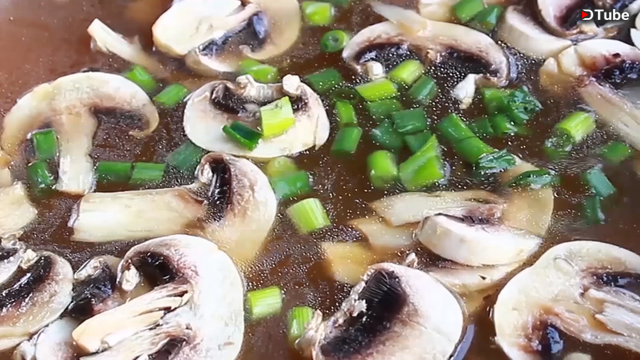 ---
A traditional Japanese steakhouse appetizer. A strong simmered vegetable broth with mushrooms and scallions. It takes less than 40 minutes to make, and pairs well with any rice entree.
I uploaded the original, longer version of this video on YouTube in December, 2016; right before I first joined Steem. That was 1 month before they demonetized my channel after paying Google AdWords (owners of YouTube) thousands and thousands of dollars to play my videos before other videos to try to gain subscribers and views. They then changed their monetization policy so most newer channels with quality videos that take a long time to produce were all demonetized. Most of my videos back during that time era before the big demonetization were demonetized for not being advertiser friendly. Yes, seriously. Thank God for Steem and DTube. I'm now judged by my peers and not faulty bots programmed by cold, evil corporations. They burried most of my videos from that time are and never showed it to anyone ouside of my followers, but for some reason, they think this video is terrific, and it's been getting over 100 organic views by suggestion every day since I uploaded it.
In the YouTube version, I used a song that was only the flute. I received a lot of stupid comments about how they didn't like the music. Someone just made a comment yesterday about how I should have mixed the music better with my voiceover. I didn't bother explaining how many hours it takes me to edit and mix the audio for every one of my videos; and if he or she only knew how terrible the original voiceovers sound. I'm low income right now and drowning in debt with hopes and dreams of being able to make a living of Steem soon while still powering up, and a soundproof studio is the last thing I can afford at the moment. All I can do it edit and mix better. I think I am getting a lot better. It takes so long removing all the noises and buzzing and static and hisses and dings and everything else, and I'm working with a PC with only 8 gigs of ram and an editing program that doesn't render audio edits, so I have to keeps closing and saving and re-opening so it doesn't crash, and the waveform is always out of sync with what I'm hearing and I have delete every single frame when I'm not talking and manually remove all the pffts and other undesirable sounds. Anyhow, sorry for ranting, but I think I do a phenomenal job making it audible compared to what the original recordings sound like.
I'm a homesteader. Growing plants and self sufficient living is my thing. You can regrow the end of the scallions, carrots; and the heads of celery by sticking them in soil and heavily watering every day until they establish roots. You can even regrow them in water, but a I prefer regrowing in soil. If I was a billionaire, I'd still get my hands dirty and grow my own food because it's healthier and I know it's grow properly.
INGREDIENTS
64 ounces of vegetable broth (or use water)
2 yellow onions
2 stalks of celery
2 carrots
2 cloves of garlic
A handful of mushrooms (white button or shiitake)
2 scallions
A dash of salt and pepper
DIRECTIONS
Dice the onions and saute in a sauce pan on medium heat for about 10 minutes, stirring after.
Chop carrots and celery, and mince the garlic.
Once the onions are soft, add the veggies listed above into the pan.
Add vegetable broth and simmer for about 30 minutes.
Meanwhile, slice the mushrooms and scallions.
Strain the vegetables from the pot, discard the veggies, and put the broth back in the pot.
Add the mushrooms and simmer about 5 more minutes.
Add the scallions right before serving, and it's done!
*Longer and more detailed videos are on my YouTube channel