Osso Buco (chicken style)
I usually stick to desserts, but I felt obliged to share this awesome savory recipe!  My husband is determined to start eating healthier...but he doesn't like any vegetables (except potatoes and corn, which barely qualify).  Well, a family member had us over and prepared Veal Osso Buco...the meat flavors the vegetables so much that he can eat them...he even enjoys them a bit!  Naturally, I asked for the recipe, made a few tweaks to better fit our family's dinner table and voila!  I now have a healthy meal that we all enjoy, and one that adds the long lost vegetable to my husband's skewed food pyramid.  I highly recommend it!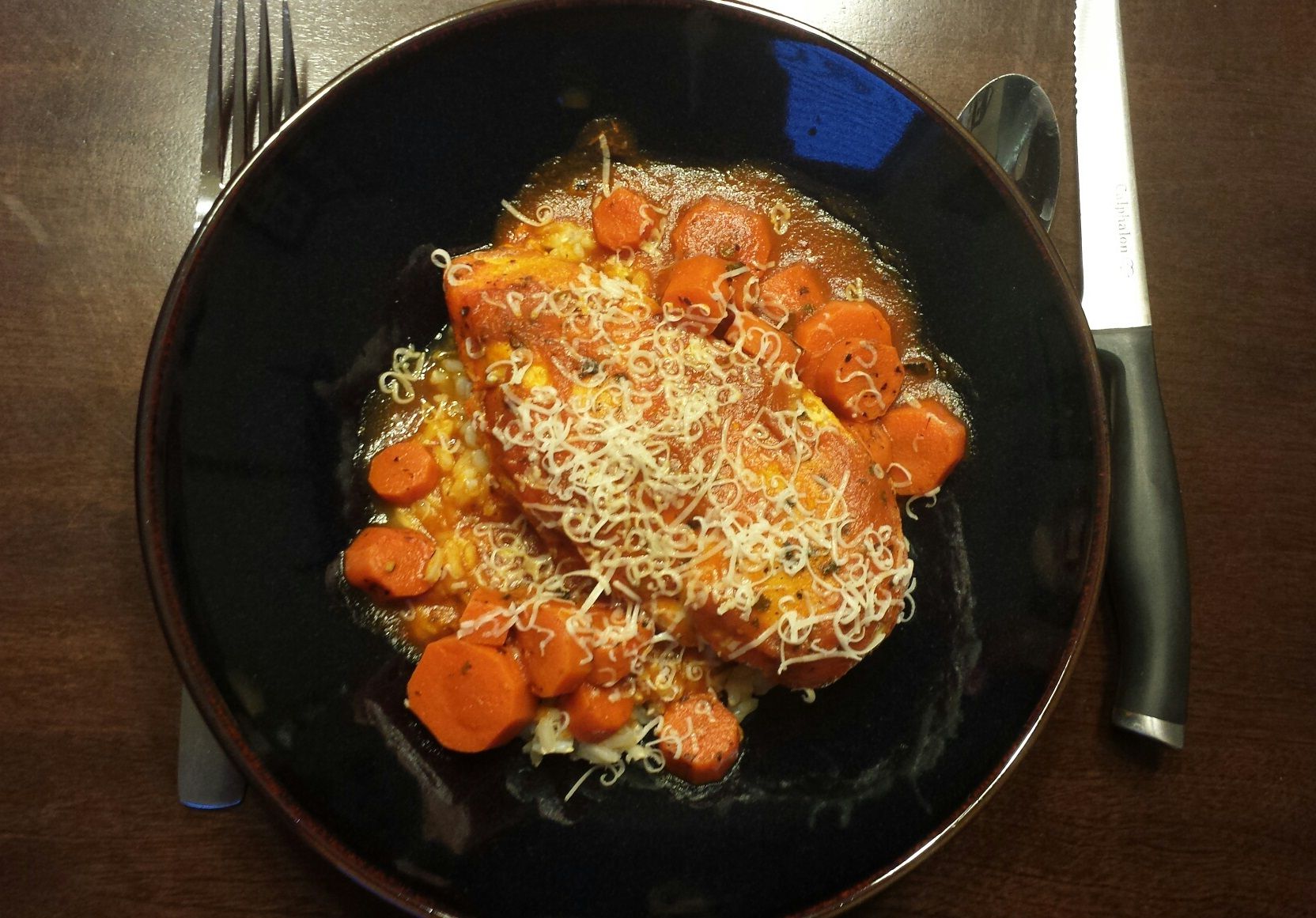 Osso Buco (chicken style)
Ingredients
2 lbs Chicken Breasts
1/4 cup Flour
1/4 cup Butter
2 tsp Minced Garlic
1/2 cup Chopped Parsley
3 large Carrots, chopped
1 large Onion, chopped (optional)
2/3 cup Dry White Wine
2/3 cup Beef Stock
1 (14.5 oz) can Tomato Sauce (we use pureed, but chunky is fine too)
Salt and Pepper to taste
Directions
Dust the chicken breasts lightly with flour. Melt the butter in a large skillet over medium to medium-high heat. Add the chicken, and cook until browned on the outside. Remove to a bowl, and keep warm. 
Add the minced garlic, parsley and onion (if desired) to the skillet; cook and stir until onion is tender. 
Return the chicken to the pan and mix in the carrots and wine. Simmer for 10 minutes.
Pour in the tomato sauce and beef stock, and season with salt and pepper. 
Cover, and simmer over low heat for 1 1/2 hours, basting the chicken every 15 minutes or so. (The meat should be so tender you can cut it with your fork!)
[Optional] Serve over a bed of rice, and grate some mozzarella or parmesan cheese over the chicken.
For more delicious recipes, check out my other recent posts: