Coconut Cake w/Coconut Cream Cheese Frosting
YUMMMMM, this cake is delicate and rich and oh-so incredibly delicious!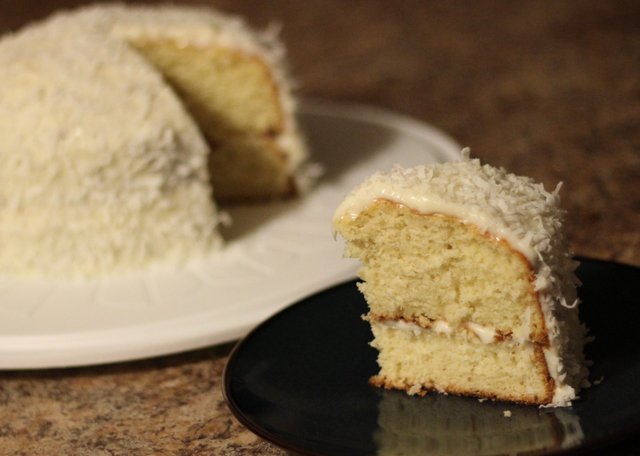 Ingredients
Cake
2 3/4 cups Flour
1 tsp Baking Powder
1/2 tsp Baking Soda
1/2 tsp Salt
1 3/4 cups Sugar
1 cup Butter
1 cup Sweetened Cream of Coconut
4 Eggs, separated
1 tsp Vanilla Extract
1/2 tsp Coconut Extract
1 cup Buttermilk
Frosting
2-8 oz packages Cream Cheese, softened
1/2 cup Butter, softened
2-3 cups Powdered Sugar
1/2 cup Sweetened Cream of Coconut
1 tsp Vanilla Extract
1/2 tsp Coconut Extract
Directions
Preheat oven to 330 degrees.  Spray two 8-inch cake pans with non-stick spray.
In a medium bowl, combine flour, baking powder, baking soda and 1/2 teaspoon salt. Whisk, then set aside.

In a large bowl, add sugar, butter and sweetened cream of coconut. Using a stand mixer, beat until fluffy (the flex edge beater attachment works great for this!). 

Beat in egg yolks, one at a time. Add vanilla and coconut exracts. 
With mixer set on low, beat in the dry ingredients (may want to use a splash guard). Then beat in buttermilk, until just blended.

In another bowl, using clean and dry beaters, beat egg whites and a pinch of salt until they are stiff.  Gently fold egg whites into cake batter.
Evenly divide batter between prepared cake pans.  Bake in preheated oven for about 50 minutes, or until toothpick inserted into the center comes out clean. 

While cakes are cooling, make the frosting:

Using stand mixer, beat cream cheese and butter together until they are just combined.  
Add cream of coconut, vanilla and coconut extracts and beat just until combined.  
Add 2 cups of powdered sugar and beat until all ingredients are just combined and smooth.


Once cakes are completely cool:

Use a serrated knife or a cake leveler to cut the rounded top off of one cake.

Using an offset spatula, spread a generous layer of frosting on top of the leveled cake.
Place the other cake on top of the iced bottom tier.

Use the offset spatula to cover the sides and top of the assembled cake.

Sprinkle coconut all over and gently press so it adheres to cake.



For more delicious dessert recipes, check out my other recent posts: