Bailey's Cheesecake (no-bake!)
This decadent dessert looks beautiful, yet is quicker to make than a traditional cheesecake because there is no time in the oven!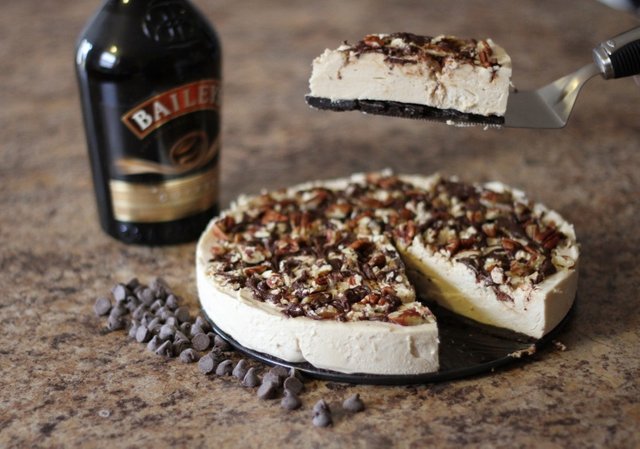 Ingredients
15 Oreo cookies (cream can be removed)
7 tbsp Butter, melted
3/4 cup + 1 tablespoon Heavy Whipping Cream
½ cup + 2 tablespoons Bailey's Irish Cream
4 teaspoon Gelatin
2 8-oz blocks of Cream Cheese, softened
3/4 cup Brown Sugar
1/4 cup Semi-sweet Chocolate Chips, melted (optional)
1/4 cup Pecans, chopped (optional)

Directions
Using a food processor, process the Oreo cookies until they become fine crumbs (or you can smash the cookies in a ziploc bag).

Add the melted butter to the cookie crumbs and stir until all combined. 

Transfer to one 9-inch round pan (preferably a springform pan), pressing it down to form an even layer on the bottom. Freeze the crust while you prepare the remaining ingredients.
Whip the cream until medium-stiff peaks form. Refrigerate while you continue.

Place Bailey's into a small bowl. Sprinkle the gelatin evenly over the surface of the Bailey's and leave for 2-3 minutes.

Place the small bowl on top of a pot of simmering water to heat gently, stirring constantly, until the gelatin has dissolved (mixture should be smooth).

Using a stand mixer, beat the cream cheese and the sugar until light and fluffy (a flex edge beater attachment works great for this!). 

Strain the gelatin mixture into the cream cheese mixture and mix together slowly. 

Gently fold in the whipped cream. 

Pour the mixture into the round pan.
[Optional] Scoops dollops of the melted dark chocolate over the cream cheese mixture. Using a skewer or chopsticks, swirl decorations on the cheesecake, taking care not to remove the skewer until you are done swirling.

[Optional] Sprinkle chopped nuts on top.
Refrigerate the cheesecake for a minimum 4 hours.
When ready to serve, dip an icing spatula into hot water and dry it. Run the spatula along the edges of the cheesecake, then remove the pan carefully and gently. Serve and enjoy!



For more delicious dessert recipes, check out my other recent posts: