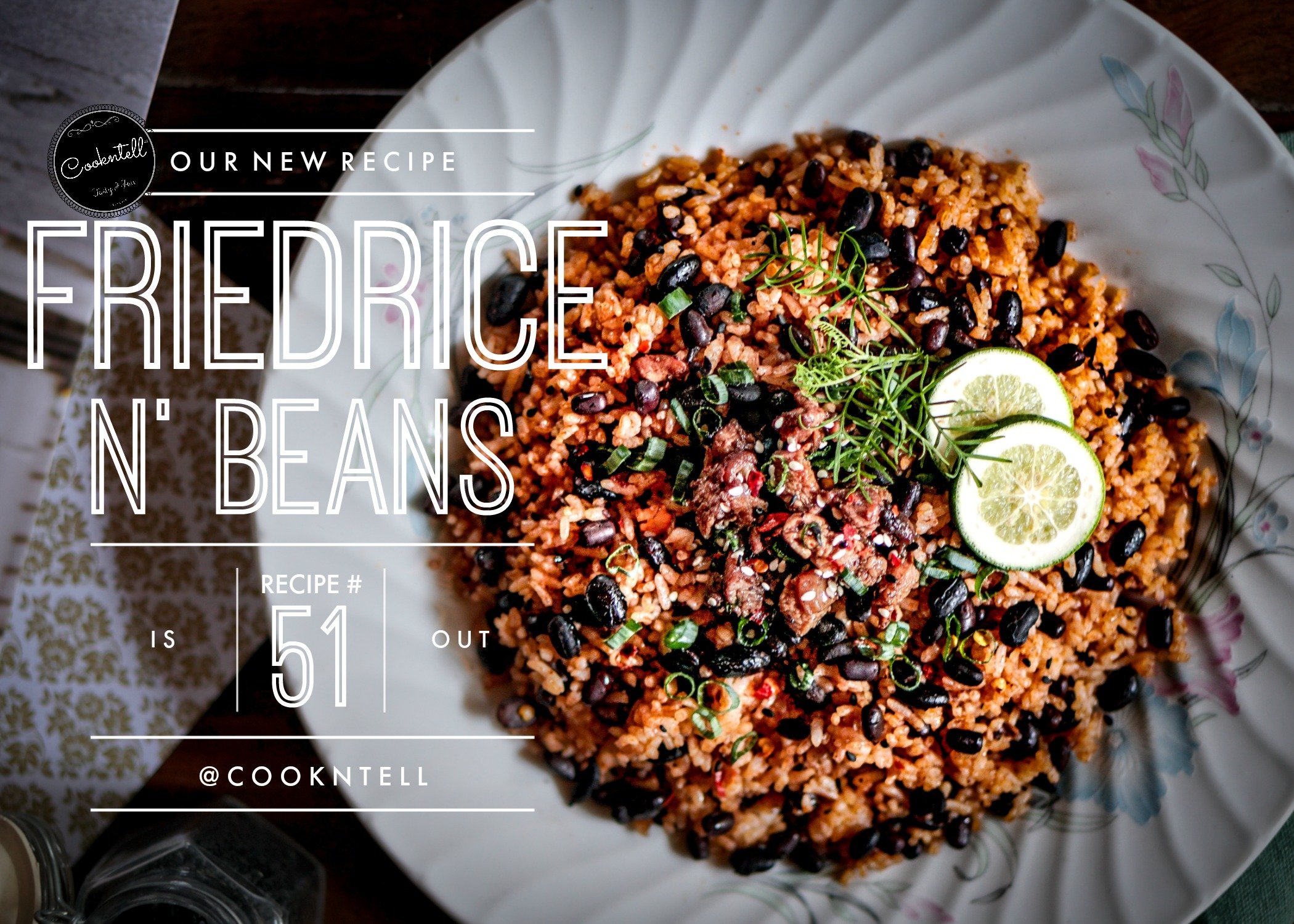 "Le bonheur est un bol de riz."
Zup my fellow Steemian friends all over the globe! Wish you all a good and beautiful day. Today I wanna share to you a different way of making fried rice.
I'd say different since it's not my usual local fried rice recipe which is basically made of cooked or leftover rice, vegetable oil, egg, scallions and salt. This one is a bit of Mexican version with a lil American influence on it.
"Hello! Welcome to Cookntell!"
This is recipe #51
The Classic Fried Rice n' Taco Beans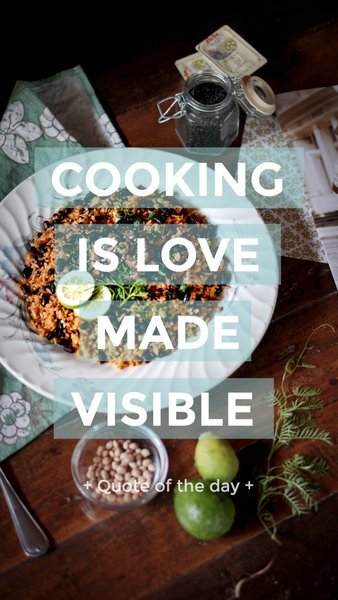 For Asians like me, happiness is like a bowl of rice. Rice is part of our culture. It is the most important viand in every meal- may it be breakfast, lunch and dinner. If we don't have it on, we'll miss half of our life. Yes, it is true.
I remember when I was young Nanny would cook rice for us and it smelled so so good. She would always use "Pandan Leaves" when cooking rice. She said it's the secret ingredients to bring aroma to your rice.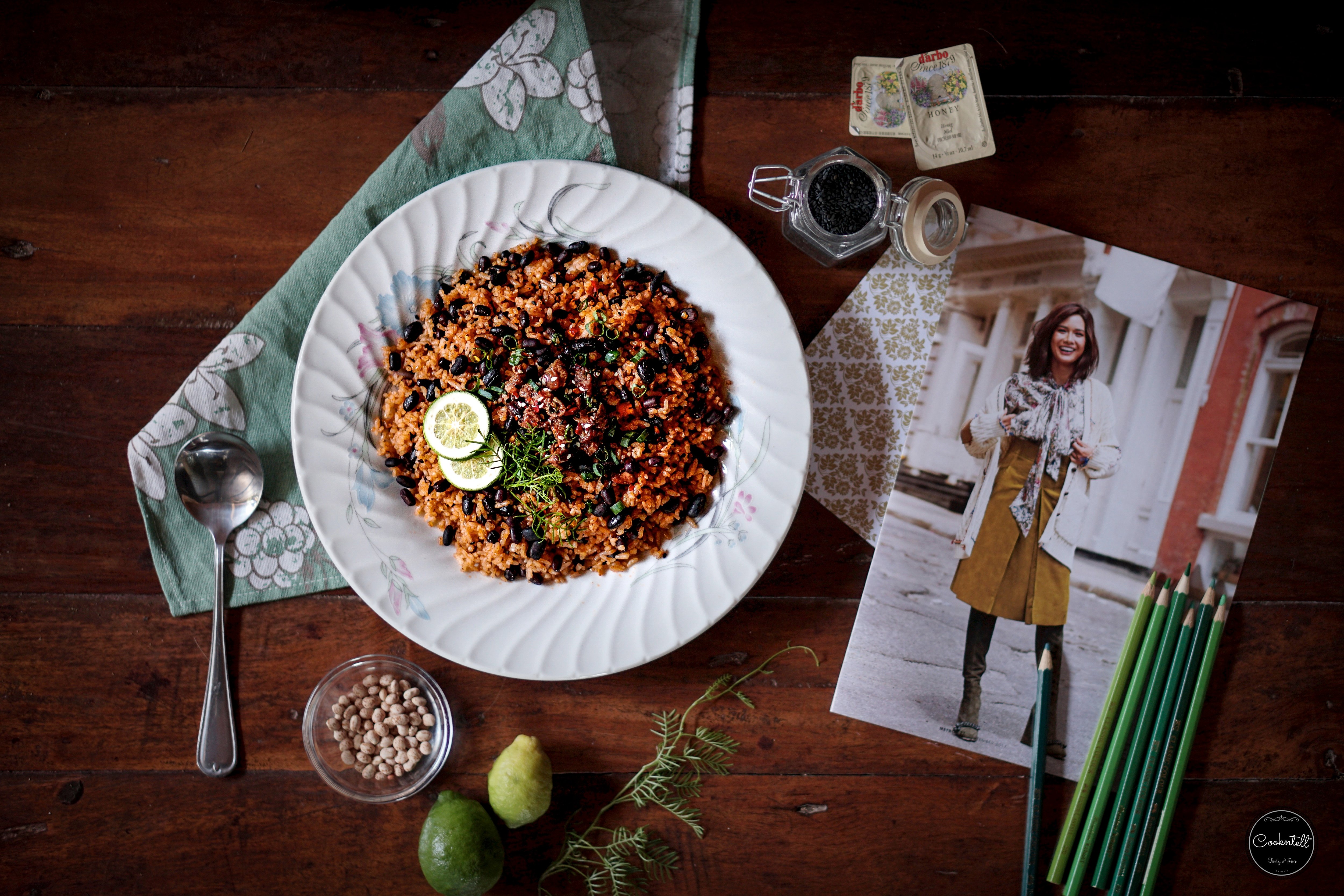 But today's recipe is different. It's no more plain rice but it's mix with bunch of ingredients and spices. For this recipe, since I didn't have taco seasoning, I made my own from scratch. I used cumin, chilli powder, cayenne pepper, black pepper, all spice and salt.
The cooked beans you can buy from the market but I boiled my own and it took around 20 mins to make it tender, soft and chewable but a little crunchy.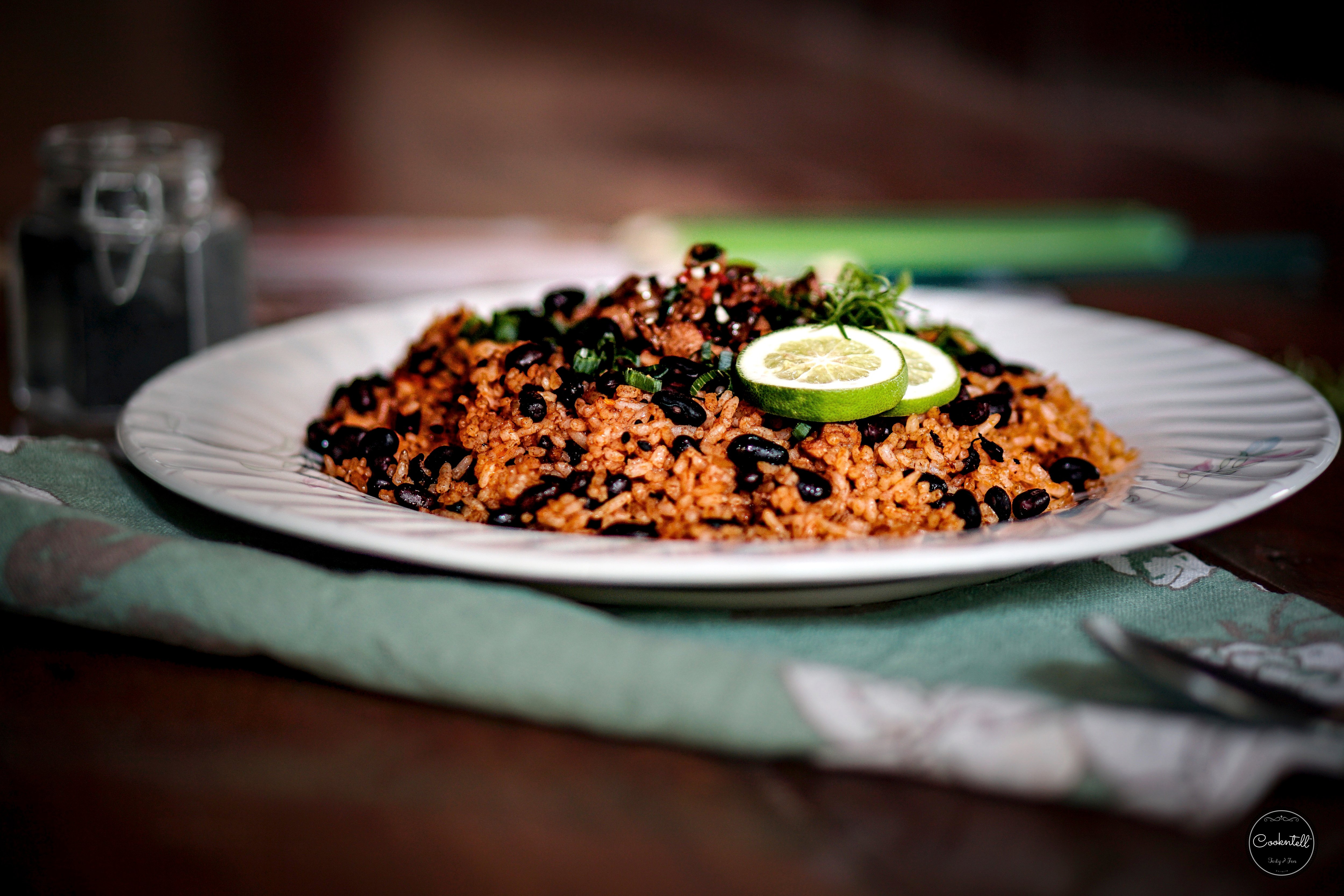 The taco seasoning itself will bring flavourful taste to your fried rice but it's the tomato paste that adds colour to it. I always love the smell of cumin. It reminds me of Indian dishes and biryani.
But my mom hated the smell of it. It's funny coz I sometimes cook fried rice and use cumin all the time and she'd say that it smells horrible like the smell of a cave man. I couldn't help but just laugh it out. Rofl.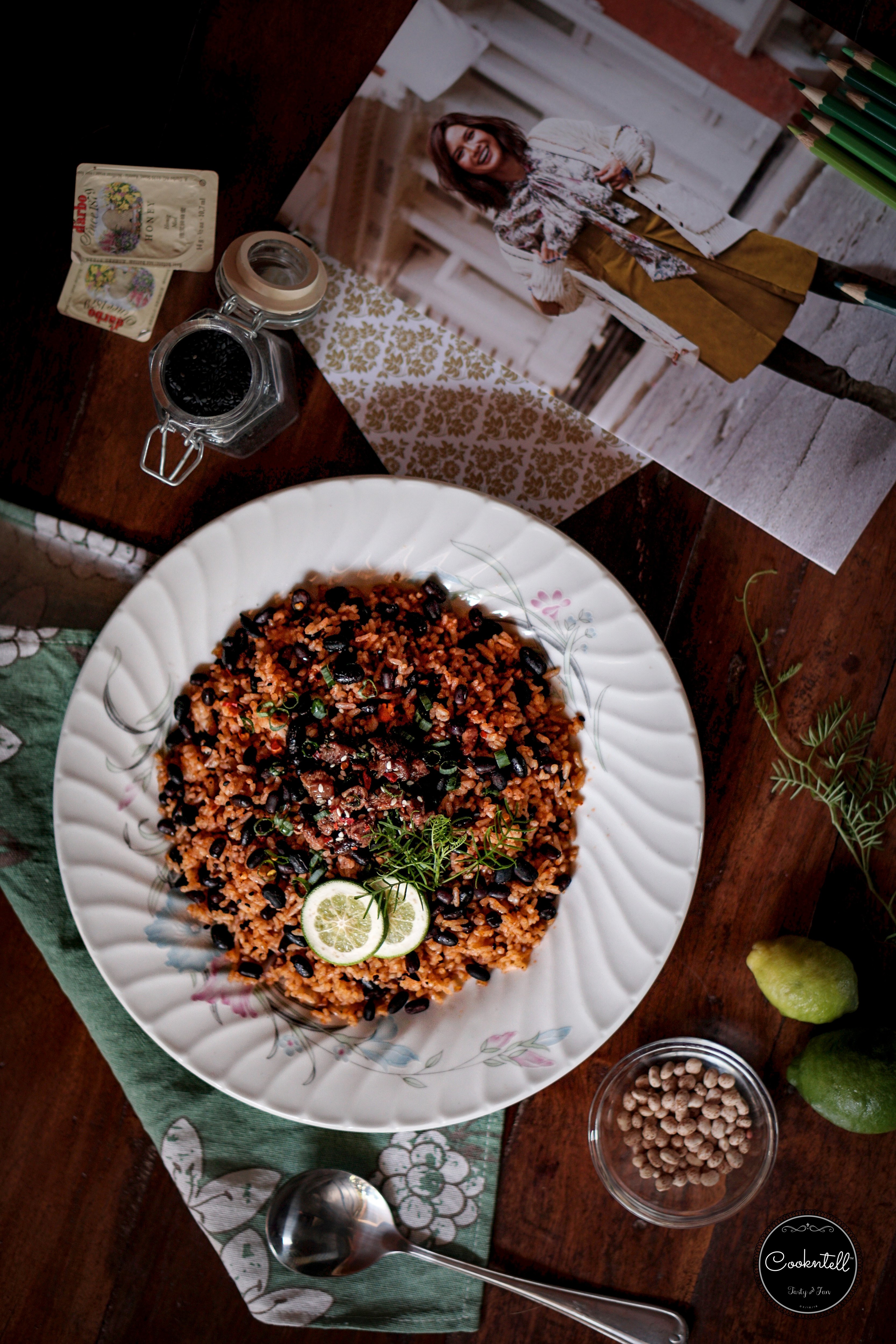 For me, spices are like angels. They're very important in the kitchen. It's like your major major powers to defeat the odds of not so tasty cooking. It's like your secret weapon in war.
You go into the battlefield with confidence knowing you're well equipped with lots of it.
Along with your usage of these weapons in the kitchen, balance is important. Too much is not good and too less is ugly. I always experiment on most of my recipes and basically discard the menu many times since 1st day.
And as time goes by, you get to practice more and learn and finally master the art of it.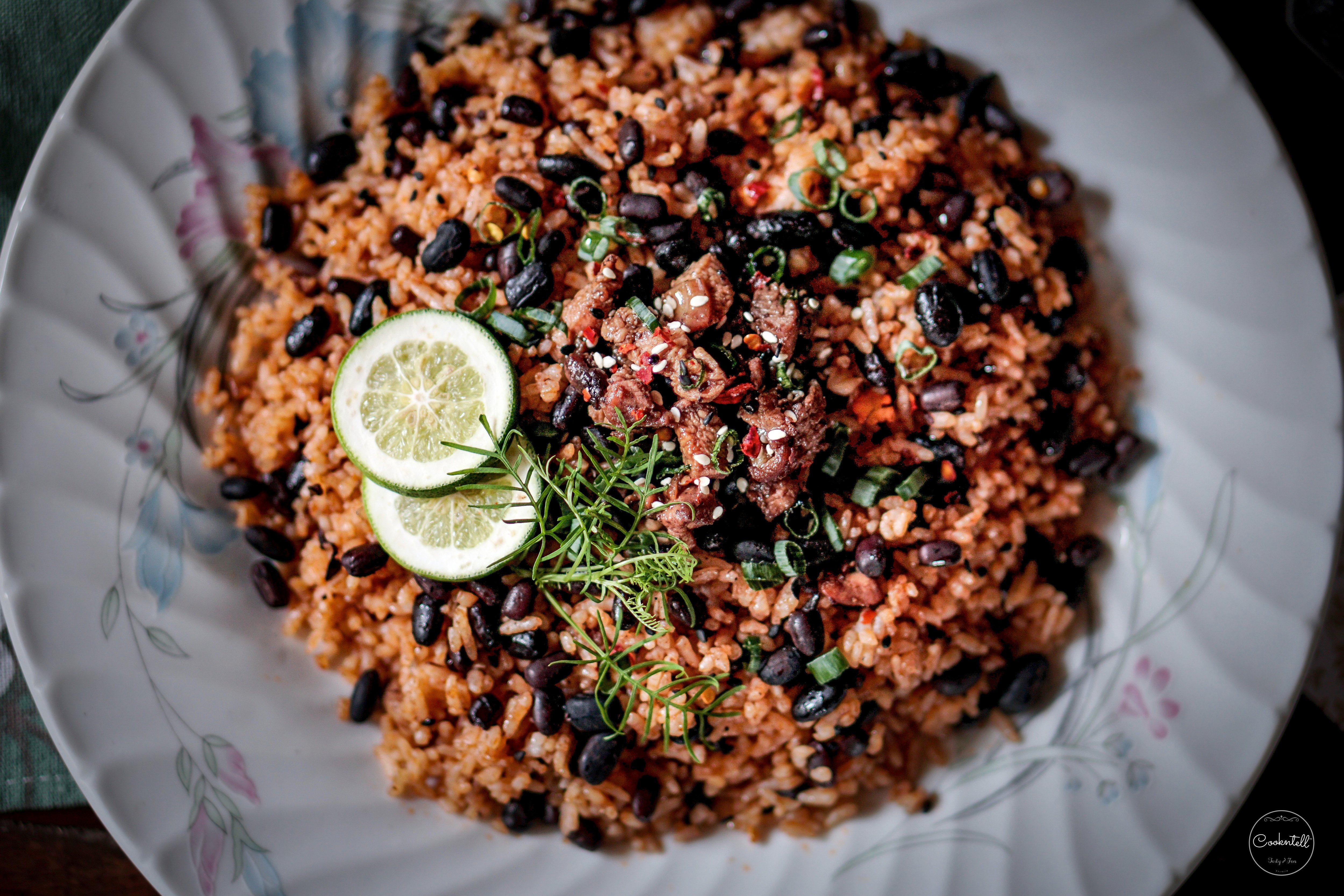 Being a photographer and a cook is a great challenge for me. It taught me patience and perseverance. That when you love something, you gotta do it and continue reaching your goal despite the challenging circumstances.
Working in the kitchen, preparing your food, gearing up your cameras and tripods and lightings and backdrops and the same time making sure your food tastes good takes a lot of work. But yeah, like they always said, do what you love.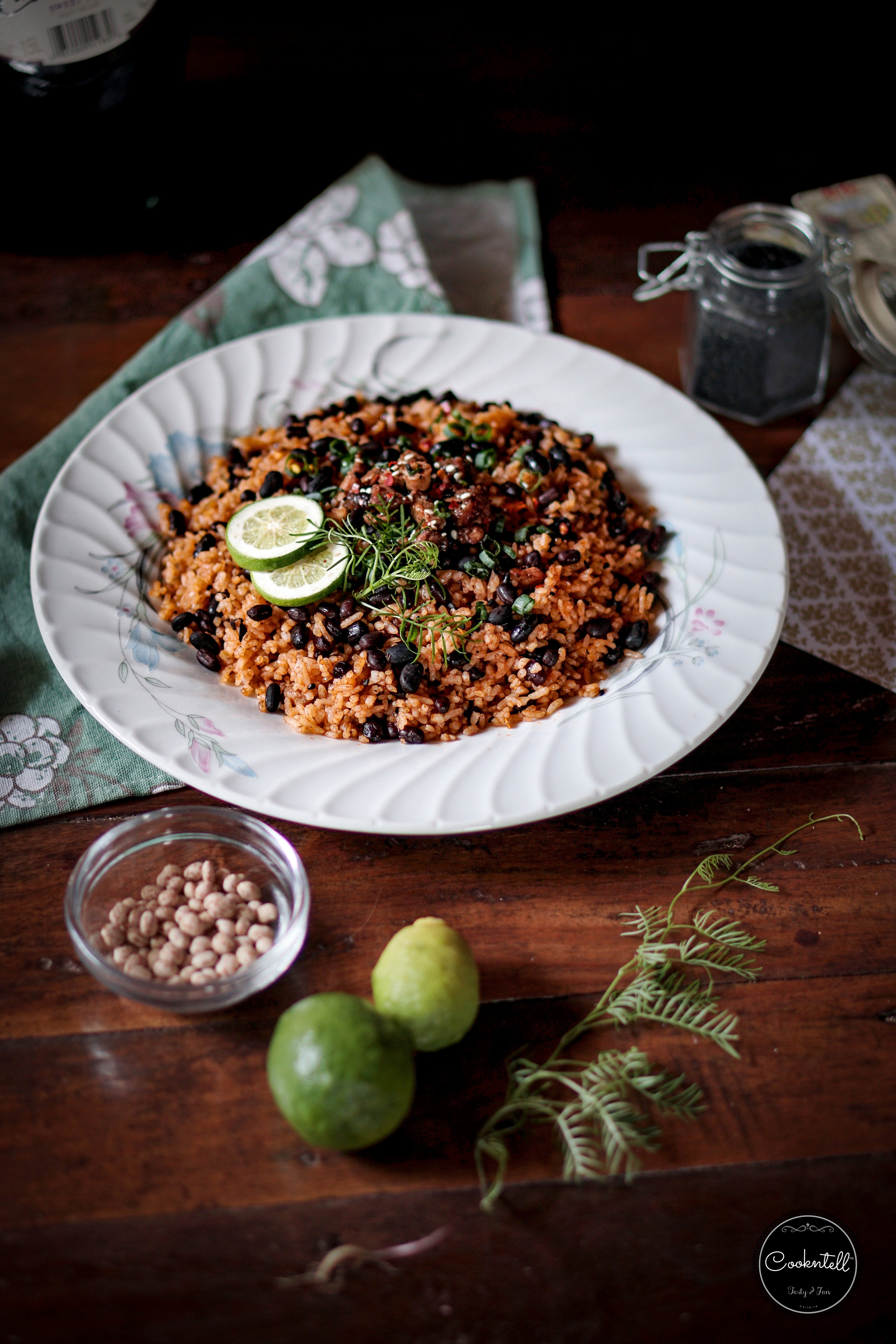 So here's the recipe guys. I hope ya'll like it. And I made this helpful pinterest version of the recipe. You can grab and copy and save it to your list. Enjoy!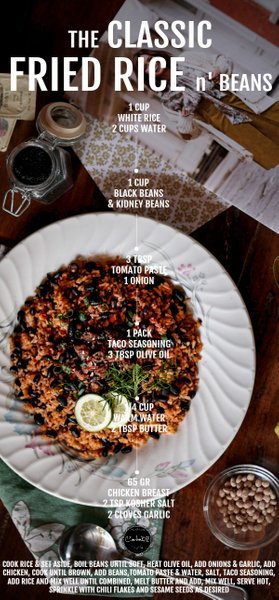 INGREDIENTS
1 cup white rice
2 cups water
1 cup kidney beans & black beans
3 tbsp tomato paste
1 onion
2 cloves garlic
1 pack taco seasoning
3 tbsp olive oil
1/4 cup warm water
2 tbsp butter
65 gm chicken breast diced
2 tsp kosher salt
DIRECTIONS
Cook rice according to packaging and set aside.
Boil kidney beans and black beans until tender and soft.
In medium heat, add olive oil. Sautè garlic and onion until brown. Add chicken and cook until brown.
Add beans, tomato paste, warm water, taco seasoning. Stir for a minute.
Add rice. Make a well at the center and add butter. Let it melt and stir with rice until combined.
Sprinkle with chilli flakes and sesame seeds. Serve hot.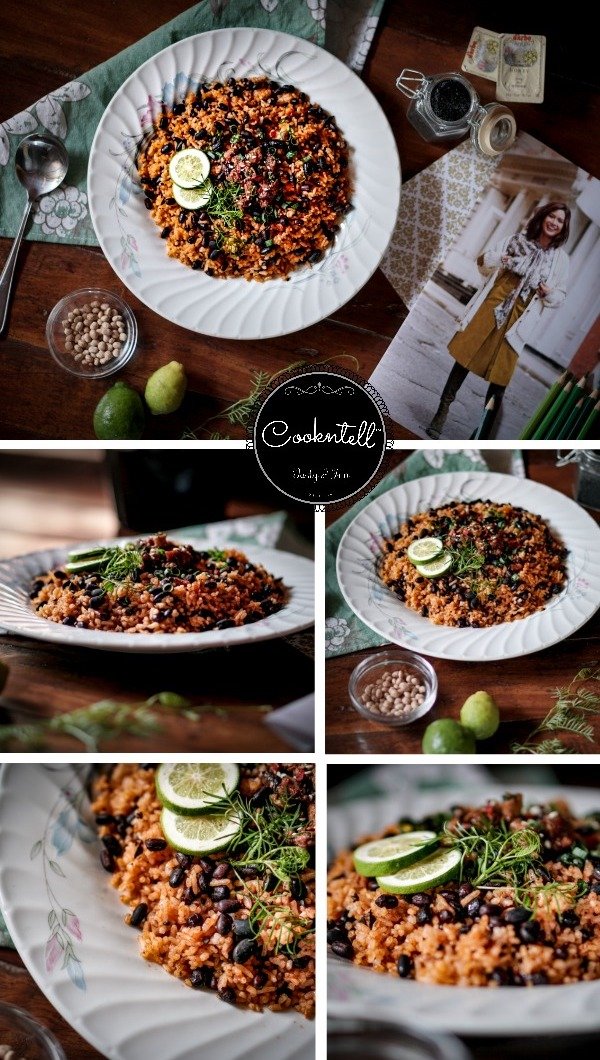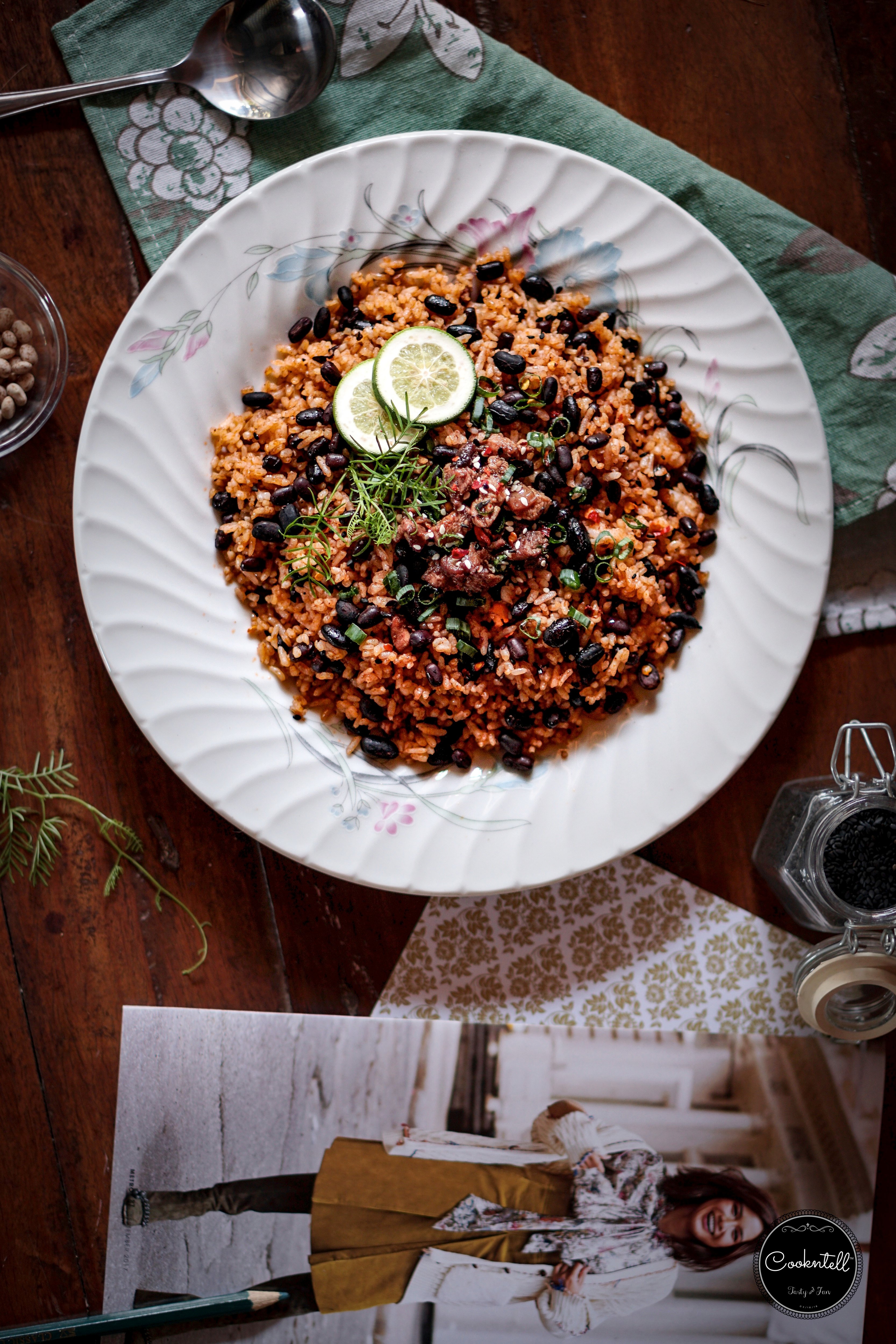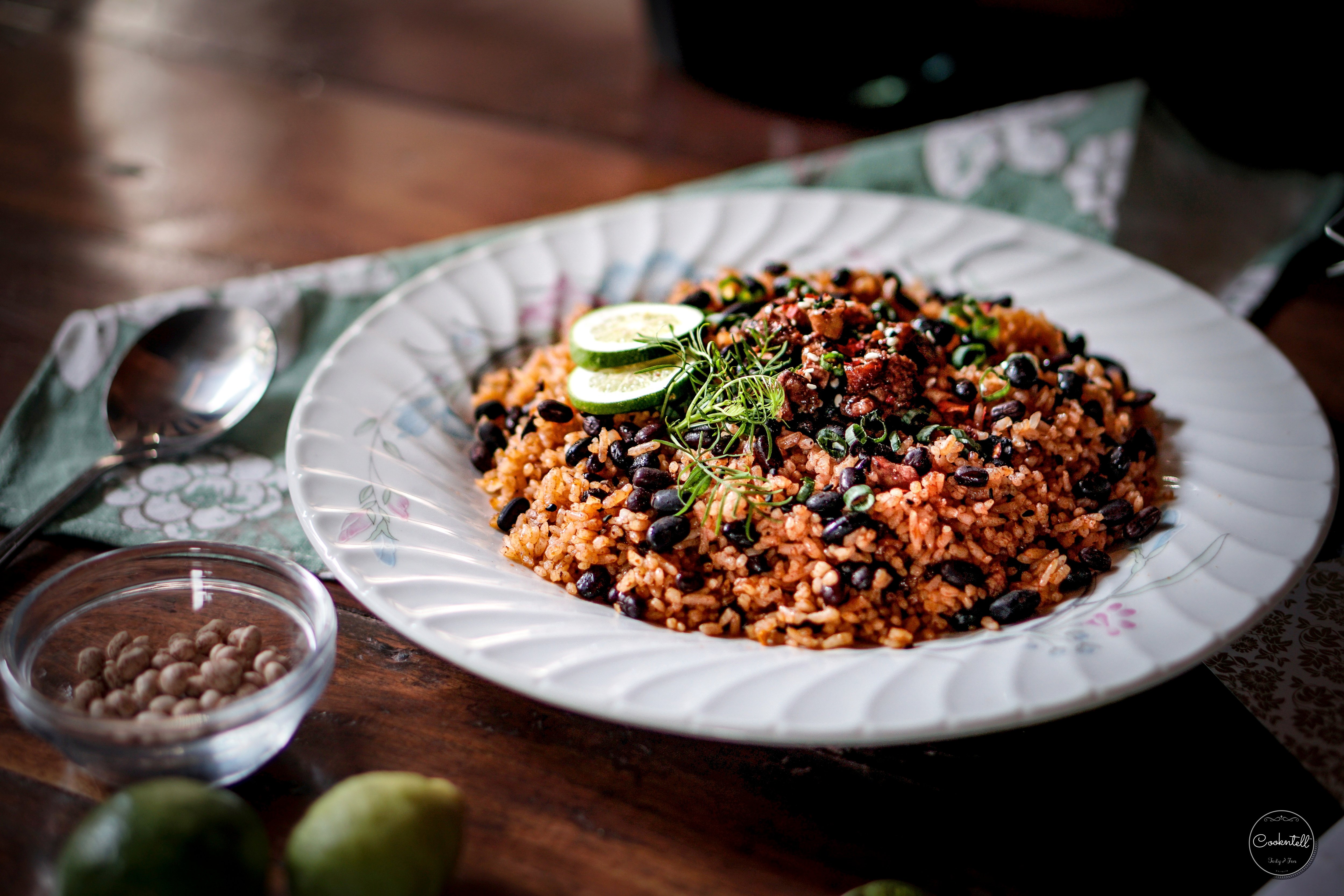 Thanks again for visiting my blog! If you've enjoyed and found this post valuable and if you would like to see more of my cookntell posts daily, then your upvote would be much appreciated!
:-)

See you on the next cookntell.

Love,
Jayne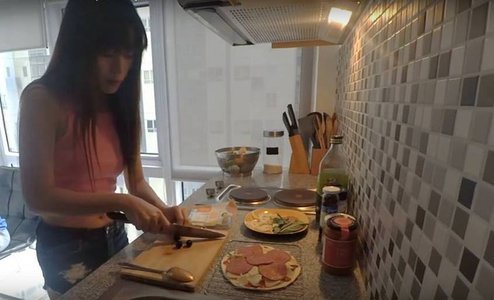 Guys, English is not my first language so sorry if there're any discrepancies. :-)
For my daily Cookntell food photography follow at my social sites:
Steemit
Instagram
Pinterest
Facebook
Twitter
Youtube
My Featured Steemit Posts
You can view some of my Featured Contents here:
Curie AUTHOR SHOWCASE/Mozzarella Burst Garden Special Buckwheat Pizza
BUILDAWHALE CURATION DIGEST/ Fruit Salad n' Cream Avocado Boat | FOOD PHOTOGRAPHY
BUILDAWHALE CURATION DIGEST/Cookies & Cream Mousse
OCD NOMINATION OF THE DAY/"Be Awesome Dragonfruit Smoothie
THE DAILY SNEAK/The Ultimate Chocolate Avocado Tart
DAILY HIT PARADE FOR NEWCOMERS/The Famous Filipino-Style Chicken Adobo
DAILY TRUFFLE PICKS: THE TOP 10 TRUFFLES/Chocolate Chunk Cacao Wafers ICE CREAM with Almonds and Walnuts VIDEO
THE BEST FOOD POST/Dark Chocolate Vanilla Cookies
THE BEST FOOD POST BY "RED FISH"/Pomegranate Choco Millet Cookies/VIDEO
DAILY PAYOUT STATS REPORT/Vegan Chocolate Cake
Watch More of My Recipe VIDEOS!
I have to be honest with you guys. I don't really call it vain but I love watching my food videos. It feels like a meditation for me. It is basically the sound and art in the kitchen. The sound of the fork, the spoon, the knife, the cutting board, the water, the mixing, the squeezing, the blending and everything in it sounds like in a grand symphony: a kitchen live music. For me, it is just sooo soothing. It's the reason why I put audio on my videos so you guys can experience a different way to watch too. So I wanna share with you some of videos here:
Mango Coconut Bites "Quick & Easy"
Mango Icebox Cake "Mango Float"
"Mango Float" Creamy Icebox Cake
Vegan Almonds Avolato
Sakura Sweet Rolls
Baked Chicken Parmigiana
Dark Chocolate Vanilla Cookies
Pomegranate Choco Millet Cookies
Mozzarella Burst Garden Special Buckwheat Pizza
The Ultimate Chocolate Avocado Tart "Quick & Easy"
Vegan Chocolate Cake "Guilt Free"
The Famous Filipino Style Chicken Adobo
Chocolate Chunk Cacao Wafers Ice Cream with Almonds & Walnuts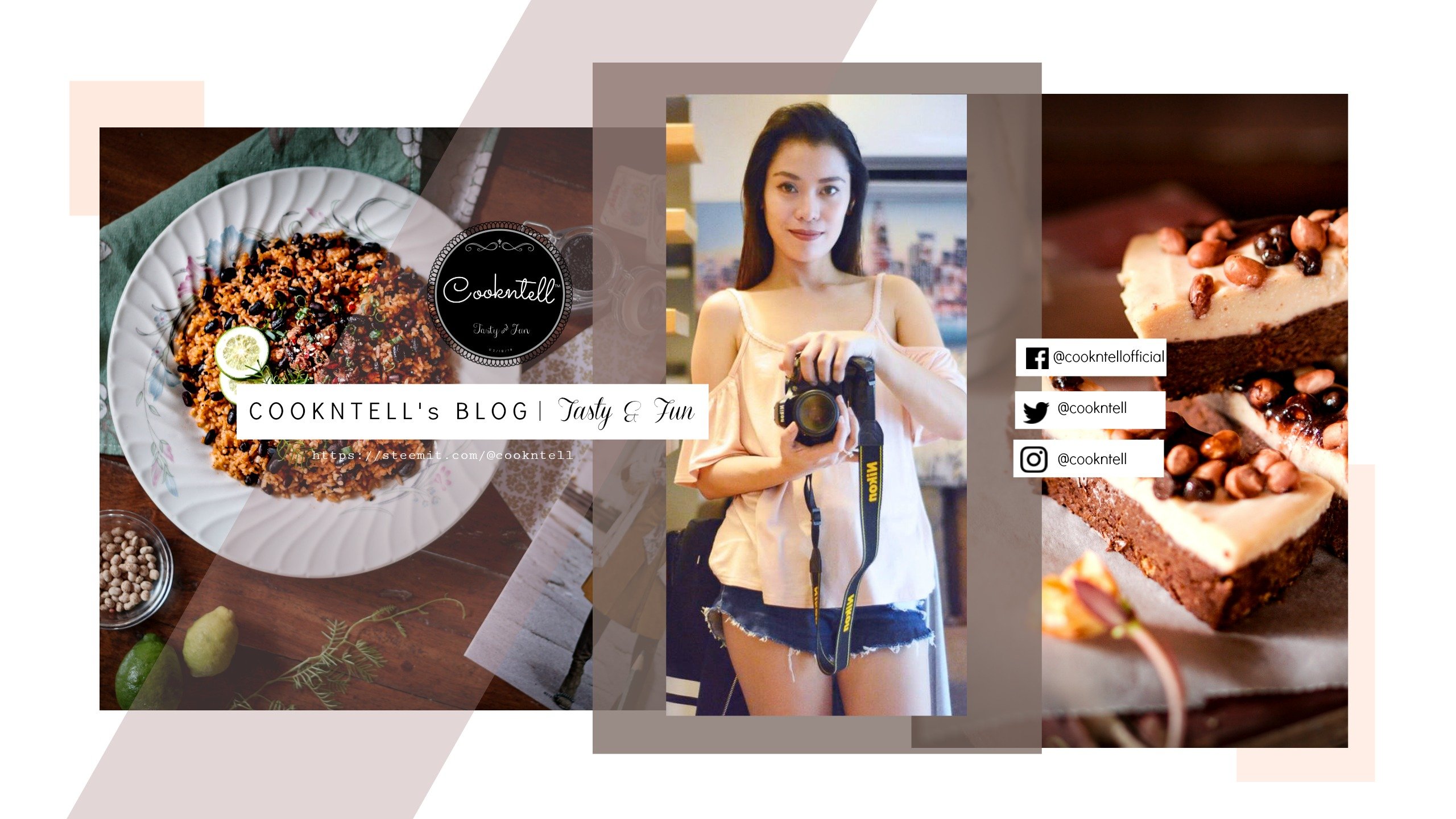 ©Cookntell Photography
All photo contents of cookntell are original photos created by ©Cookntell and cannot be copied or used without the permission of Jayne Alexander. @cookntell
"Thanks for visiting and I'll see you again!!!"

XOXO

Join us now @steemitbloggers