Four Flavoured Pie | VIDEO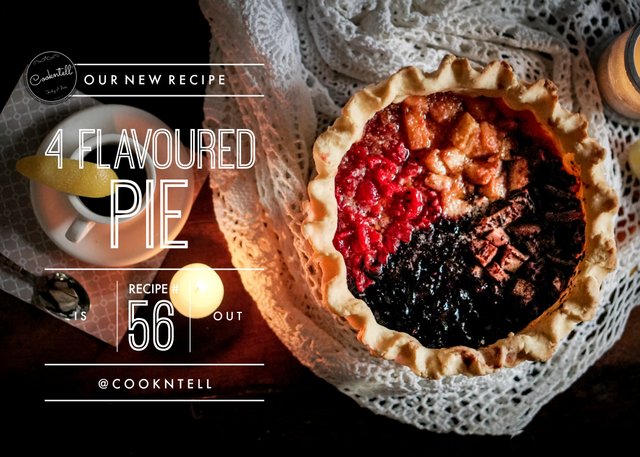 "Jaz sem človeško bitje, za mene ni nič človeka." 🥧🥧🥧
Happy day to ya'll my fellow Steemians! I feel very alienated for long time not being able to post here. But it's good to be back again and able to share my homemade recipes straight from a die hard and trying hard self made cook like me. Lol.
"Hello! Welcome to Cookntell!"
This is recipe #56
Four Flavoured Pie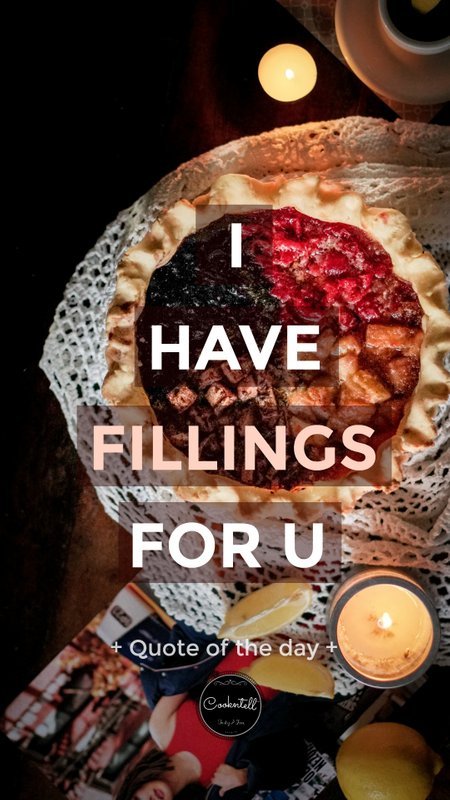 Today I wanna share to you this recipe I made for the first time not as a pie but as a 4 flavoured pie. Nothing new here except for the 4 combinations of fruits you wanna put in to your pie recipe. I picked cherries, blueberry, pineapple and apple coz of course they're the only fruits available in my fridge planet today so sounds like I have no choice. Haha.
I feel so lazy today and woke up very late. I still can't forget the documentary I watch about ALIENS ON THE MOON, our moon I mean coz we own it and it's Earth's. But I was so astonished knowing about these creatures that are just sort of some stories told by the olders but I truly believe they're real.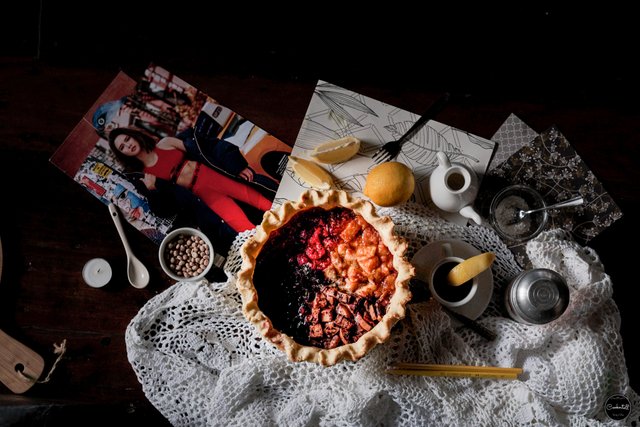 Who could've ever thought that aliens are said to be building their bases on our own moon. Gosh! These stuffs are definitely freaking me out I'm even having goosebumps now. I read that there are good species of aliens and there are bad too.
So I wonder what type or race of aliens are inhabiting our moon? Will our dear Earth survive and will human race prevail once they invade this planet we're living? How come NASA been hiding these proofs from the society and the people around the world? Are they afraid if the whole Earth will be in such danger by knowing these things once said are unreal? Or should we?
Watch this VIDEO for a full recipe adventure!
I know guys this is weird but knowing that these things exists and they're building it's base in our moon or probably building their civilisation there is truly petrifying. Coz I bet who owns the moon will also owns the Earth-our Earth. ANd where will we be then?
I'd just eat this pie and close my eyes to sleep and forget about what I read. Lol. Also if you never ever heard about the HOLLOW EARTH and the AGARTHA you'll miss half of your life. COuld you even beieve that our earth is hollow from the inside? and even having this paradise like place inhabited by some creatures and being not know n to humanity? Perhaps, the Nazi know about this and even how Hitler talked about the technological developments they're holding for power. Freaky..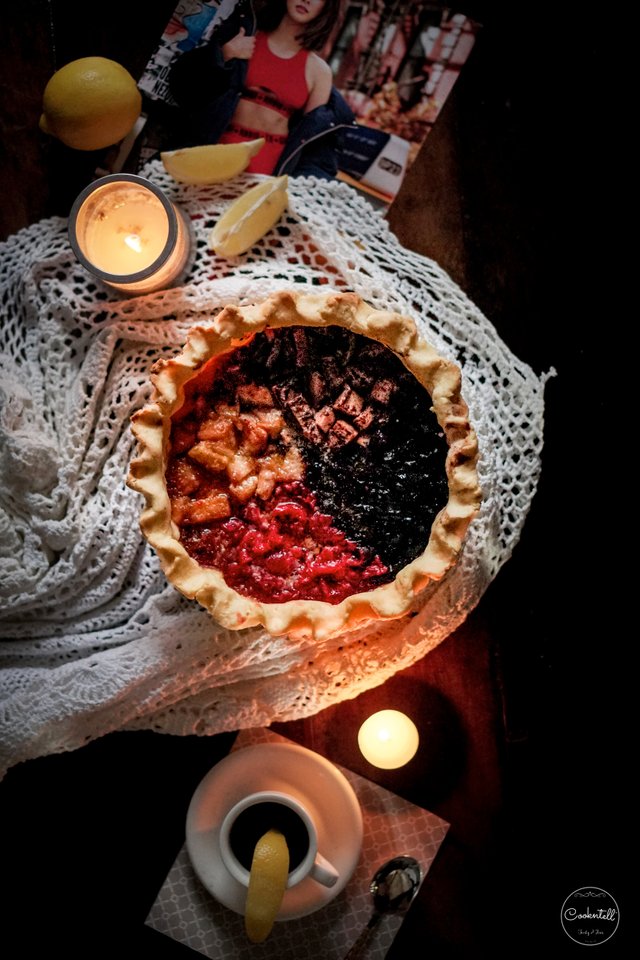 There have been evidences visible to the public, from internet sources and books that they do exist. From UFO's flying and orbiting the moon and even seen on Earth where footage from people showing bright lights said to be spotted in the skies and those mysterious aircraft hovering in night sky that are not really identified. Well what else will they be?
I don't know but aside from these stuffs freaking me to death, it really does fascinates me to the highest level knowing that we are not the only beings living in this gigantic universe. Isn't it amazing? Lol. So I am deeply convince why we have movies like star trek or star wars and all of the other movies depicting a different king of world so different to ours.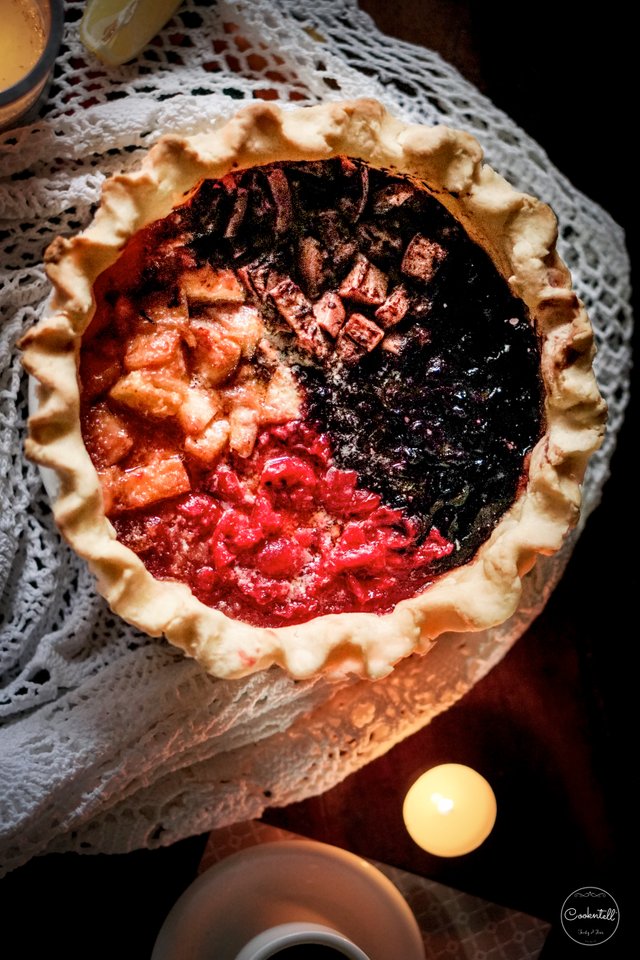 The question is what would you do if for one reason the aliens will fully take control of our moon and finally invade our planet earth? Have we ever thought that what we're seeing in movies will finally be happening to us the human race.
I am not hallucinating but I felt like they are real and they're there....somewhere.. Holding something against us or for us?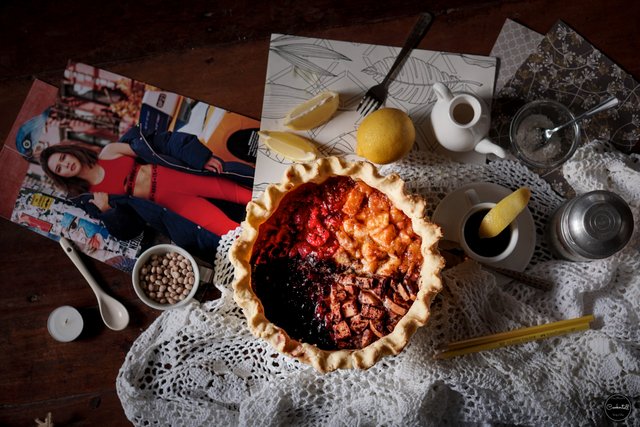 Alright too much about the alien dreams, I would like to share to you my recipe for today and I hope you guys like it. But if you have any thoughts about what I just said then pls share to me in the comments below and I'd be glad to talk about it.
Enjoy!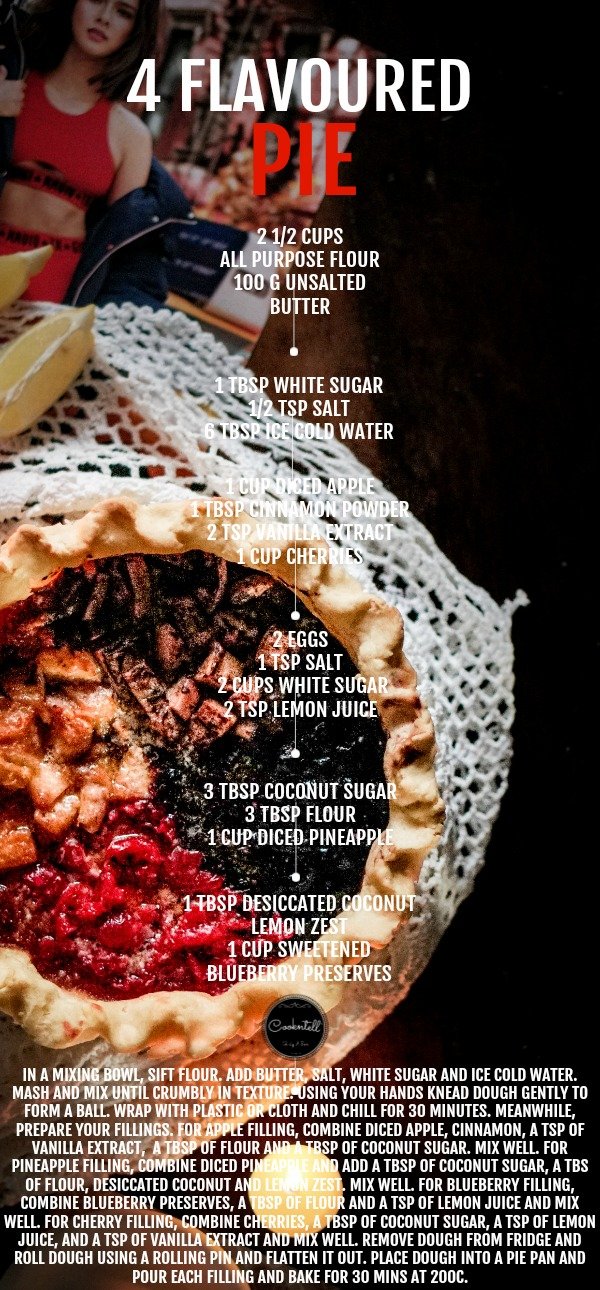 INGREDIENTS
2 1/2 cups all purpose flour
100 g unsalted butter
1 tbsp white sugar
1/2 tsp salt
6 tbsp ice cold water
1 cup diced apple
1 tbsp cinnamon powder
2 tsp vanilla extract
3 tbsp coconut sugar
3 tbsp flour
1 cup diced pineapple
1 tbsp desiccated coconut
lemon zest
1 cup sweetened blueberry preserves
2 tsp lemon juice
1 cup cherries
DIRECTIONS
In a mixing bowl, sift flour. Add butter, salt, white sugar and ice cold water. mAsh and mix until crumbly in texture. Using your hands knead dough gently to form a ball. Wrap with plastic or cloth and chill for 30 minutes. Meanwhile, prepare your fillings. For apple filling, combine diced apple, cinnamon, a tsp of vanilla extract, a tbsp of flour and a tbsp of coconut sugar. Mix well. For pineapple filling, combine diced pineapple and add a tbsp of coconut sugar, a tbs of flour, desiccated coconut and lemon zest. Mix well. For blueberry filling, combine blueberry preserves, a tbsp of flour and a tsp of lemon juice and mix well. For cherry filling, combine cherries, a tbsp of coconut sugar, a tsp of lemon juice, and a tsp of vanilla extract and mix well. Remove dough from fridge and roll dough using a rolling pin and flatten it out. Place dough into a pie pan and pour each filling and bake for 30 mins at 200C.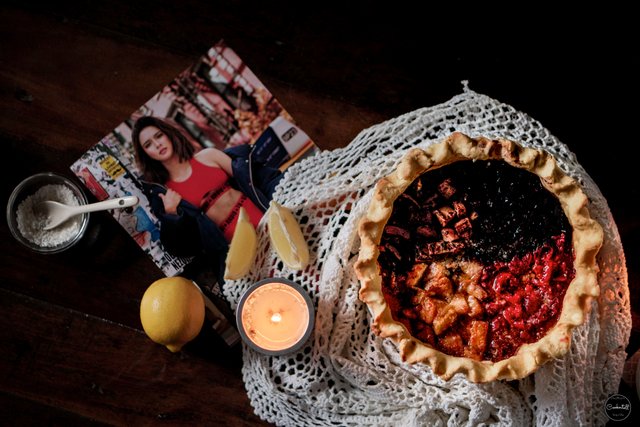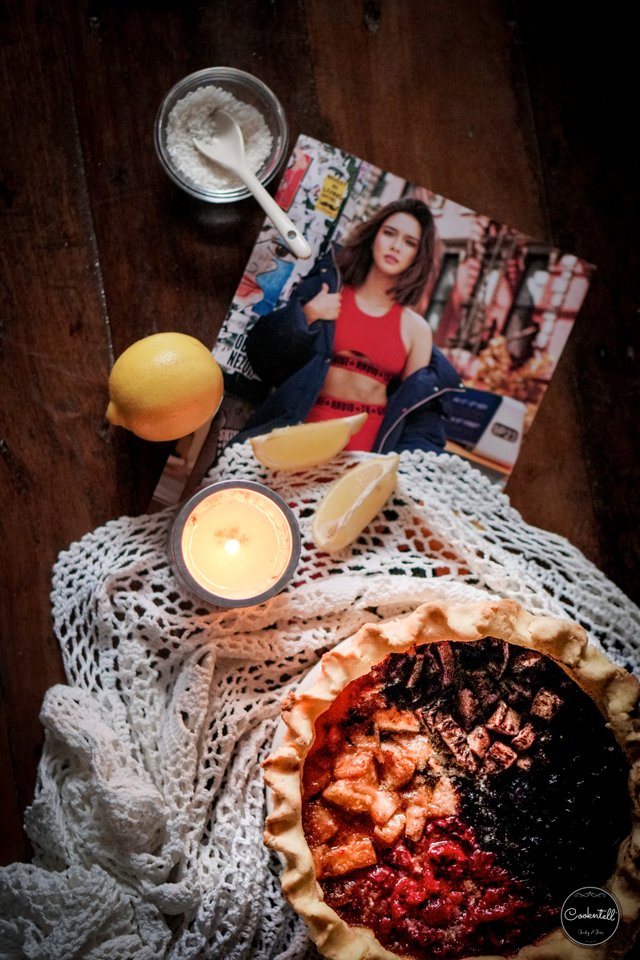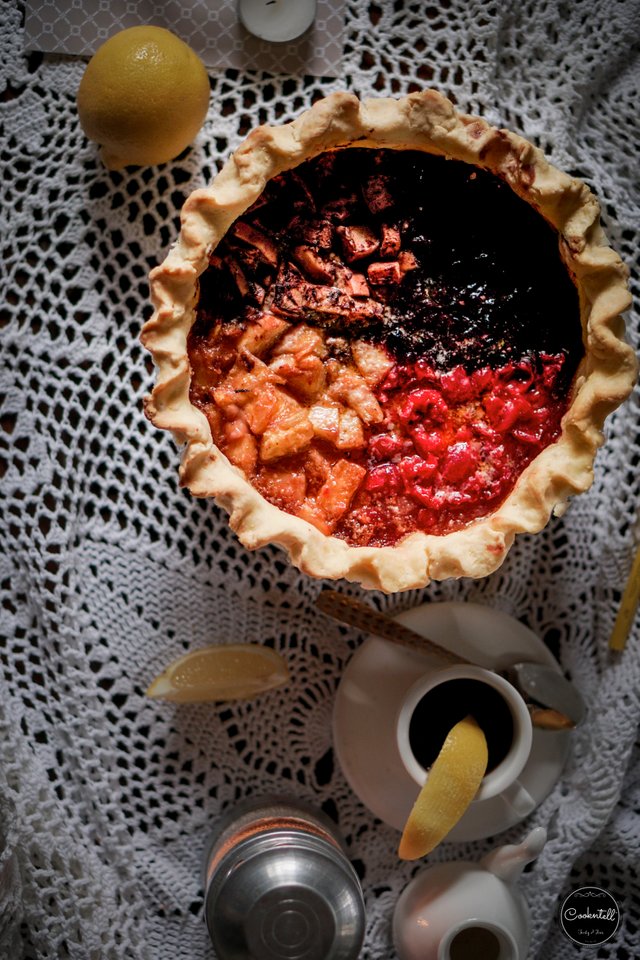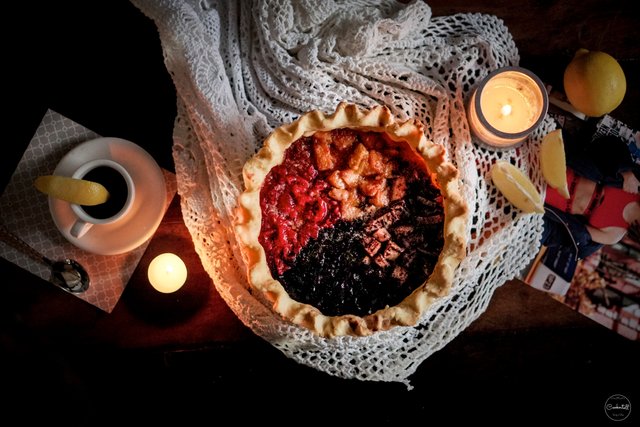 Thanks again for visiting my blog! If you've enjoyed and found this post valuable and if you would like to see more of my cookntell posts daily, then your upvote would be much appreciated!
:-)

See you on the next cookntell.

Love,
Jayne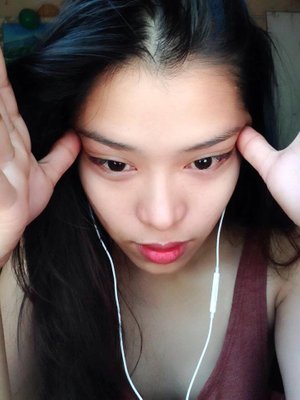 My look after not sleeping enough
thinking about my aliens last night
Guys, English is not my first language so sorry if there're any discrepancies. :-)
For my daily Cookntell food photography follow at my social sites:
Steemit
Instagram
Pinterest
Facebook
Twitter
Youtube
My Featured Steemit Posts
You can view some of my Featured Contents here:
Curie AUTHOR SHOWCASE/Mozzarella Burst Garden Special Buckwheat Pizza
BUILDAWHALE CURATION DIGEST/ Fruit Salad n' Cream Avocado Boat | FOOD PHOTOGRAPHY
BUILDAWHALE CURATION DIGEST/Cookies & Cream Mousse
OCD NOMINATION OF THE DAY/"Be Awesome Dragonfruit Smoothie
THE DAILY SNEAK/The Ultimate Chocolate Avocado Tart
DAILY HIT PARADE FOR NEWCOMERS/The Famous Filipino-Style Chicken Adobo
DAILY TRUFFLE PICKS: THE TOP 10 TRUFFLES/Chocolate Chunk Cacao Wafers ICE CREAM with Almonds and Walnuts VIDEO
THE BEST FOOD POST/Dark Chocolate Vanilla Cookies
THE BEST FOOD POST BY "RED FISH"/Pomegranate Choco Millet Cookies/VIDEO
DAILY PAYOUT STATS REPORT/Vegan Chocolate Cake
Watch More of My Recipe VIDEOS!
I have to be honest with you guys. I don't really call it vain but I love watching my food videos. It feels like a meditation for me. It is basically the sound and art in the kitchen. The sound of the fork, the spoon, the knife, the cutting board, the water, the mixing, the squeezing, the blending and everything in it sounds like in a grand symphony: a kitchen live music. For me, it is just sooo soothing. It's the reason why I put audio on my videos so you guys can experience a different way to watch too. So I wanna share with you some of videos here:
Watch More of My Recipe VIDEOS!
The Homemade Shrimp Burrito
Easy and No Bake Choco Peanut buter Cheesecake
Oreo Ace Graham Munchkins
The Leftover Mini Pizzas
Mango Coconut Bites "Quick & Easy"
Mango Icebox Cake "Mango Float"
"Mango Float" Creamy Icebox Cake
Vegan Almonds Avolato
Sakura Sweet Rolls
Baked Chicken Parmigiana
Dark Chocolate Vanilla Cookies
Pomegranate Choco Millet Cookies
Mozzarella Burst Garden Special Buckwheat Pizza
The Ultimate Chocolate Avocado Tart "Quick & Easy"
Vegan Chocolate Cake "Guilt Free"
The Famous Filipino Style Chicken Adobo
Chocolate Chunk Cacao Wafers Ice Cream with Almonds & Walnuts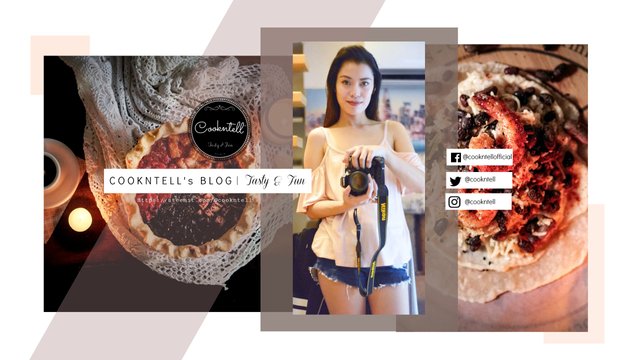 ©Cookntell Photography
All photo contents of cookntell are original photos created by ©Cookntell and cannot be copied or used without the permission of Jayne Alexander. @cookntell
"Thanks for visiting and I'll see you again!!!"

XOXO

I believe in the VALUE OF ORIGINALITY and I admire Steemians who are dearfully sharing their original work of art. However COPY and PASTE behavior is totally discouraged. Be authentic not a C O P Y P A S T E cat. You can mimic the result but not the creativity. It's called originality, you should try it sometimes. Cheers to the C O P Y P A S T E cats!

🥂🐱

Join us now @steemitbloggers