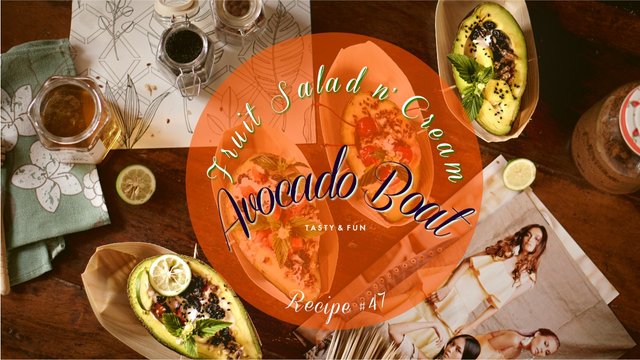 🥑🥑🥑"Miluji věci, které jsou nepopsatelné, jako chuť avokáda."🥑🥑🥑
I love things that are indescribable, like the taste of an avocado. Avo! How come Avo is the latest trend these days? In this tropical country, 'tis the avocado season so you'll see a lot of 'em in the market.
During the Avo season, the most popular dessert is the fruit salad that mainly contains avo as the main star of the show, mixed with watermelon, dried raisins , creamer with condense milk and rice krispies. Oh yum! Just the thought of it would make me drool.
"Hello! Welcome to Cookntell!"
This is recipe #47
Fruit Salad n' Cream Avocado Boat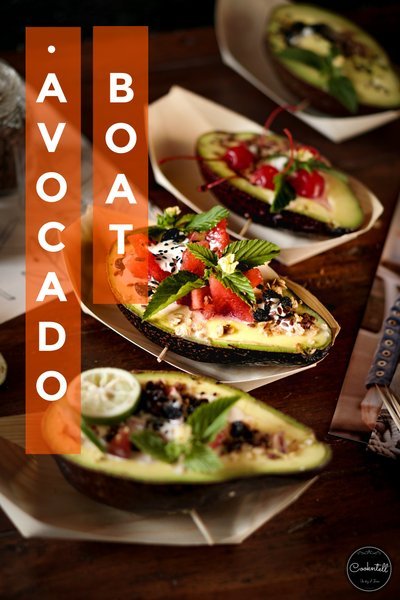 It has been a great summer so I'm sharing you this famous recipe I made today. My mom would usually make this dessert after lunch paired with condensed milk and heavy cream with ice cubes, that makes it more refreshing specially during hot days.
What I really like about the Avocado fruit is it has tons and varieties of dishes you can make. Whether you like salt or sugar as a pairing it always comes out good and tasty! And also it's healthy.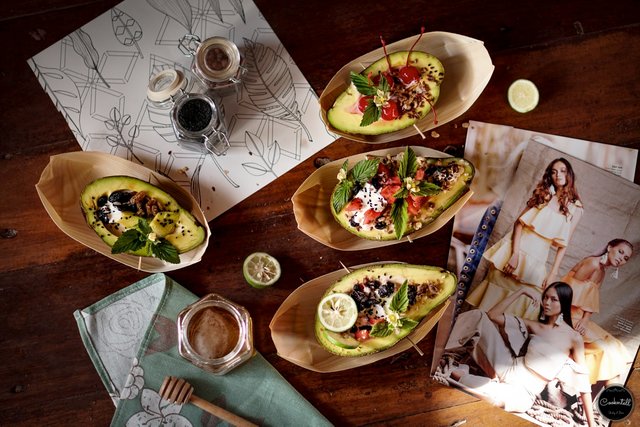 If you're too meticulous about eating right well go gotta pick the right ingredients for a healthier version.
But for me, my favourite avo dish is the plain salad with garlic, salt, pepper, lettuce, tomatoes and vinegar and a little bit of honey.
More like caesar kind of version.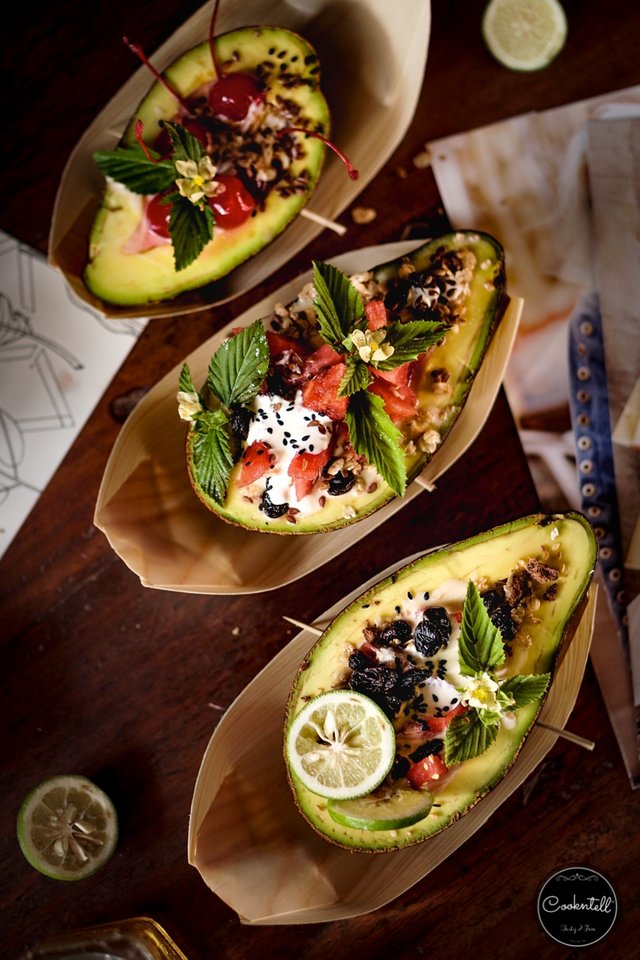 This week has been tough since I only have limited data keeping me from uploading the higher reso pics. Every photo is downsized so it'll be easier and quicker for me to upload.
It's the first time I treated data as something very valuable to lose compared to having unlimited internet where you can upload tons of pics and videos.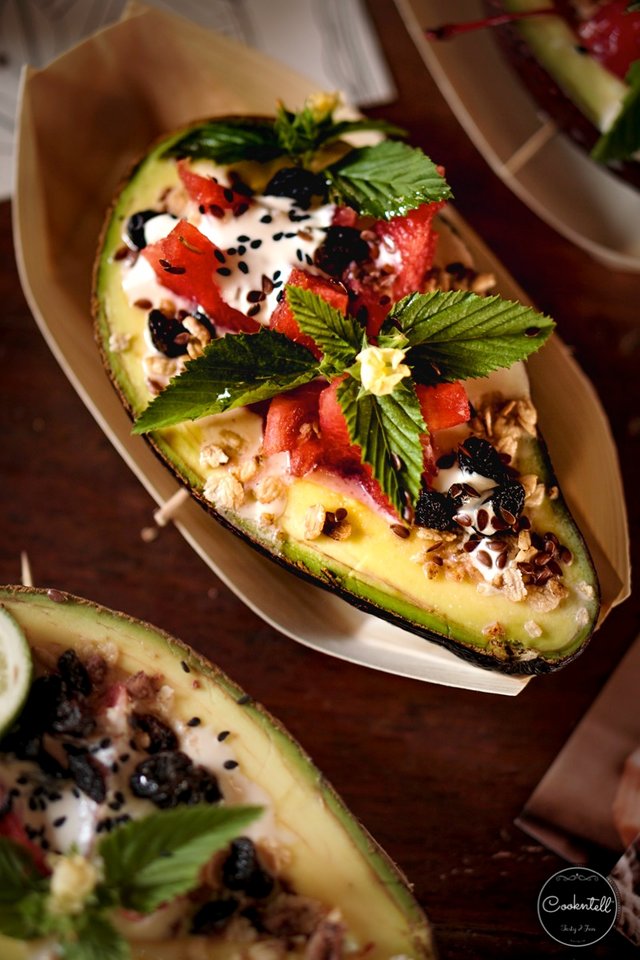 It is quite a challenge for me though but thankful I'm still able to make my post just once or luckily twice a week. Being able to live in an area where you're limited of your main technological comforts is definitely a struggle. Specially when you're so used with that comfy kind of life.
It's quite difficult to adapt right away but through this, you gradually improve from time to time and learn to acknowledge new things and encounter new ideas which you haven't done before.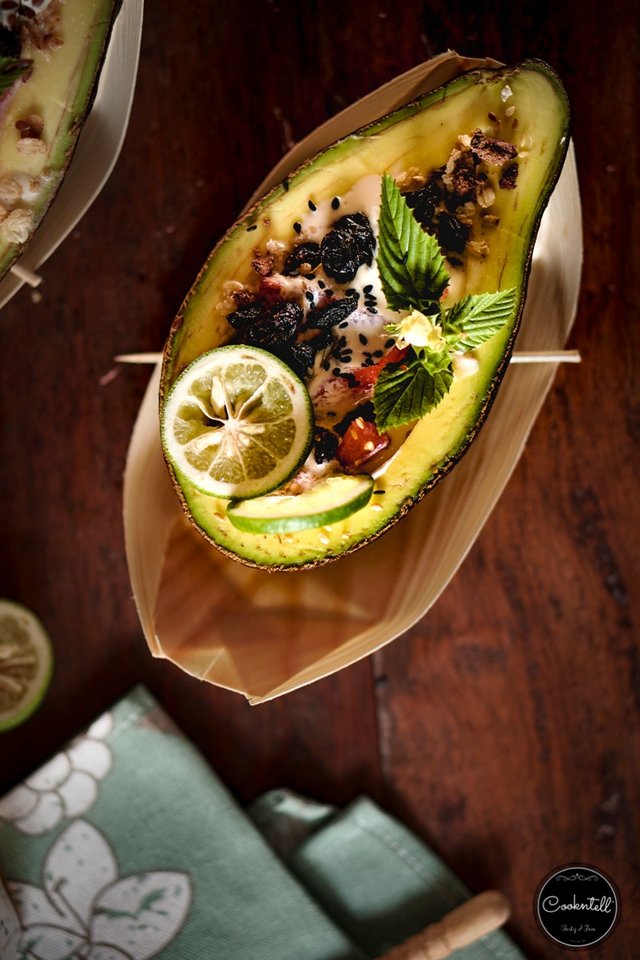 Looking forward is the best option so far. Trying to focus on your goals and think of new ways to deal with it with passion and understanding. My thoughts would sometimes bring me down but it is through that you'd be able to realise the true essence of positivity.
Today I made this very simple dessert and wanting to share it to you. I hope you guys like it. :-)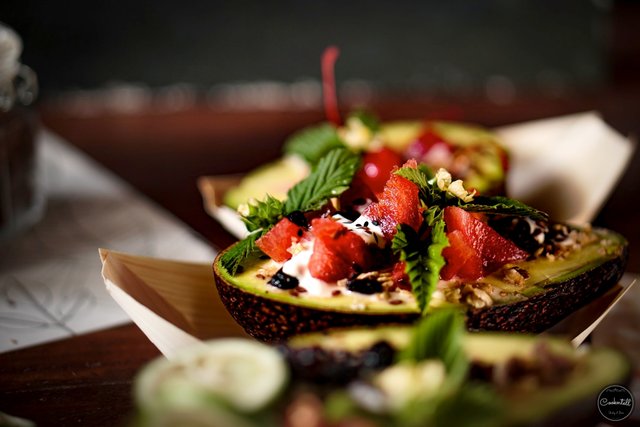 INGREDIENTS
3 large avocados
1/4 cup watermelon diced
1/4 cup cherries
1/4 cup cantaloupe diced
1/4 cup berries of choice
1/2 cup heavy cream
1/4 cup sweetened creamer or condense milk
1 tbsp rice krispies
1 tbsp raisins
1 tsp black sesame seeds
1 tsp white sesame seeds
1 tsp flax seeds
1 tsp cacao nibs
1 tbsp honey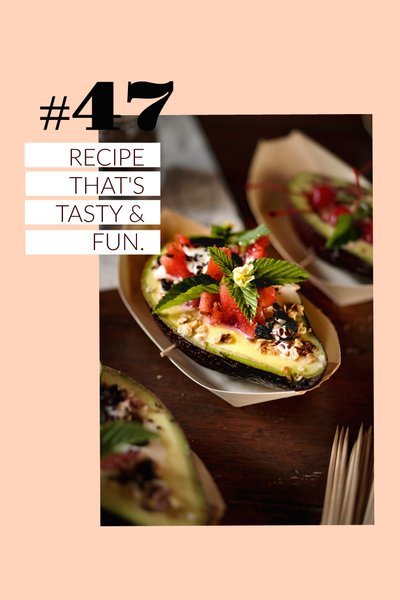 DIRECTIONS
Wash and slice avocados into halves. Remove seeds. Combine condense milk or sweetened creamer and heavy cream in a bowl.
Pour generous amount of cream mixture into avocados until half full. Fill with fruits of choice per slice.
Add toppings (raisins, sesame seeds, rice krispies, cacao nibs and flax seeds, honey).
Serve and enjoy!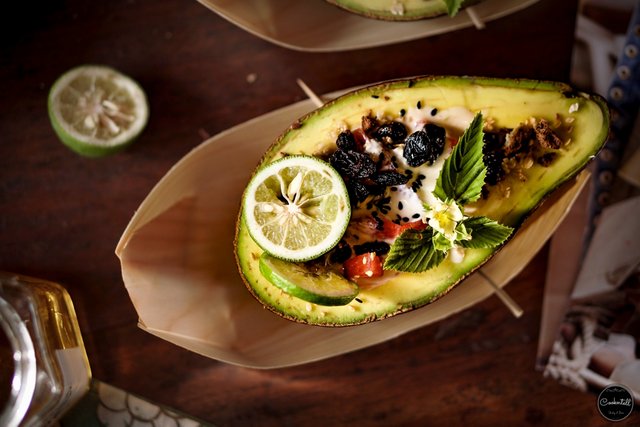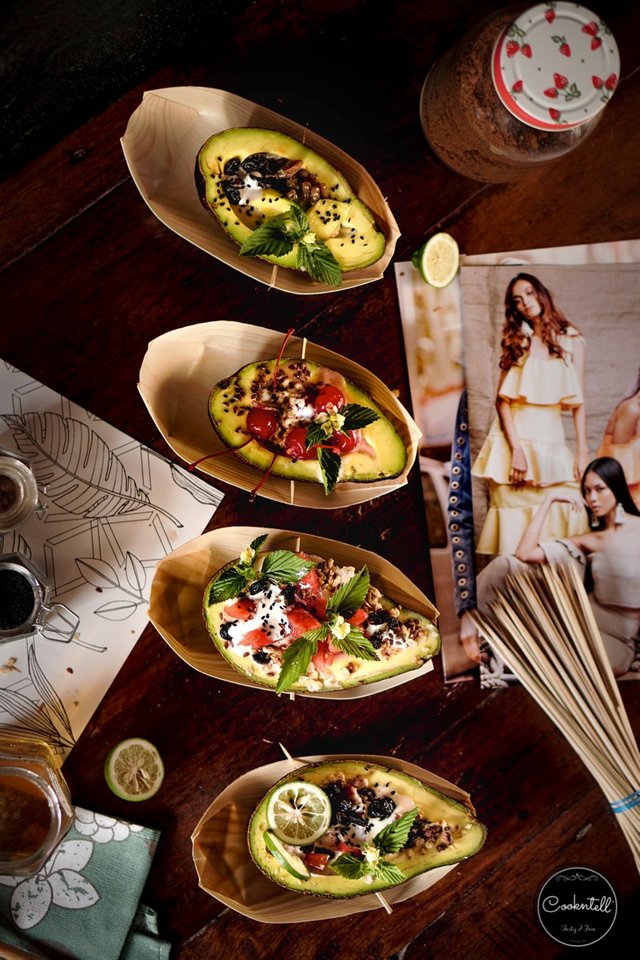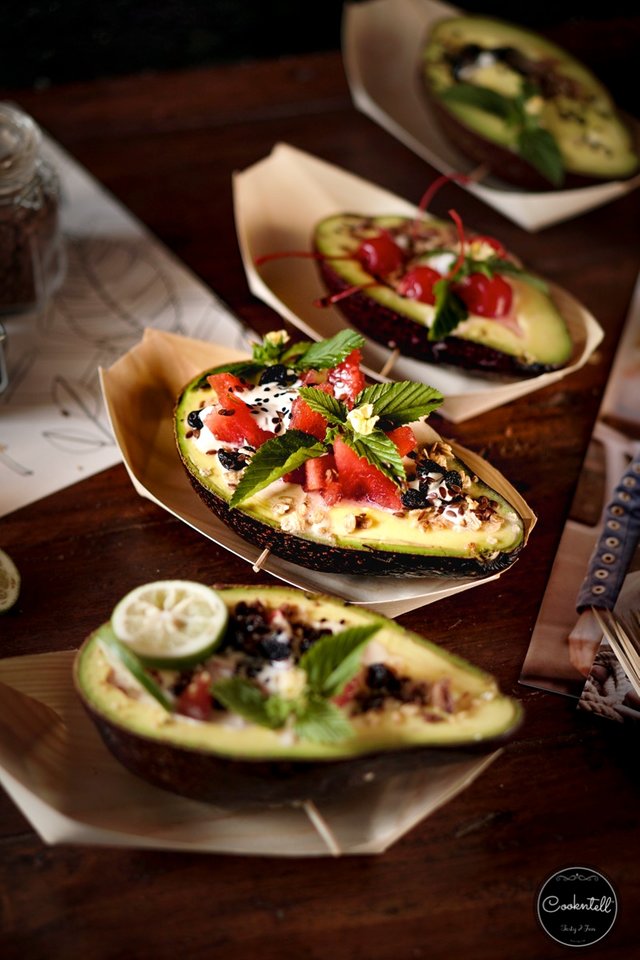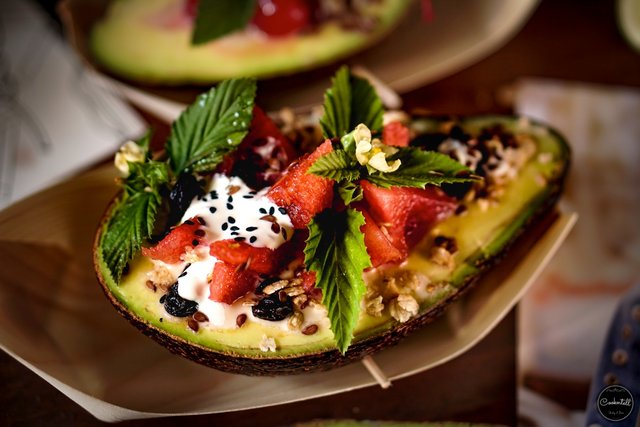 Thanks again for visiting my blog! If you've enjoyed and found this post valuable and if you would like to see more of my cookntell posts daily, then your upvote would be much appreciated!
:-)

See you on the next cookntell.

Love,
Jayne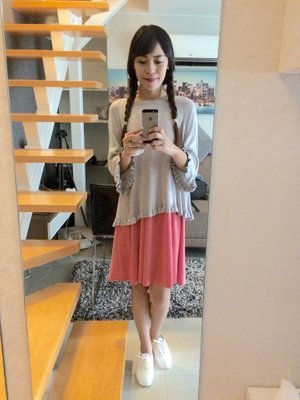 Guys, English is not my first language
so sorry if there're any discrepancies. :-)
For my daily Cookntell food photography follow at my social sites:
Steemit
Instagram
Pinterest
Facebook
Twitter
Youtube
My Featured Steemit Posts
You can view some of my Featured Contents here:
Curie AUTHOR SHOWCASE/Mozzarella Burst Garden Special Buckwheat Pizza
BUILDAWHALE CURATION DIGEST/Cookies & Cream Mousse
OCD NOMINATION OF THE DAY/"Be Awesome Dragonfruit Smoothie
THE DAILY SNEAK/The Ultimate Chocolate Avocado Tart
DAILY HIT PARADE FOR NEWCOMERS/The Famous Filipino-Style Chicken Adobo
DAILY TRUFFLE PICKS: THE TOP 10 TRUFFLES/Chocolate Chunk Cacao Wafers ICE CREAM with Almonds and Walnuts VIDEO
THE BEST FOOD POST/Dark Chocolate Vanilla Cookies
THE BEST FOOD POST BY "RED FISH"/Pomegranate Choco Millet Cookies/VIDEO
DAILY PAYOUT STATS REPORT/Vegan Chocolate Cake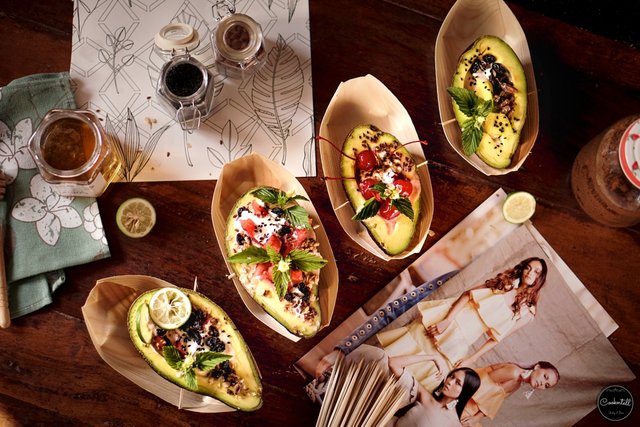 Watch More of My Recipe VIDEOS!
I have to be honest with you guys. I don't really call it vain but I love watching my food videos. It feels like a meditation for me. It is basically the sound and art in the kitchen. The sound of the fork, the spoon, the knife, the cutting board, the water, the mixing, the squeezing, the blending and everything in it sounds like in a grand symphony: a kitchen live music. For me, it is just sooo soothing. It's the reason why I put audio on my videos so you guys can experience a different way to watch too. So I wanna share with you some of videos here:
Mango Coconut Bites "Quick & Easy"
Mango Icebox Cake "Mango Float"
"Mango Float" Creamy Icebox Cake
Vegan Almonds Avolato
Sakura Sweet Rolls
Baked Chicken Parmigiana
Dark Chocolate Vanilla Cookies
Pomegranate Choco Millet Cookies
Mozzarella Burst Garden Special Buckwheat Pizza
The Ultimate Chocolate Avocado Tart "Quick & Easy"
Vegan Chocolate Cake "Guilt Free"
The Famous Filipino Style Chicken Adobo
Chocolate Chunk Cacao Wafers Ice Cream with Almonds & Walnuts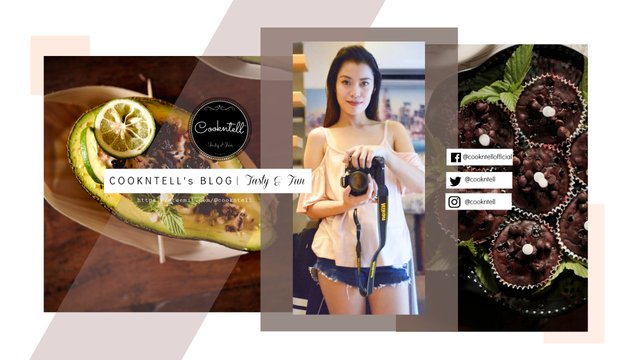 ©Cookntell Photography
All photo contents of cookntell are original photos created by ©Cookntell and cannot be copied or used without the permission of Jayne Alexander. @cookntell
"Thanks for visiting and I'll see you again!!!"

XOXO

Join us now @steemitbloggers