IMPORTANT UPDATE NUMBER 2
I'm changing the participant payouts because I USED UPVOTE BOTS ( @minnowbooster: 7.8 SBD and @booster: 7 SBD ) (Those would be worth a ton with the surge of SBD value!) . So, if the post's AUTHOR reward is 26$ half will be in SBD ie. 13, and the rest is STEEM. All the STEEM goes to top 3 entrants and 25% of SBD to resteemers.
I would've included more value from SBD if this post would've reached more whale upvotes, like I really anticipated it to do with the visibility aid from the bots, thus, the reason I invested in them: to reach a BIG audience (probably the only time I'll ever do this again; I don't like them either but decided to try because I wanted to do this big).
I should've thought about the possibility of this contest not collecting 100$ dollars and make the rules accordingly from the beginning. But this was an idea born in a whim of a moment so I didn't consider it throughoughly.
If I ever make another contest I will make sure to take such things into an account.
But IF we still reach something like 100$ I will definitely increase the shares that participants get! But it seems highly unlikely for the payouts usually don't increase much after the first two days.
Sorry for the potential confusion, I hope you understand, leave a comment if you have questions or disagreements. Everyone will still get rewarded for helping and participating!
---
---
"For a moment the world shall become white-blue", I read an headline on Helsinki Newspaper: Helsingin Sanomat -website.
---
"What's going on here?"
---
In the article of Helsingin Sanomat (it's in Finnish, sorry about that) it says that in almost 30 countries some distinguished sight is being lit with blue and/or white colors for our anniversary which is in 6th of December.
---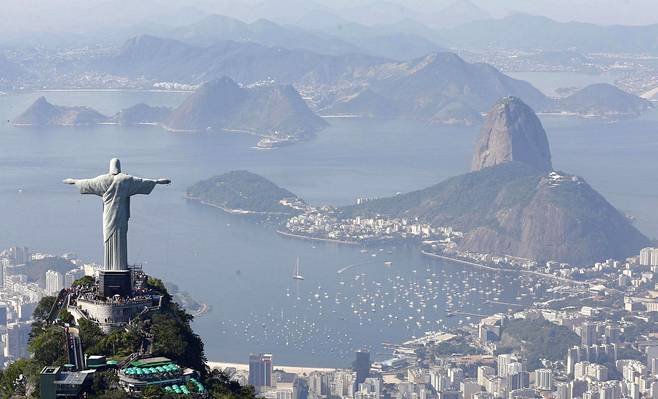 Source
The Christ -statue is one of the many sights being light into Finland's white-blue colors! Take a picture of any Finland solemnizing sight to be part of the contest which I'll explain further down!
---
According to Helsingin Sanomat the Finnish Suomi (Finland in Finnish) 100 organization has informed there being 5000 projects in over 100 countries considering the Finland's 100th celebration independence year! And according to the organization "the 100th celebration year has become to be the biggest celebration and theme throughout the ages"!
---
"What?!", I was reading in disbelief. "That's just crazy!"
---
To give some perspective: we live in the cold far north (we still have nice summers, though) and wer're used to just living here unaknowledged hiding from the rest of the world.
---
And then I read that the countries all over the world are solemnizing our celebration year.
That's absolutely unheard of.
---
Then I thought "let's do something crazy to make it even BIGGER":
"Let's reach ALL the Steemians who are celebrating Finland's Anniversary", and THIS is where YOU can help and receive a share of the SBD just by RESTEEMING so we can reach as many as possible!
---
UPDATE TO THE CONTEST RULES:
I'm now also accepting any picture, story, poetry, art or any other original work that is connected with the THEME of FINLAND. So anything from a picture of a Finland Anniversary party or a story about Finland, or poetry about Finnish nature. If you're not sure, ask me; I'm open to all suggestions!
This greatly expands the possibilities to participate!
---
In total there are thousands of events, find out if one is near you!
---
List of sights being light up that were light up:
---
Argentina, Buenos Aires, The Usina del Arte cultural centre

Australia, Adelaide, Adelaide Town Hall

Australia, Brisbane, Story Bridge and Victoria Bridge

Australia, Canberra, Telstra Tower, the Old Parliament House, Malcolm Fraser Bridge, Questacon – The National Science and Technology Centre(Parkes)

Australia, Hobart, Railway Roundabout Fountain, Elizabeth Street Mall and the Kennedy Lane Tourism Precinct

Australia, Perth, The Council House building and Trafalgar Bridge

Austria, Vienna, The Wiener Riesenrad Ferris wheel

Brazil, Rio de Janeiro, The Christ the Redeemer statue

Bulgaria, Sofia The National Palace of Culture

Canada, Niagara Falls

Cyprus, Nicosia, The White Walls building

Czech Republic, Prague, The Dancing House designed by Frank Gehry

Estonia, Tallinn, Stenbock House (The seat of the Government)

Estonia, Tartu, The Vanemuine Theatre, Võidu sild Bridge, Kaarsild Bridge

Ethiopia, Addis Ababa, Lion of Judah monument in front of the Ethiopian National Theatre

Greece, Athens, The Arch of Hadrian

Hungary, Budapest, Elizabeth Bridge

Iceland, Reykjavik, Harpa Concert Hall and Conference Centre

Ireland, Dublin, Mansion House, the residence of the Lord Mayor of Dublin

Israel, Tel-Aviv, Cityhouse

Italy, Rome, The Colosseum

Kazakhstan, Astana, The bridges across the Ishim River, St. Regis hotel

Latvia, Jelgava, Railway Bridge

Latvia, Riga, The Tower of the Town Hall in the Old Town, the Railway Bridge across the Daugava river

Mexico, Mexico City, The Angel of Independence monument (Ángel de la Independencia)

Mozambique, Maputo, Maputo Fortress

Netherlands, Alkmaar Stadskantine Alkmaar

Norway, Oslo, Holmenkollen ski jumping hill

Poland, Warsaw, The Palace of Culture and Science

Portugal, Lisbon, Belém Tower (a UNESCO World Heritage Site)

Russia, Lumivaara, Lumivaara Church

Russia, Moscow, The Embassy of Finland

Russia, Petrozavodsk, The National Theatre

Russia, Saint Petersburg, The Museum of Ethnography

Serbia, Belgrade, Ada Bridge, Palace Albania

Sweden, Stockholm, Globen

Switzerland, Montreux, The Mannerheim memorial

Ukraine, Kiev, The Embassy of Finland

United Kingdom, Newcastle, The Gateshead Millennium Bridge

United States, California, San Fransisco, Cityhouse
---
Pictures of those in Finland's blue-light colours would be tasty entry's ;)
---
INSTRUCTIONS:
Resteem this post

I WILL SHARE 25% of the SBD this post generates to resteemers!

All the STEEM generated by this post goes towards the prize pool which will be shared as follows: 1st 50%, 2nd 30%, 3rd 20%. Judge will be I @celestal, if not stated otherwise later.

Example of the contest rewards share if this post generates 100$ in AUTHOR rewards: STEEM reward is half, 50$, half of the total generated STEEM goes to the reward pool. So, 1st gets 25$ 2nd 15$ and 3rd gets 10$, in STEEM.

LEAVE A COMMENT SO I KNOW YOU HAVE RESTEEMED THIS POST!

Resteem deadline is 12th of December about 17 PM before the 7 day post reward period. I accept post entry's until 13th of December, 14:00 UTC BUT I CAN CONSIDER EXTENDING IT.

Share your work in the comments as a link to your entry post or just write your entry into the comment section below!

Tentatively 3 entry's per individual, but I can yield if someone really has a lot of good stuff to share.
---
---
What are you waiting for? Go, resteem make your entry and tell everybody else; Lets do it together!
And hit the upvote button generously to increase the prizepool and for the entrants in the comment section!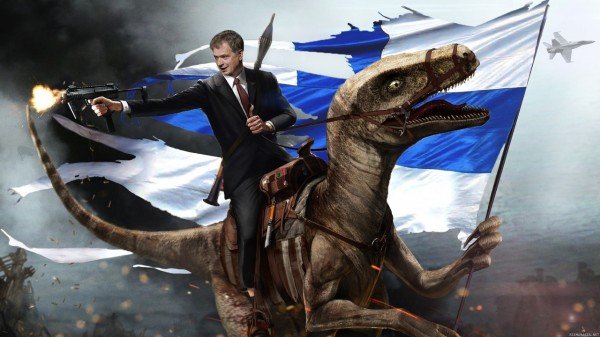 Source
That's right; It's our president shooting with a gun while riding a velociraptor carrying Finland's flag.