HI FRIENDS, HOPE YOU ARE WELL.
France won the FIFA WORLD CUP 2018. This is another milestone achieved by France. France beat Croatia by 4-2 goals. Every football fan was expected this match is going to be a thriller one & it became. As I predicted earlier that France was in favorite teams list & Croatia was in the top in dark horses teams list. Both team reached in the final.Some people were thinking that why I made the list like that & now they clearly understand that I have that potentiality to judge the quality team.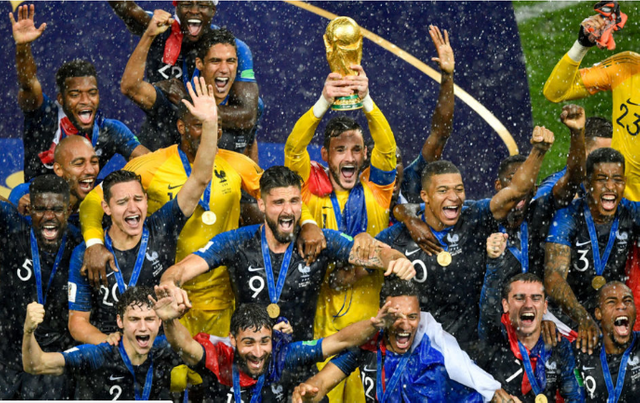 When the play was started every was busy to support their own. After around 18 minutes play Griezmann got a free kick & Mandzukic made a mistake by headed the ball to his own goal.& he became the first player who scored own goal in FIFA WORLD CUP 2018. Now France made a 1-0 lead by this gifted goal.
After 10 minutes Croatia's player Perisic scored a fine goal & made the match balance by 1-1. It is one of the fine goal you ever seen in this tournament.
After few minutes of play, a handball on Perisic was called a penalty kick after the use of video assistant referee. Griezmann took that penalty shot & converted it to a goal calmly. France took the lead by 2-1 after finish of 1st half play.
Around 59 minutes Pogba scored a fine goal & made France up by 3-1 in the match.He became the first Manchester United player to score goal in the FIFA WORLD CUP FINAL.
At this point Croatia was very much under pressure & they were thinking to do something special & comeback into the match but Mbappe , the young star player ended Croatia's hope by scoring a fantastic clean goal around 65 minutes. France was leading by 4-1 after that goal.
Then around 69 minutes the horrible Goal kipper gaffe was done by Lloris, France goal kipper. Mandzukic capitalized on that gaffe of Lloris & scored a goal. The match's score become France 4 & Croatia 2. I never see this type of foolish thing done by a goal kipper in a match like FIFA WORLD CUP FINAL. People just laughed so much by this goal keeper's error. He can easily shoted that ball anywhere but didn't do it. He just tried to show his foolish skill & he made himself fool by that. Remember it can be very dangerous if they were not so much ahead of Croatia by 2 goals.
Later there was no goal anymore though Pogba got another great chance to score at the end portion of the match but he could not do it.
So France win by 4-2.
It is the second time France win the FIFA WORLD CUP.
Thanks & regards,
@allinone7 .