Torundel the Shitposter! part XI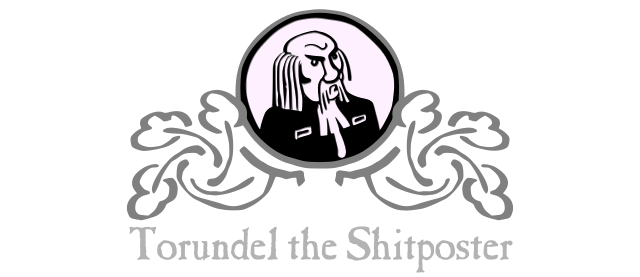 XI
Torundel looked at the young girl in astonishment. »I'm in the most terrible predicament, and you are laughing!«
After they had written the shitpost together she had been behaving in the most inappropriately pert manner.
»Did Sang Lokke hesitate when shitposted by three of his enemies?« she asked with bared teeth. »Did Sang Hortuscany hesitate when Dukeia asked him to prove his love by walking naked from the orgies, through the capital, drenched in wine, perfume and vaginal juices?«
He didn't point out that her examples were asymmetrical, that heroically accepting three challenges was something very different from being humiliated by a woman, because in that moment something inside him changed; and without hesitance he asked her to break the taboo of man and woman eating together – and dine with him.
Now it was her time to look surprised. »You… want me to eat with you? Like Sang Hortuscany and Dukeia ate together?« Her eyes watered, she whimpered, and with her fingers she took a large piece of meat from his plate and stuffed it in her mouth, hardly able to chew the massive chunk. Saliva and white sauce dripped from her lips onto her black dress where it mixed with her tears.
Torundel looked at the young girl in astonishment.

This amazing story is written by me! and will be continued!
Written using the following rules:
211 words - Starting with the word Torundel - First and last sentence are identical.
---
Previous episodes:
Part I
Part II
Part III
Part IV
Part V
Part VI
Part VII
Part VIII
Part IX
Part X