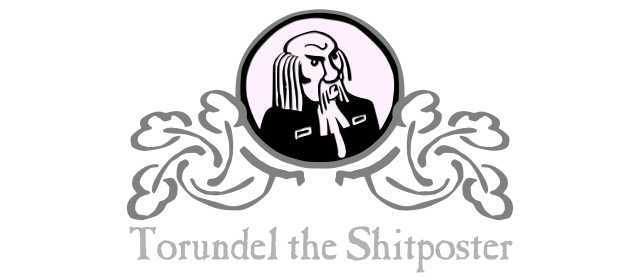 Torundel was tired of shit! His wife had finally moved into the manor house of her lover, Count B, but she still came and prepared supper for him. Poor Torundel. He looked down at the hamma seed and chuck breasts in a thick, white sauce and started to eat. He was hungry after all. Hadn't eaten since morning.
"You wont believe what B bought me!" his wife chattered.
"I believe you," he said with his mouth full of hamma.
"A cup! But not an ordinary cup! A cup made for an empress, thousands of years ago! I think... I think it was called... Houngrump!" Her face radiated the deepest concentration trying to pronounce the difficult word.
"Hungrump dynasty. 3466 to 3606," Torundel muttered while trying to avoid spilling white gravy on his purple dress. "An extraordinary period in human history. Not one of the five Emperors was a bad ruler! Sadly Numsegodt III had his head cut off by barbarians and then everything was back to its normal, shitty self with chaos and corruption."
"Count B is simply such a lovely darling! He treats me like I was a real lady, and I only have to give him access to my other hole once a day!"
Torundel was tired of shit!
This amazing story is written by me! and will be continued!