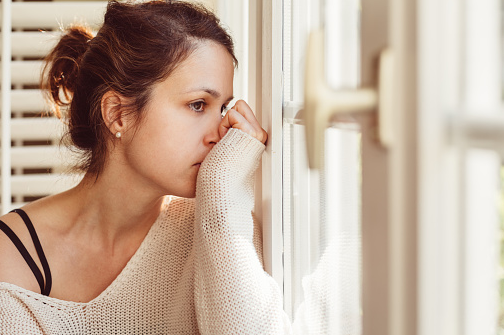 Moira sat at the counter in her bookshop staring out the window. Business is so slow these days. She sighed, and then got up to pour herself some coffee and went back to sit at the counter. With all this new technology hardly no one came into the shop anymore. 
Everyone buys E books online these days and no one sees the value of a book anymore. Although she has her regular customers, she is not nearly doing so well as before. 
Damn technology.....   
Her great aunt opened the shop and when she passed away, Moira took over and has been here ever since.  She repainted the shop and brought in a new computer system but that didn't change much. 
Moira absolutely loves books, and she used to love visiting her aunt at the shop when she was a little girl. It has always been a dream of hers to own a bookstore, but these days it just didn't seem worth it anymore.  
She hardly made the rent these days, and that didn't leave much money for her own living expenses. She was lucky to live in the flat upstairs because she would have probably landed up in the street if she did not have that advantage.  
She needed to think of something that would bring in more money, otherwise it would not be long before she had to close the doors and then...she shuddered to even think about it...
She opened her laptop to check her advertisement on Facebook. She placed it a few weeks ago, and she was reluctant to use technology and social media to promote her shop, but while technology is advancing so rapidly she just had no other choice. 
If technology was going to take down the shop, she was sure something could be done with "technology" to get it back on track.  
She got so lost on Facebook that she lost track of time, and did not even notice the man entering the shop.  
She blushed and greeted him. He was the most handsome man she had ever seen in her whole life...perhaps because she did not get out much.... but he was stunning. She could hardly greet him and then decided to just smile.  
"I'm looking for Moira Marshall." 
She panicked... "Why would anyone be looking for her?"
"Uhmm I'm Moira" she stuttered and looked at him nervously but he smiled at her and her heart literally melted. He had the bluest eyes she had ever seen and he looked at her with kindness.  
"Hi Moira, I am Terence.  I saw your advertisement on Facebook, and I would like to discuss my idea with you..."
She offered him some coffee and they sat together at the corner table.  
He smiled at her. "I'm not sure how serious you are about this but I adore bookstores. I always wanted to own one."
"Me too, I love this shop, but I urgently need some help to bring it back on track. With technology these days no one is interested in buying books anymore.  E-books seem to be the "in-thing" these days and it is such a pity." 
She rambled on about technology and then realized that she had to stop talking to give him a chance to talk.  
"I'm sorry...I'm talking too much" she said.
He laughed at her and said: "I find you very refreshing. I would like to make you an offer that you can't resist"
She smiled and thought to herself. " You can ask me anything you like and I will probably say yes." 
She blushed at her own thoughts but said: "I'm listening......"
"I have an idea that might knock you off your chair... I recently inherited some money from my grandfather and I would like to invest it in the bookshop. I want to change the shop into an internet cafe where people can come and sit and read during their lunchtime. This is the perfect spot."
Moira felt uncomfortable about the whole idea of technology taking over the shop and Terence saw that. 
"We could divide this shop in two...one with your books and the one side we can set up computers with loaded e-books. People could come and take a well needed break here during work-hours. We can even consider setting up a kitchen so we can serve them lunch. "
"That does sound like a brilliant idea.....I am so scared of technology, but perhaps it is time for me to change my attitude about it....." 
They sat there discussing the idea further and after nearly three hours Moira finally made up her mind. She had absolutely nothing to lose, and she hoped that she was making the right decision.  
"Let's do this!" She heard herself say without thinking about it any further. It was not in her nature to make quick decisions but after listening to Terence for the last three hours she decided that there was nothing to lose.  
It took a full three weeks for all the changes to be complete and Moira was amazed at the amount of business that came in after their grand opening. Even her books started selling again and she knew that Terence was the best thing that could ever have come into her life. 
Six months later Terence asked her to marry him right there at the corner table where they sat on that first day.  
Who would've thought that technology would save the day and bring her the most handsome prince that ever existed?