Johnny was once a normal guy.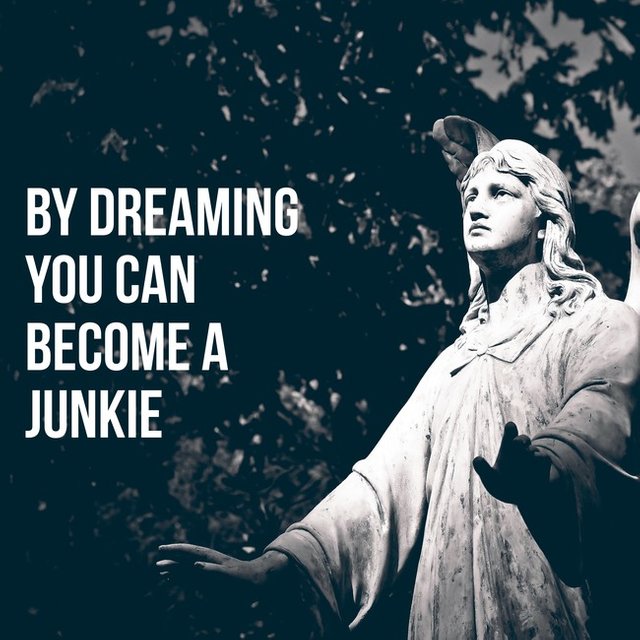 First chapter, dunno if there'll be a second, in an InspiroBot series where I take quotes from there and write whatever comes to mind.
---
You know, so, there was a time when Johnny was a normal guy. You see, God did not make all the angels angels. Sometimes, he made humans. As humans died, some became angels, especially those who were great people. But when all humans died, all that remained were the angels. Humans were just like angels but without wings. Yes, they could only walk. No, they could also jump a little bit. I was never a human, but I spent some time there as Johnny's guardian angel.
Anyway, as I was saying, Johnny was a normal guy when he was a human. He worked, went to the grocery store, and he even had a very wholesome relationship with his dog. And when he became an angel, he was also a normal guy. But not too normal. He was, if I may say so, a little bit obsessed with dreams. Even in life, he only hung out with the lucid dreaming community. That's how he died, by the way, he lost control, and one thing led to another till a Greyskull, as he called them, stabbed him a dozen times and he had a heart attack from the scare. No, the Greyskull was in his dream, and I kinda underestimated the danger of dreams and never walked with him in there.
So Johnny came to heaven at 65 years old and he realised the potential that eternal contemplation gave him. I suppose he ate all the Christian propaganda they were selling down on Earth, about golden palaces and this being just a richer physical plane. Well, he wanted that, so in his first contemplation, he observed the world around him and started seeing it differently. Yes, you see where I'm going, aren't you? Faith was much weaker on Earth, but here in Heaven, it means everything. Next thing you know, he had his golden palace. He saw golden colors, he thought it was a palace, he convinced himself, and then he was sitting in a great house where his every thought made an enormous change to his surrouding. Now you know what they say about his realm, don't step on the Dream Junkie's realm.
So Johnny was a normal guy, but I guess he was bred to be an equal to God. Maybe in a few millennia we'll have another creator join the ranks. Want to bet on what kind of living creatures inhabit his first realm? Yeah, they're probably humanoid, or maybe he still carries his dog in his mind. We'll see. Now go to sleep sleep!