Silly Old Fool
When my dad died he left me one of these. Unlike mine though, his wasn't filled with the 6 stickers required for a free coffee. And then I saw the date on the card and stickers, most of them had expired.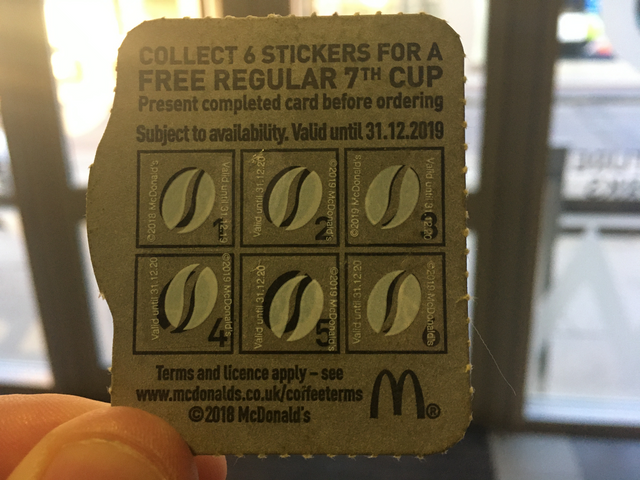 ---
We had fallen out a few years previously, not in any kind of shouting match but he was fairly adamant that he wanted me to change my surname back to his, so my daughter would have his surname. My mother had legally changed my surname to hers as he wasn't paying his obligatory child maintenance, my qualifications and document history was therefore tied to my mothers surname quiet early on. That was the first issue, and along with me thinking 'what's the point, i'm still your son', the bigger issue would be to try to persuade my child's mother that this was a good idea.
Considering we were, and still are, barely on speaking terms (that's better than it sounds these days as my daughter has a phone and is old enough to arrange plans herself) suggesting that our daughter change her surname to one that was neither of ours was not going to met with any kind of positive response.
I had tried to explain this to him but he wasn't having any of it. And so when he died suddenly, and frustratingly (still) for me just a few days before I was going to visit, this unsettled disagreement became one of the last conversations he and I ever had.
It wasn't long after his passing, although years before we actually buried him as he'd offered his knackered body over to medical research so they could take a look at the lungs of an 80 year old who'd smoked for 70 years or something, that I found out his Will had been arranged so that I (and all other children bar one) received nothing. This wasn't his original plan and I'm fairly sure that this disagreement was one of the main reasons his Will changed before his death.
As I write about it today, I'm not as beat up about it as I was five years ago and I'm smiling as I tell parts of the story. The sibling who received '
everything did have something for me, and as she handed me his wallet said 'he wanted me to give this to you'. It probably took me about 20 seconds to realise that this was his final laugh from the grave, touche old man, touche.
Inside was his driving licence, a library pass, contacts for doctors, a couple of receipts, and a card similar to the above. The wallet was usable (and probably better looking than the one I've had for 10+ years now), but after a short time I decided to throw the lot away - no good memories there.
It does feel harsh being 'cut' like that. I don't remember a time I ever pissed my dad off enough to give me a slap or even shout at me. I'd gone to school and university, listened intently to his sometimes boring and sometimes off the wall stories of his past, and generally thought there was enough there to overlook one disagreement. Apparently not.
Anyway, I'd like to think that I'll be leaving my daughter something more than an empty wallet (best make sure it's not just these Steem keys then!), and more importantly, not to leave her with a disagreement which would revolve around her mind for years to come. I'm confident though that if she has children, I'm not going to be upset about what their names end up being.
---
Back to the pies tomorrow then?
---
Or we can talk about:


---
I'm good with whatever :)
Cheers
Asher