Architectural Shadows.
This is my entry for this week's Shadow Photo Contest hosted by the lovely @melinda010100
I'm not sure if a basic shelter comes under the category of 'Architectural' but the roof of this simple construction cast a dark shadow onto the ground in the late afternoon at Scarborough Park Beach.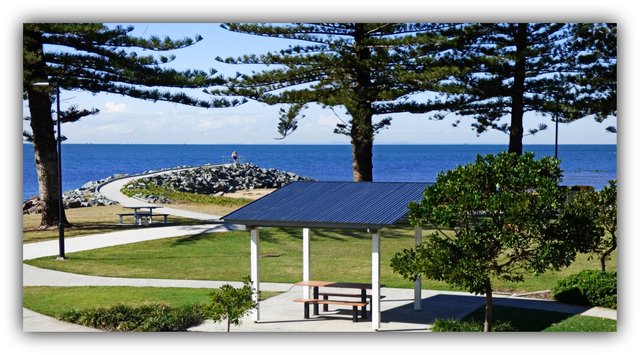 I'm very fortunate to look out at this view from where I live and I never tire of the beauty of the Norfolk Pine trees along the foreshore and the sea which is part of Moreton Bay, in Queensland, Australia.
Here Are The Rules For The Contest.
The Prize will be at least 5 Steem, divided between no more, and possibly less than 10 winners, who will be chosen by me, or a judge selected by me.
One submission per person.
Any upvotes and resteems are appreciated!
You can create a post using the tag shadowphoto but the photo or link MUST be posted in the comments here as well.
Feel free to use editing and effects to create a special look if you want. Phone photos are great!
The photo must be your original work. NEVER use photos that you find on the internet!
Submissions will no longer be accepted after the post has payed out in 7 days.
A Hint. Since this is a week long contest, if you publish a post with your entry, you may want to enter on the last few days of the contest. That way your post is still live and can be upvoted when the winners are announced.
THANK YOU FOR VIEWING. HAVE A GREAT DAY.