I bought a bunch of EOS while it was $9-$10 range because it seemed like more good developments were coming in and after analyzing every smart contract platform to various degrees, EOS became my favorite (Even though it doesn't really exist yet. But hey, Cardarno has worse tech, doesn't exist and has over twice the current marketcap of EOS)
This post I resteemed today also had many things I was looking for in a smart contract platform: https://steemit.com/eosio/@dan/eos-io-development-update
How Do I Judge A General Purpose Smart Contract Platform?
I do a simple test. I ask a simple question that would cover pretty much everything. So what's it? Can I run a Massively Multiplayer Online First Person Shooter on it after that game hit 30 million daily active players on this particular smart contract platform without ruining everything for the rest of the DAPPS on the platform?
So far everything except EOS gets an "F" grade. Komodo and Enigma have privacy features and NEM works as a currency with encrypted messaging and smart contracts as an extra purple cow. Other than that I don't see good enough competition. NXT and ADA are good. But they are not as good as EOS.
The Fork of Wikipedia
Yes there is a for-profit for called Everipedia and they are getting on board with EOS. Everipedia is the biggest English-language encyclopedia (YES I'm being 100% factually correct) and ranks 19,761on Alexa ranking compared to rank 5 of Wikipedia. Everipedia does have a low bar for quality. So the sophistication does come at a cost. So they are making the IQ token and once Everipedia is decentralized and hosted on the EOS platform nobody will be able to block the site and people will be incentivized to keep the quality high using the IQ tokens.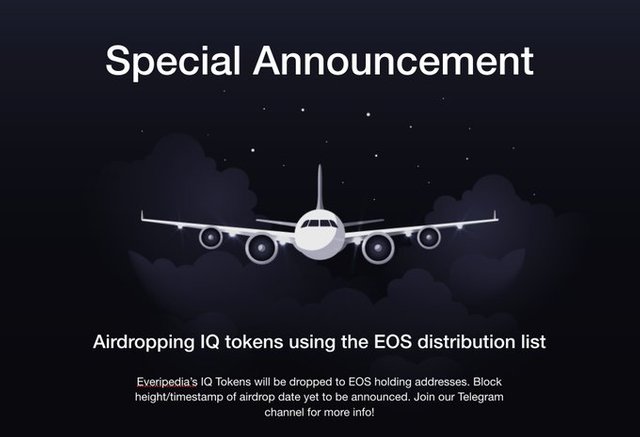 You get IQ tokens airdropped for holding EOS. EOS can run Ethereum as a single smart contract in the EOS platform and EOS is 15 times smaller in marketcap. The lesser versions of EOS tech like Bitshares and STEEM(and YOYOW and GOLOS) are battle tested OK who am I kidding. we are not even using 1% of the Tx capacity. So what battle testing. The point is you can't loose on the long term with EOS and https://lunyr.com/ is doing damn fine on Ethereum and that's starting from scratch. Everipedia is already big and they plan to attempt the same thing Lunyr does. I think Lunyr will have success too. I love the project. But even if I could time travel to get it at 12 times cheaper prices, it won't be an airdrop. EOS could be $100 and still be a fraction of ETH and you get IQ for your HODL.
So I know where to put my money.
Happy investing!