So You Want to Learn About EOS...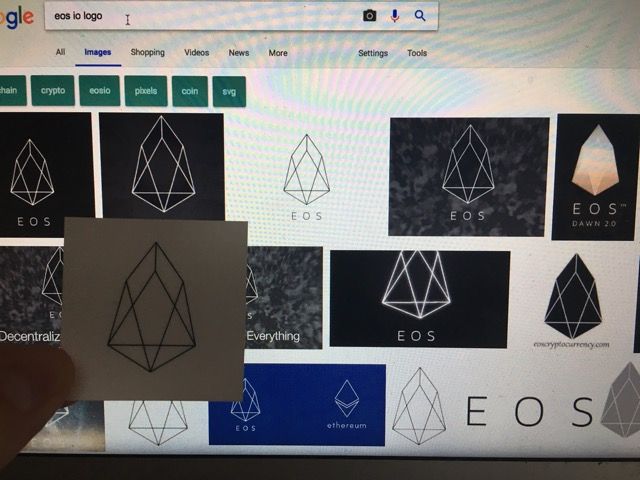 My EOS Logo Sticker
A couple of investor friends have asked me about where to start in order to "read everything" related to EOS. That's a tricky thing, since the whole space moves so fast, and I've been working hard to consume it all in real time for many months now. I figured the least I can do for them is talk through what I've been reading and maybe prioritize what should be read first. So here's my attempt at a brain dump of content links for those who want to learn everything about EOS.
I think the first place to start is to understand DPOS and why BitShares/STEEM/EOS are so different than other POW or POS blockchains via this post by Dan Larimer: https://steemit.com/dpos/@dantheman/dpos-consensus-algorithm-this-missing-white-paper
Then of course, there's the technical white paper for EOSIO: https://github.com/EOSIO/Documentation/blob/master/TechnicalWhitePaper.md
I've read most of Dan's posts on Steemit here https://steemit.com/@dan and much of what is posted on the EOSIO blog here: https://steemit.com/@eosio As many know, Dan Larimer and Ned Scott (co-founders of STEEM) had a falling out, so block.one moved their updates to Medium: https://medium.com/eosio They also have plenty of announcements and content here: https://eos.io/resources
I would probably start with Dan's posts by scrolling through his blog to about 10 months ago. That's where he first starts talking about EOS. Most of that is technical, so it won't be interesting to everyone, but for those who really want to read everything, that's important stuff.
I also found it interesting and valuable to read the back and forth between Dan Larimer and Vitalik Buterin (the creator of Ethereum):
https://steemit.com/eos/@dan/response-to-vitalik-buterin-on-eos
https://steemit.com/eos/@dan/reponse-to-vitalik-s-written-remarks
https://steemit.com/eos/@dan/the-limits-of-crypto-economic-governance-response-to-vitalik-s-critique-of-dpos
He also takes shots at Casper and other scaling attempts or POS approaches to Ethereum:
https://steemit.com/eos/@dan/casper-as-an-eos-contract
Inter blockchain communication is going to be a big, important feature of EOSIO:
https://steemit.com/eos/@dan/inter-blockchain-communication-via-merkle-proofs-with-eos-io
There are other important posts about transparency, governance, and evaluation of Cardano (what some see as a potential competitor for Ethereum and EOS, built by Charles Hoskinson who was involved with Dan and Ethereum in the early days).
There are plenty of updates and technical posts as well.
The EOSIO Steemit account reshared this one which you may find interesting about Dan Larimer: https://steemit.com/eosio/@xeroc/historical-facts-about-daniel-larimer-and-his-contributions-to-the-blockchain-industry
The EOSIO 1.0, 2.0, and 3.0 announcements are worth reading to see how things have been evolving:
https://steemit.com/eos/@eosio/dawn-1-0-released
https://steemit.com/eos/@eosio/eos-io-dawn-2-0-released-and-development-update
https://steemit.com/eos/@eosio/dawn-3-0-alpha-announcement
https://medium.com/eosio/eosio-dawn-3-0-now-available-49a3b99242d7
Things are changing all the time and stuff mentioned there may have already changed. To get the latest, you have to follow things in real time in Telegram.
@eosnewyork put together this helpful post with links to those accounts:
https://medium.com/@eosnewyork/telegram-resource-list-db54c6cc4fc9
The governance side of EOS is really, really interesting. Their use of Ricardian Contracts within the smart contract code is really cool. Code will have human-readable contracts which then can be used to ensure someone wasn't treated fraudulently and if so, there's going to be built-in arbitration and appeals systems. You can follow along with that in the forums instead of reading everything in real time in Telegram: https://forums.eosgo.io/categories/eos-governance-economics-philosophy
Thomas Cox is really sharp and leading a lot of the governance discussions and constitutional draft debates. I've enjoyed watching some of his weekly Q/A meetings on Monday nights with EOS Radio by EOS Go: https://www.youtube.com/c/EOSGo
Also, you can follow the year-long ICO in real time here which has just over a month left: https://eosscan.io/
Trading markets, as always, are on CMC: https://coinmarketcap.com/currencies/eos/#markets
And here are some of my own posts about EOS:
https://steemit.com/cryptocurrency/@lukestokes/why-am-i-such-a-fan-of-dpos-blockchains-like-steem-and-bitshares
https://steemit.com/eos/@lukestokes/how-to-buy-and-secure-your-eos
https://steemit.com/eos/@lukestokes/say-no-to-fomo-eos-ico-a-call-to-rationality
https://steemit.com/eos/@lukestokes/could-eos-become-the-most-widely-distributed-ico-ever
https://steemit.com/trading/@lukestokes/the-irrational-trader
That's what I have so far. What are some of your favorite resources for those who want to learn about EOS?
If all of this was too much, maybe just go with this Tweet: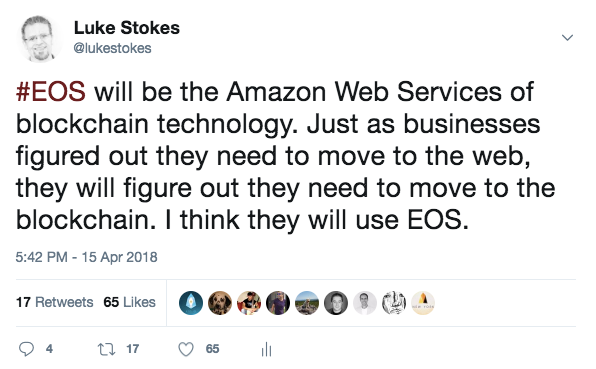 ---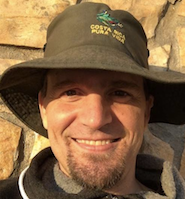 Luke Stokes is a father, husband, programmer, STEEM witness, DAC launcher, and voluntaryist who wants to help create a world we all want to live in. Learn about cryptocurrency at UnderstandingBlockchainFreedom.com







I'm a Witness! Please vote for @lukestokes.mhth