The dwarf Snape and his wife
The pygmies had two species in ancient Egypt The first is the African dwarf who worked in the palaces as a gambler or giving joy and laughter in the hearts of the king as a kind of clowns and at this pace worked the African dwarfs. While the other type is the Egyptian dwarf. And because of being Egyptian and the confidence of the Egyptians in them, they were working in the manufacture of fine gold and textile fabrics because of the small size of their fingers, which helps them to do it accurately.
As for Sennab was one of the pygmies of Egypt, but did not work as any dwarf, but he was initially working as a royal servant for the king, and he was promoted from one job to another until he reached the rank of supervisor of the royal palace, he was not just a servant, and he had a great wealth and had a special treatment.
In his unreal portal, one of its portraits depicts a picture of Sennab, which shows him mounted on a table similar to the royal monk, And the other shows him sits on a stretcher and he is at a height approaching the king, And others for the many goods borne by individuals evidence of wealth
His wife, the Sunites, had the titles of the priestess of Hathor and Niet, and therefore he was not like any dwarf in ancient Egypt
As for this statue, we find Snab sitting with his short feet and beside him, his wife's senetis. She is not one of the pygmies, and her hands fall around him as if they contain him. He is proud to be her husband despite his short length, it is a form of beauty and love expression.
And Snab with black hair wearing a white robe and his wife wears a jilbab or a long jacket and shows her light color unlike the dark color of Snab that is a proof of his work, which earns his skin dark color.
In a very creative illustration, the Egyptian sculptor sculpts a statue of a son and daughter of Snab, two children under the table where Snab is seated. It shows for those who see the statue from afar the legs of Snab.
The statue is in the Egyptian museum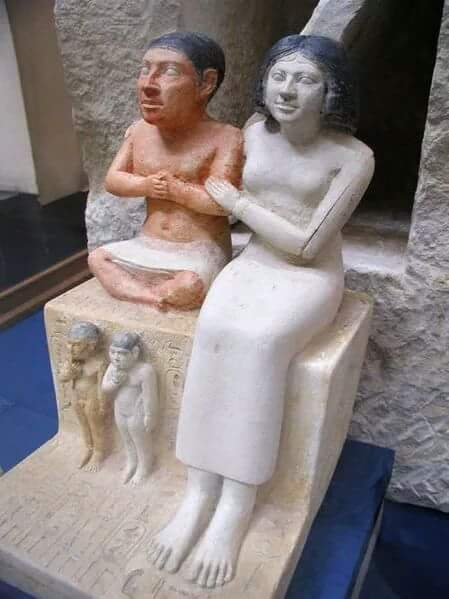 source
https://www.facebook.com/LwhatyAljmylt/photos/a.175222999282198.40671.175221839282314/1132824596855362/?type=3&theater