Teaching my Daughter French!
This week I have started giving French lessons to my seven-year-old daughter and this is what I'd like to share with you today in this post.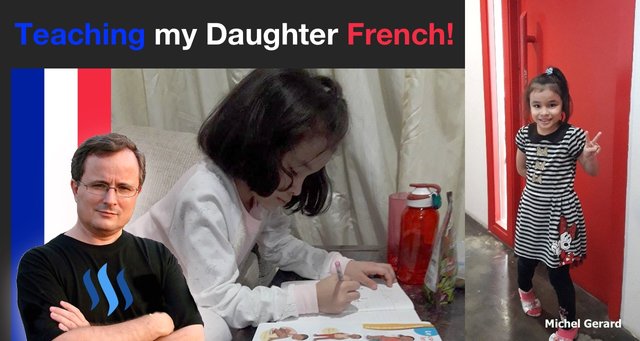 In fact, that is not the first time I am teaching her because the French lessons started at birth with baby songs in French she listened to relentlessly. Then, she listened to other French songs while growing up, watched French cartoons and played with apps in French on the iPad.
All photos are mine and taken with my Samsung phone.
Teaching my Daughter French!
I also used the one parent, one language approach at home, speaking to her only in French. The result is a trilingual child who is learning three languages at the same time.
The other two languages are Thai, which she learns from her mother and English, which she learns from school and multimedia.
You may be interested to read the post where I talk about this: Raising a Trilingual Child
Then, last year she started French lessons every Saturday morning and for two hours at the "Alliance Française" in Bangkok and I have this post about it: A Morning at the Alliance Française in Bangkok.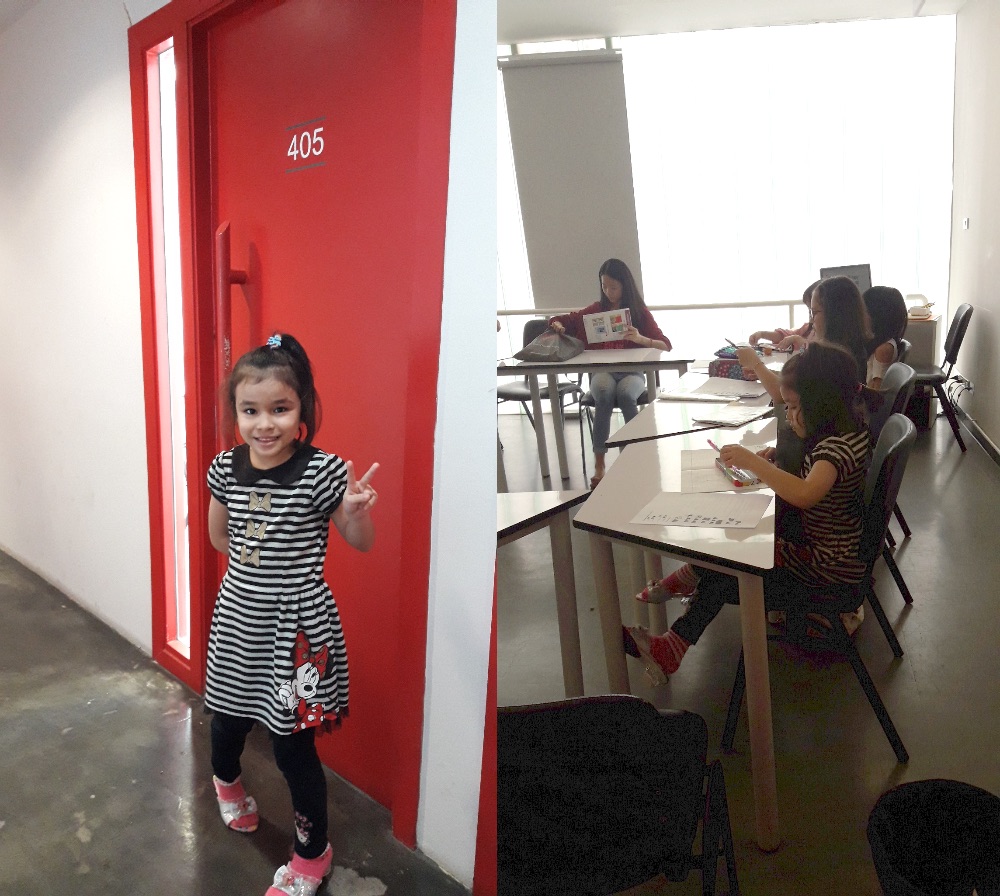 I tried repeatedly to seat with her at home with a book, but she was not interested to learn that way. She learned words and sentences with me just by talking, but this is not enough, reading and writing has to come into the picture.
Teaching your kids is a very difficult thing because of the parent-child relationship, and I admire people who can homeschool their kids.
That is why we enrolled her at the "Alliance Française" last year and this has helped her progress and be motivated to learn more.
A couple of weeks ago I bought a book at the "Alliance Française" in Bangkok planning to try again because she has just started Grade 1 at school and this is a good time to get serious with it.
I thought that if I can go through with this book, then I will order the books they use in French classes from Grade 1 to Grade 6, and do the French class myself at home, in addition to the "Alliance Française" because there is no way to skip that.
So this week we started the French lesson, which will be every day at 7:00 p.m. for 10 or 20 minutes. This is how I am creating the habit, a regular time and short duration, because it has to be fun for both of us, otherwise, this won't last long.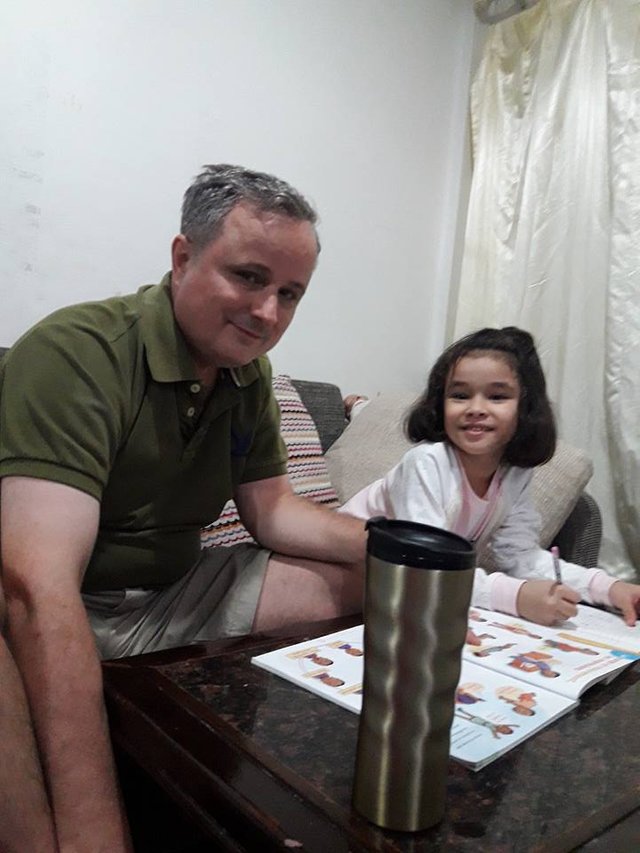 This time, she has agreed that we seat together and learn with the book. The motivation is that being in Grade 1 she feels like she is not little anymore and that it is time to learn seriously as she is doing with English, Thai, Maths and Music.
There is also a special motivation because in October we are going to spend a 3-week vacation in France, which will be memorable with something we haven't done before. I will talk about it in a Steemit post soon.
The book we are using is "Mon premier dictionnaire en images," which is a French dictionary of 1,000 words with pictures.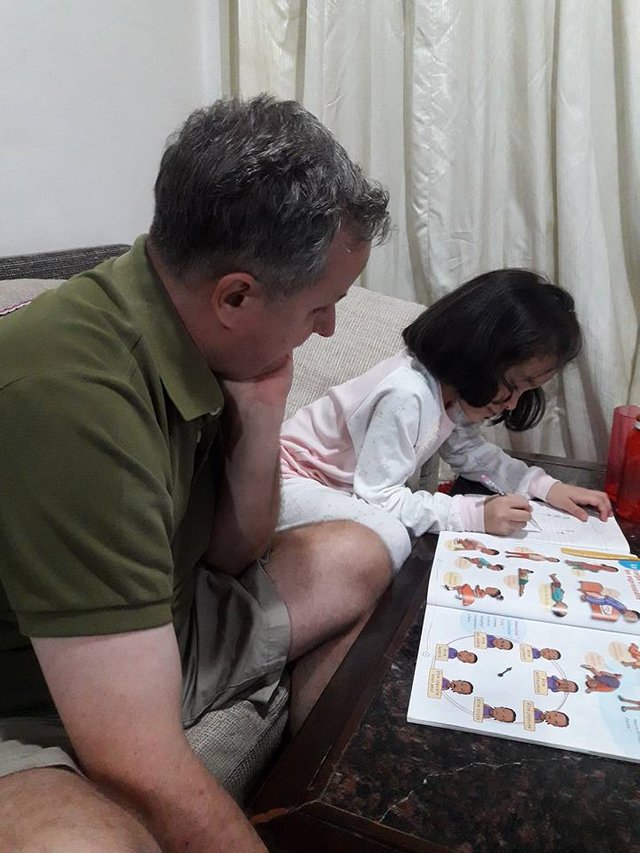 Here we go, reading and writing 10 or 20 minutes a day every day. We will see how it is going, it takes 20 days to create a new habit, so in a month, this should be routine.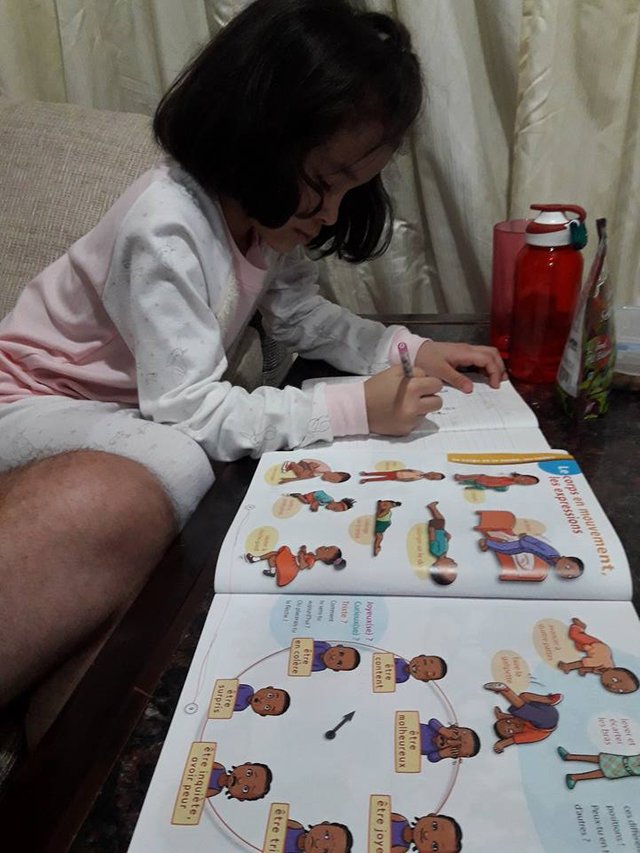 Thank you very much for reading this post, I hope you have enjoyed it and maybe you can tell me in the comment how you are doing when you want to teach your kids.
All photos are mine and taken with my Samsung phone.
Would you upvote this post and follow me for more because this will encourage me to write more posts like this one?
Would you please help @jerrybanfield become a top 10 Witness because you can help funding projects to build Steem as explained here? Vote for jerrybanfield as a witness or set jerrybanfield as a proxy to handle all witness votes at https://steemit.com/~witnesses. Read the 5 reasons why I'm voting for Jerry Banfield as a witness and how to vote in my post. You may be interested to read: What is a Steem Witness, How to Vote and Why?
Michel Gerard