Damiana and Golden Fairies: My Winter Solstice Brew
I had entirely forgotten about Damiana until two weeks ago when I found an old handdrawn label in one of my books, which has promptly disappeared again and I can't find it, or I'd share it with you. The label was for 'Damiana Love Juice', a home infused liquer which lead to a pretty crazy night which resulted in us not drinking damiana again for some time. I'll talk about that later in this post. Maybe.
I've been a bit depressed and anxious the last week, for reasons that my subconscious mind can only tell - to nut out why would just send me down a rabbit hole right now. Perhaps it's as simple as winding down at the end of term and feeling like I have a to do list as long as my arm - and it's compounded by sleepless nights and making sure everything is organised by the time we go on holiday. Anyway, I'd entirely forgotten I'd ordered a package of damiana until it arrived in the post like a blessing.
It's reputation for being a nervous system tonic that I ordered it, and I know it's great for recovering from long term stress and when the nervous system is wired, like mine is right now. It's meant to be relaxing and uplifting, and useful for anxiety, mild depression and nervous exhaustion. Even though I have been kept together by good eating and other supportive herbs as well as magnesium, I needed damiana's kick to truly bring me out of this awful nervous tension this week. Brewed on the hob with some honey to mellow it's slightly bitter taste, and a dash of chamomile, I felt better than I had for days - my racing heart beat slowed, my jitteriness soothed and softened and I felt better than I have felt in weeks.
Other uses for Damiana are summed up beautifully on the StarChild website, my favourite shop in Glastonbury, Somerset:
Damiana is an excellent nervous system tonic, which tones and relaxes tense nerves. It is also and excellent anti-spasmodic. In Mexican folk-healing it is often used to regulate painful menstruation for which it is said to be very effective. It can also be used in cases of headaches, especially tension headaches, anxiety, mild to moderate cases of depression and insomnia. One of its Mayan folk names is 'asthma-sweep', referring to its excellent power of alleviating and 'sweeping out' asthma attacks. Damiana is also an effective diuretic and urinary antiseptic that can be used in cases of urethritis, and cystitis. It is a mild laxative and can be used in cases of constipation marked by lack of intestinal muscle tone. Above all though, Damiana is an effective aphrodisiac tonic that can enhance sexual performance and increase libido in both men and women.
I love the way the site says it can be used to 'switch off the inner chatterbox' in meditation - no wonder I felt so good and slept so well last night after two yoga sessions including meditation - I dropped into the zone so well yesterday due to this switching off that I entirely attribute to the super strong brew of Damiana I'd sipped all morning! J's off to England this Christmas and I'm insisting he drops past the store to grab me a pack of their Dragon Sparks tea which contains damiana and a wealth of other herbs such as hibiscus, sassafras, galangal and spearmint - check out their website for the full list of herbs for this beautiful tea.
I'm sorry to say I didn't check where my package was coming from, something I don't normally do, but it was quite interesting that it came from Mexico as there it is known as a national treasure and apparenlty it's prohibited to export the live plants. They grow in mountainous regions there and are suspeptible to frost, I'm told, which was disappointing for me as I'd love to grow them here.
In Mexico they even have a damiana tequila, it's bottle a voluptuous woman in a clear and possibly lechourous nod to it's aphrodesiac qualities. If I was to make a glass bottle to fit this love juice, I'd probably try to get at least three people interwined in a love bubble, of non-discriminate sex, but I just watched the last episode of Sense 8, so maybe I'm distracted. Besides, why just a woman - are man parts too hard to make blown glass out of or is it only hetero men that buy tequila?
The herb was picked up by alternative high companies like Happy High Herb here in Melbourne and marketed as a dance drug alternative for bringing feelings of bliss, euphoria and happiness in the way that ecstasy might. It's also appreciated as a mix with marijuana or, sans dope, with mugwort - any forum on damiana inevitably has a smoker lauding the benefits of inhaling it's powerful qualities. We've had damiana tinctures on festival nights before and found it did give everything a blissed out quality without being over powering in the way some badly thought out doses of molly can do.
Besides, when we gave up pharma highs, it was to the natural world we turned. And Damiana certainly seemed the answer. By allowing tension to dissipate, increasing sensation and blood flow, she was an invitation to inhabit our skin, a joyful embodiment where sensual pleasure was forefront - the tiny dew drops on the wet cold grass catching the moonlight, the scent of wood smoke, the taste of chai with amaretto, the steady beat of the music across the fields, the dust whirling from the dancefloor at dawn - all these were invited into our sensory fields and dance with the Damiana goddess. It felt like an awakening, of sorts, as Donohue writes in his green man ramblings:
Bitter, warming, and aromatic, Damiana grounds us into our bodies, stirs our heart to quicken the rhythm of the movement of our blood, and relaxes the tension we hold to allow the blood to flow freely to all of our parts -- and where blood flows, awareness goes. In winters of snow and ice, winters of the heart, and winters of our collective experience, Damiana awakens the memory of the invincible summer within us.
It was during those dabbling days that we brewed our damiana love juice, with little real understanding of the power of this herb. We soaked vodka in damiana for a month, then added honey and left for another few weeks. It was beautifully decadent - syprupy and sinfully delicious. We thought of the green absinthe fairy, that wormwood sprite, and wondered why their wasn't a golden damiana fairy too, perhaps a South American sister. If we were artists, we would have loved to have drawn her.
I love the way these sacred botanicals connect us to the wild spirits that are part of us all and part of nature - spreading awareness outward to the natural world and absorbing it into us - a feeling of oneness with the natural world and a deep reverence for what they can give us.


I guess I need to give a word of caution here - if you're going to brew a strong damiana alcoholic drink, it's probably not wise that you drink the whole bottle in one sitting or those golden fairies are going to dance you round in sexy circles til dawn. And it's not just the alcohol - if anyone's ever dabbled with absinthe, it's a similar feeling that goes far beyond just the booze. Whilst we did have a night to remember, we haven't touched it since, overwhelmed as we were by the power of this brew.
Have you ever dabbled in damiana? Have you danced with the golden fairies of this botanical beauty?


We're going to be enjoying a damiana with brandy tonight to celebrate solstice. It'll warm our cockles on this chilly midwinter's night, awakening the invincible summer within us. And when we get back from our holiday, I'm going to experiment with some other damiana love juices, but perhaps consider moderation in the dosages next time.
Maybe.
---
---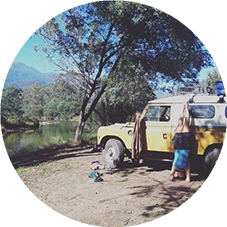 Want to find more quality posts? Consider the #tribesteemup trail, and adding them to your autovoting along with #ecotrain.. Please ask if you're unsure what this might mean for you.

You can read about the 8 Pillars of TribeSteemUp here