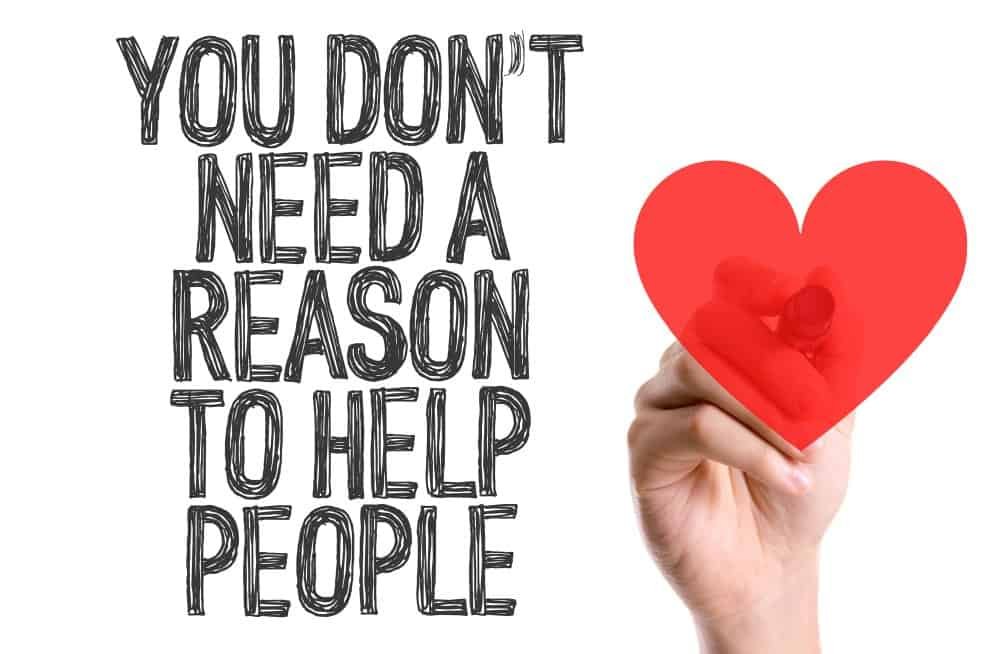 OOh this is a fun QOTW.. because there are SO many things to choose from. So WHAT to choose!? I think my choice should be the one thing that would be both very easy for anyone to do, and provide a great benefit to the world. As I pondered this question I thought about a few ideas.. but I wasn't really sure.. Then I took a break and did some hoovering as I had promised my wife I would ALL DAY and simply couldn't be prised off Steemit.. Damn! But I did, like a good husband, and whilst hoovering the bedroom floor the answer came to me... Eureka!
RANDOM ACTS OF KINDNESS!
Have you ever had someone do something nice for you, either totally randomly or after you kind of hinted at needing something? It is the most wonderful feeling, and can make the whole day seem so joyful. I am the kind of person who really loves to do this kind of thing, and I could write a long list of beautiful, amazing, and also crazy things I've done for people over the years! The funny thing is that we end up feeing just as good being kind to others as they do receiving! The saying that the love you take is equal to the love you make is so true! Why does it feel so good to give and serve? That is a very interesting question, and there is no doubt in my mind that it is SO true. When we give without any concern about receiving back it is a sacred act, one that affirms our unity with all life. Giving selflessly connects our hearts to the universal love and energy that the world is unified by. By being kind to others we are opening ourselves up to the the beautiful energies that are always ready to take home in the abode of the heart. These are not just words on a piece of digital paper, they are the truest and most real and beautiful experiences we can have.

Just how amazing would the world be if we ALL did one simple act of kindness to each other every day!? I would like to share a few random acts of kindness I did just yesterday.. all of which made ME feel happy and warm inside and cost me nothing but a bit of time and effort.
1. The overturned beetle!
As I walked down a nature trail I spotted a little black beetle on its back. It was flapping about and couldn't seem to get back on its feet. I'm not sure how long it had been there, but I stopped my morning jog and crouched down and gently popped it back on its feet. I'm sure it was very happy to be upright again, and as I did it i felt a lovely feeling in my heart. aweeeee
2. Making a Steemit homepage banner for someone.
I got a message on discord from someone I don't know at all, and he wanted me to help him make a banner for his Steemit profile page. He didn't mention anything about paying me for doing it, and sounded keen. I gave it some thought and decided that I would do it for him, and not bother to be concerned about money or payment. I spent about an hour on it, despite being REALLY busy yesterday, and finally delivered him a lovely banner that he was so happy with. He never mentioned giving anything back, and that was just fine.. I felt like I had really made his day, and it felt all the better because it was done just for the love of it.
3. Sending SBD up-votes to random Steemians
As some of you may know I give my SBD away every day to Steemians who write great posts but get almost nothing back. It takes quite a bit of time to keep checking the posts but it is a labour of love and feels really good to be able give back something to others who I know work so hard and often get ignored! As im SURE you can imagine, how great would it be if we ALL did this on Steemit!
4. The Hungry Horse
There are wild horses that roam the meadows where I live, and yesterday morning I decided to grab a load of carrots from the kitchen to give to them. As I jogged down the path, sure enough, I came across two horses. The second horse spotted me as SOON as I saw him and came walking directly to me. That was strange as it seemed to know instinctually that I had something for him! The carrots were hidden so I have no idea how it knew! We spent about 20 minutes together, and I fed the whole lot to him. This horse was so appreciative that I could see tears in his eyes and he just stayed with me even after I had fed him. He put his head on my shoulders and literally snuggled me, and then let me pet him for ages. When I walked away he just kept following me, and it was so clear that I had made his day!
I'm sure you can imagine I have so many more stories like this. Random acts of kindness is what can make every day a bit more magical and beautiful for us all. We live in a world where most people are looking out for themselves, even when confronted with others who are in great need. Random acts of kindness can be literally anything, even just a smile at someone who is begging for money, or a minute of time to talk with them. If we all did just one act of random kindness, Im sure we would all feel the difference and continue to be in awe at how beautiful us humans can be and what positive change we can make in the world with our combined, simple but beautiful acts.

Supporting People Who Help
Make The World A Better Place

Discover previous ecoTrain magazines at @ecoTrain