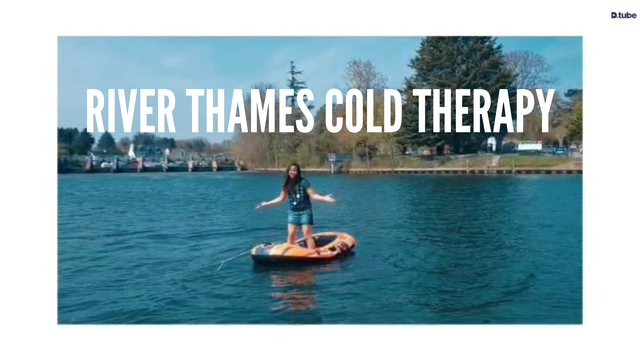 ---
This is the video of my DAY 0 trial run of jumping into the cold waters of River Thames. Something I'm planning to do every day from now on.
Read on to find out why!
---
Anyone else here who's ever experienced any Mental Health problem at some point in their life?
According to www.mentalhealth.org.uk:


And so have I. Especially in my teens. I had some dark times of severe depression and suicidal tendencies.
And again after the birth of my first child. I had post natal depression and developed social anxiety.
There's more to share about my mental health journey and how I've "come out of it", which I will, as time goes.
But the truth is sometimes these feelings still creep up.
Even though I consider myself to be an extremely positive person, especially nowadays, sometimes those emotions can still hit me.
There is obviously healing still to be done in that area for me.
Lately, I was feeling them again. But thanks to my life experiences and incredible emotional support system around me, I am in a much stronger place in my being and my mind, and I managed to not get sucked into that downward spiral, too much.
But I know I need to keep up with my mental health practices to help myself stay in positive vibes and good energies.
---
One thing that caught my attention recently is the Wim Hof method which is based on 3 pillars: Cold Therapy, Breathing and Commitment. Check it out!

Lots of other Personal Development gurus also rave about a lot of the same things.
And in case some of you didn't know, I have the cold river that is River Thames right in my back garden. That I can jump into for some cold therapy, anytime of the day.
Nothing too crazy sounding yet so far.. I know.
---
But combining this with what @nathanmars and so many others have been diligently doing on Twitter to raise awareness for Steem and Crypto.
I'm going to milk my free use of River Thames, do something a bit different and most likely weird, every day at a set time, before I jump into its freezing cold waters.
Weird costumes? Weird make up? Anything PG goes!
So how is this going to raise awareness for Crypto and Steem?
At some point, I will be asking for PG suggestions of what I can wear and what I can do before I jump into the river.
AND accepting donations only in Crypto, that I can cash out and make all of it happen.
---
So let's see where this goes!
If it gains any traction at all, I know it can raise lots of awareness to Crypto and Steem. And especially to Mental Health.
Who knows? If lots of people decide to donate, it could mean donations to charitable causes as well!!
And if it doesn't, I hope to have achieved, through committing to this, my peak mental health state.
So I really have nothing to lose.
---
The plan is:
Every day at approximately 8am GMT, I will be posting a clip of me jumping into River Thames on Twitter.
What I wear and do before I jump in, will differ every day, and will most likely be a bit kooky.
I will post only a clip on Twitter, and will post the full video on Dtube and Youtube.
---
ANY SUPPORT APPRECIATED!
Let me know if you have any fun suggestions or thoughts!
And feel free to send me lots of encouragement, because trust me, I am doing my best not to give in to my self limiting doubts that are pretty effing loud right now.
Much Love from Red
---
▶️ DTube
▶️ IPFS