The State of Steem Forum #4 (Steem Economics & Ned Scott) - Thursday 17 January 2019 [recording]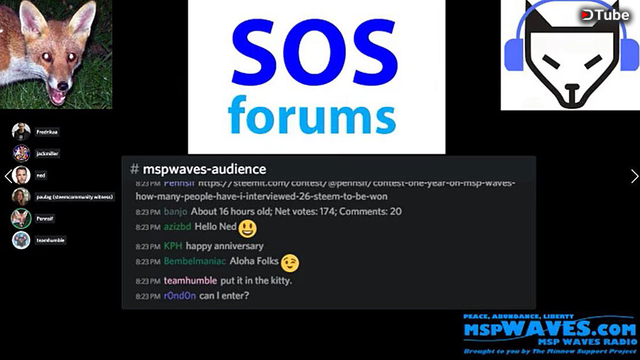 ---
The fourth State of Steem Forum covering Steem Economics was broadcast on MSP Waves on Thursday 17 January 2019.
Steemit Inc CEO Ned Scott appeared on the forum as a special guest to present his recently released Mission, Vision and Values document.
This forum focused on Steem Economics, covering topics such as steem inflation, attracting investors, revenue streams, advertising.
The people speaking on this forum were...
A number of other prominent steemians were in the Discord audience chat including @acidyo, @anomadsoul, @drakos, @gtg, @hr1 and @shredz7.
---
Due to a technical problem, the first few minutes of the forum were not recorded correctly. The discussion opens with @fredrikaa speaking. Ned's interview begins around 6 minutes in.
@traveller7761 spoke about polls that have been running alongside the SOS Forums...
---
---
There are a further three forums scheduled. If you would like to take part in any of there please message me on Discord (Pennsif#9921).
Forum 5 (24 January) : Marketing, onboarding, PR

Forum 6 (31 January) : Communities, content creation, curation, retention

Forum 7 (07 February) : SteemCommerce, shopping with steem
---
---
This recording is also available on YouTube