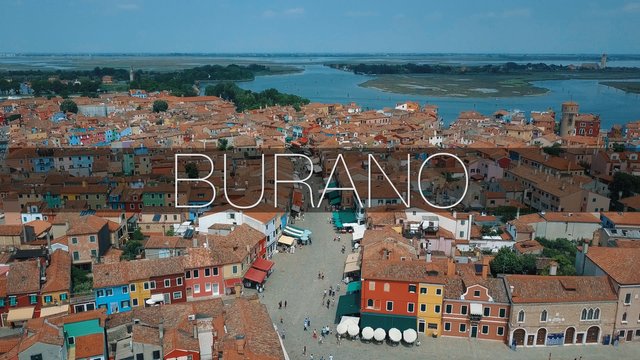 The First Thing You Notice is the Bright Colors:
Every building is painted in some form of bright blue, red, yellow or green. They're not large houses, at least they don't appear to be from the outside. I wasn't lucky enough to step inside one of them but I did hear a man through a window singing from his shower. Just around the corner was a neighbor picking tomatoes from his garden. Nothing feels more authentically Italian than tomato gardens and boisterous singing.
To get there you must first take a ferry, like most places around Venice, and it took about 30 minutes. First you stop in Murano, another beautiful island that is nearby. I was up quite early to do all my exploring so when I got to Murano there really wasn't much going on. I walked around a bit and even got yelled at for wandering into a glass making factory. It didn't really appeal to me. So I went back to the water taxi stop and waited for the next ferry to Burano.
When I first stepped off the boat it also looked very empty but I could tell that would change quickly. It's not a very big island. In fact it's quite small. You can walk from one side to the other in about 15 to 20 minutes. As I approached the first canal, I quickly pulled out my camera and started snapping pictures. I always try to get as many as I can with no one filling the streets. I enjoy seeing these places as they are when no one is around. I like that bareness or rawness.
Next I started scouting for a place to launch my drone from. I'm always trying to avoid as much attention as possible. I quickly walked from one side of the island to the other, taking pictures all the way, looking for an isolated location. Usually the outskirts of the town work. Most people seem to gather where the shops and restaurants are. I like the unsuspecting spots. The places no one goes because there's nothing there. I think there ARE things there and no one is looking hard enough. I'm trying to find those things.
An hour or so later I find my spot. There was a small park and jungle gym on the far side of the island. No shops, no restaurants, just a few benches and a swing set for kids to play on. Don't worry, I'm basically a small child, I would fit right in. I pulled out the drone and started to set up. I found a shaded spot so I could easily see the image being transmitted to my iPad. I looked around and the coast seemed to be clear so I took off.
What I love about flying drones is that you truly get a birds eye view. You're seeing angles that no one else can get. Before the consumer drone you had to rent a helicopter or plane to see everything from above. Now I can roll up with my backpack and pull out a flying machine that takes five minutes to get airborne. It's truly an amazing piece of technology.
Thirty minutes later I landed. By that time one mother and her child had arrived at the park but they only seemed amused by what I was doing. The man with his tomatoes was a different story. I think he thought he had seen a UFO. I quickly dissembled the drone and placed it in my backpack. I went and found a piece of pizza and a can of Coke. I sat down with my legs dangling over the side of the canal and enjoyed the sunny day. Fifteen minutes later I was on ferry and heading back to Venice.
Ironically, as smooth as this flight went, a year later I tried doing the same thing but from a different location on the island. I found myself back in Burano for the day and wanted to up my drone game. I'm always looking to get just a little more footage from the air. Unfortunately this second time I got yelled at by an Italian man and had to land just a quickly as I had taken off. I didn't stick around long enough to find out how angry he was.
If you enjoyed this post, please consider upvoting, commenting, resteeming and giving my account a follow. If you have any questions or comments please post them below, I'd love to respond to them.