dPoll Report: Weekend Edition
Table of contents
About dPoll
Competition No. 11
Announcement of last weeks winners
Sndbox Contest 8
What happened on dPoll last week?
Our growing group of Sponsors
Some stats on dPoll
About dPoll
dPoll is a polling application on top of Steem. It utilizes an account based voting system and stores poll and voting data on the blockchain. You can find it at dPoll.xyz.
Here is a handy How-to for creating dPolls.
Our team member @emrebeyler was busy implementing a few updates.
Multiple Choice dPoll: this was a desired feature by the community. You can find it at the bottom of the editor. It can be enabled if you think it is appropriate for your dPoll.
Poll promotion: this is helpful when you create a poll and want to increase exposure to more users than follow you already. If you bid the highest amount, your dPoll will appear on top of the dpoll.xyz homepage.
New content filters:
An additional change introduced with the content filters was the issue that it was not obvious which dPolls were already expired. With the change only active polls are shown - in every filter. If you want to look up older polls you can go to the profile of a dPoller by either clicking on the user name in a recent dPoll or going to https://dpoll.xyz/user/@[username].
If you have any feedback, go to our issues page at Github or drop by at our Discord server.

See it online at dpoll.xyz, and the source code at github repository.
dPoll Competition No. 11
Starting this Sunday, every poll created until next Saturday will be eligible to enter the competition.
There are two ways to win:
Price pool for most votes cast:
1st Place wins 3 Steem
2nd and 3rd Place each win 1 Steem
One random voter for the winning dPoll will receive 1 Steem
Entry: you will have to create a dPoll on dPoll.xyz and try to accumulate as many votes for your question as you can. Deadline is Saturday the 2nd of February 2019 12 PM UTC*.
Team members of dPoll are excluded from participating in the prize pool.
---
Winners of Competition No. 10
Congratulations to the winners!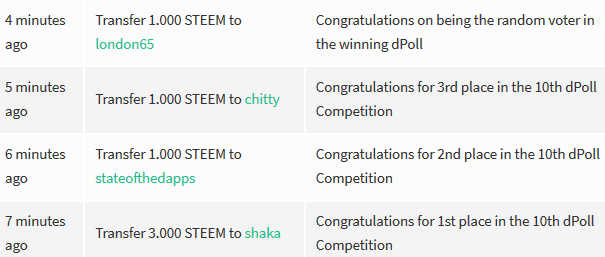 Sndbox Contest 8
Sndbox hosted their 8th contest for creators who are looking for feedback on their own project.
The winners were:
@exhaust won 1st Place and a 75% upvote from @sndbox for their dPoll:
What @exhaust feature do you think we should put most of our offort in developing?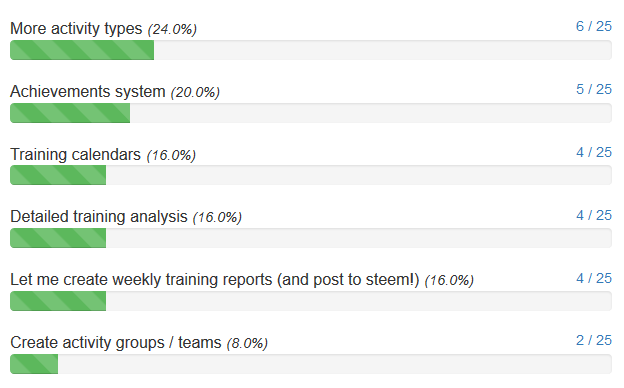 ---
@ecoinstant came in 2nd and got a 50% upvote by asking:
Asking for feedback as a Steem user
---
@impactn launched their prototype. The goal is to help new Steemians and improve Steem:
What's the best way to create a great user experience on Steem?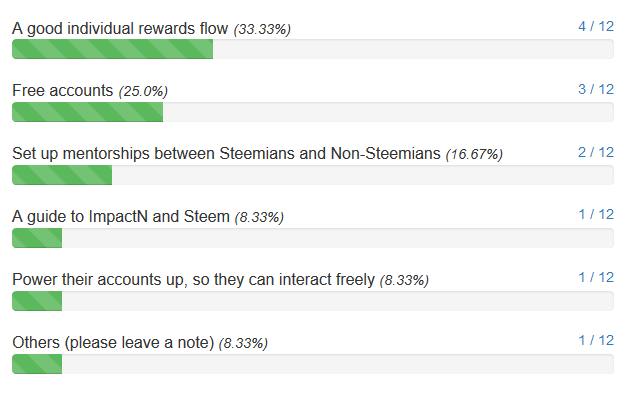 This earned them 3rd place and a 25% upvote.
---
There is no need to worry if you are not working on any projects at the moment.
Sndbox is hosting many contests in different categories. Go check them out!
As long as you are doing something on Steem there should be an opportunity for you to participate.
Here is a little example from @stuffbyspencer for the @sndbox dappmoji contest:
Explaining DPoll.xyz with Emojis! [ @sndbox dappmoji contest entry ]
This is dPoll with emojis: 🤔 😀 💡 -> 📝 📋 ❓ -> 🌐 💬 -> 🧐 🤩
What happened on dPoll last week?
@emrebeyler posted a poll to find out next development priorities for dPoll:
What should be next focus on dPoll development?
Topics are:
Result filters
Communities
Stake based results
Achievements and Badges
Improving mobile experience
Thread view in poll results
These are all going to be implemented eventually. We want to know on what the community misses most.
Tell us what you want!
---
@theycallmedan announced a 10k Steem delegation for one year for the winner of a dPoll.
Which Steem Project Should I Delegate 10k SteemPower To For 1 Year?
Go Vote!
---
@shaka put his 5th "Let's make a collage" contest on dPoll:
LCMA #5 finalist panel: Please vote for your favorite entry and help deciding who the winners will be!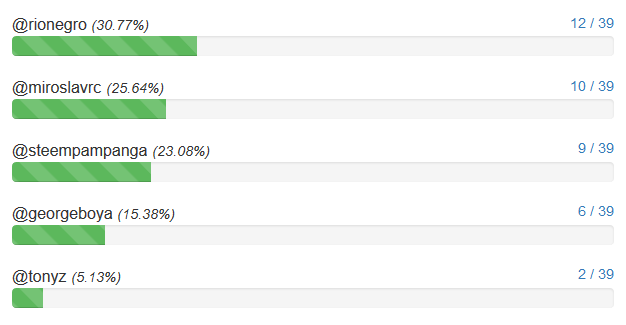 ---
@stateofthedapps have recently added Chinese support. Now they wanted to know which language should be next:
Which language should we support next on State of the DApps?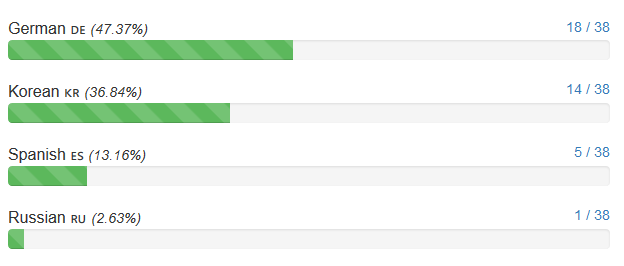 ---
@akomoajong was feeling competitive and wanted to know your scores:
Poll Post: What is Your All Time High With Actifit?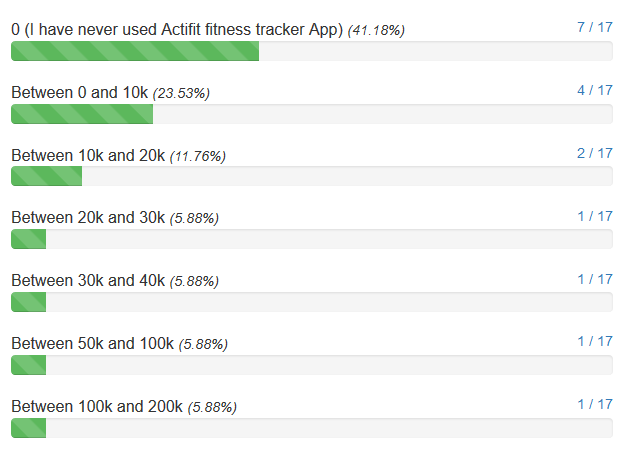 ---
@abbak7 showed everybody how to get a 100% score on a answer: offer SBI.
Would you accept a 1 SBI share?
Turns out everybody likes the idea.
---
@immanuel94 was interested in ad-blocker use amog Steemians:
Would you pay 10$ to get a site ad-free without an ad-blocker?
73% always have it turned on.
---
Our growing group of sponsors
36 Sponsors are supporting dPoll at the moment with a total of 23779 SP in delegations.
We want to thank our wonderful sponsors for their support of dPoll:
| Sponsor | Delegation level [SP] |
| --- | --- |
| @bobbylee | 10'000 |
| @chitty | 4'000 |
| @emrebeyler | 2'500 |
| @fabien, @pharesim, @utopian.pay, @shaka | 1'000 |
| @ryanlj | 500 |
| @voronoi, @techslut, @favcau, @boontjie, @sereze @kabir88 | 250 |
| @pjau | 200 |
| @espoem, @crokkon, @hafizullah | 100 |
| @fbslo, @ihtiht, @simplymike, @whatsup, @mahsumakbas, @aydant, @amico, @devann, @nerdtopiade, @akomoajong, @aftabkhan10, @dotwin1981 | 50 |
| @isnochys, @murattatar, @bluerobo, @tdre | 25 |
| @mobi72, @tdas0 | 10 |
Sponsors will receive a weekly reward for supporting the project. If you want to support the development and engagement on dPoll, you can delegate some Steem Power and instantly become a sponsor.
Some stats on dPoll:
dPoll is currently in 41st place on stateofthedapps.com across all listed dApps - including apps on Etherium/POA and EOS. That is 17 places up from last week.
We are in 19th position on steemapps.com. Four places up from last week. This project has been created recently by @therealwolf to increase visibility of the Steem ecosystem.
dPoll is at number 36 on dapp.com. That is 13 spots down from last week in the category Steem and has a Dapp.com Ranking of 27 (20 steps down from last week), which is a proprietary number that indicates health, growth and potential of dApps.
---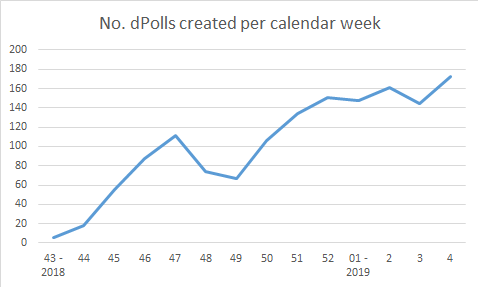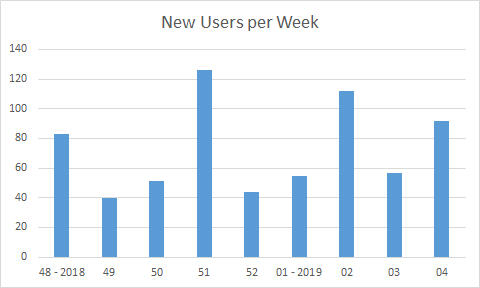 Join dPoll on Discord: https://discordapp.com/invite/ZcV8SGr
---
*Standard rules of decency apply. The dPoll team will reserve the right to exclude certain entries from the competition, if necessary.
---
If you want to support dPoll.curation, you can also delegate some Steem Power. Quick Steem connect links to delegate: