See it online at dpoll.xyz, and the source code at github repository.
---
dPoll is a poll application on the top of STEEM blockchain. It utilizes an account based voting and stores poll and voting data on the blockchain.
We have deployed a couple of new features to our production environment in the last couple of days.
Multi Choice Polls

This was one of the requested features for a while. Poll creators has a new option to allow multiple votes on choices. Multiple choice selection is disabled by default, however if you have a case where you think multiple choices make sense, make sure to tick that checkbox.
With this change, we also had to change the signature of the data stored on the blockchain. Transactions broadcasted by dpoll/0.0.1 was having a single vote field for the selected choice. This is removed and replaced with a list of choices called as votes.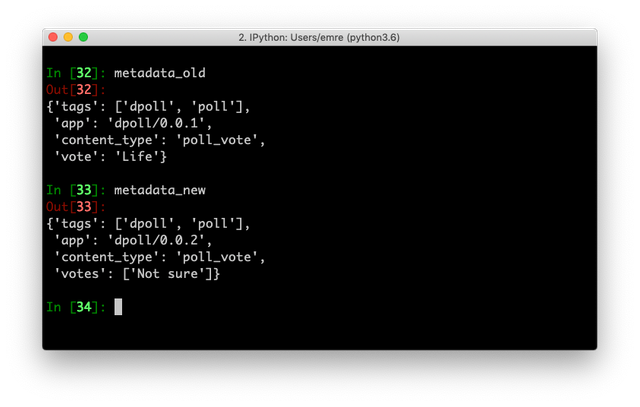 New Content Filters
Our homepage was listing all polls ordered by creation date. We have released new content filters:
Lists active polls by creation date.
Lists active polls by voter count.
Lists active polls by promotion amount.
Poll Promotion
Creating a poll at dPoll gives you direct feedback from multiple users in our community. It doesn't matter they follow you on Steemit or not, a lot of users skim the homepage and engage with the polls.
If you think you have an important poll and want to get maximum exposure for it, it's now possible to promote your poll at dPoll. Transferring SBD to the @dpoll.promotion account will register your poll as promoted in our systems.
Promoted polls are listed separately in /promoted page. Additionally, if you bid the highest amount between the active promoted polls, you get a highlight in dpoll homepage.
Every poll has a promote button on the detail page.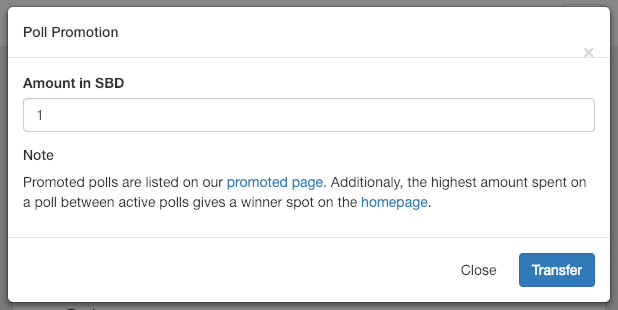 ---
After completing the transfer, you can see your poll is listed on /promoted page.

Activity
dPoll is ranked at 19 on steemapps. On stateofdapps we are at number 43.
Without any huge delegations, it's amazing that we generate that level of activity in the blockchain. Thanks to our community and sponsors for the support. Our curation account is @dpoll.curation. You may consider delegating to that account to support the project.
Pull requests
Vote for my witness
I do my best to support the blockchain with my skills. If you like what I do, consider casting a vote on via Steemconnect or on steemit.com