Ok, so in case you havent't heard DLUX (Decentralized Limitless User Experiences) is the first VR and AR hosting platform on the STEEM blockchain.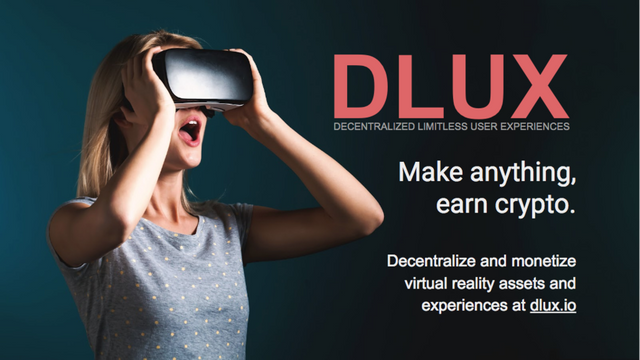 Dlux is a first of it's kind platform that utilizes the benefits of blockchain to solve the problems of VR content discovery and monetization.
The project was started by @disregardfiat and @markegiles and was announced half a year ago in their opening post.
You can visit their website at https://dlux.io/ (still in beta version) or their blog https://steemit.com/@dlux-io to find out more information.
ICO
DLUX is currently having an ICO.
The 20,000,000 million block of DLUX tokens is up for grabs untill November 1st. @dlux-io please correct me on this if I'm wrong.
ICO Roadmap
October 1st-October 31st: Public ICO 20% [1]
October: Coordinate a global networked AR/VR marketing and steem on-boarding campaign
November 1st-March 8th: 0.3125% daily [2]
January 15th: SMT Public Testnet
March 8-20th: Finalizing SMT Launch distribution
March 24: DLUX SMT Go Live
After that there will be daily 325,000 DLUX tokens up for grabs for 128 days until SMT launch.
You will get most DLUX tokens per your STEEM donation for the big block until November 1st.
You can check the table in their last post on how much tokens certain amount of STEEM donation will get you...https://steemit.com/dlux/@dlux-io/dlux-update-or-ico-debut-auction-80-complete
At the beginning of the round a donation of 1 Steem was worth around 20,000 tokens and later in the round around 17,500 tokens.
So for 10 STEEM you'll get around 170,000 DLUX tokens.
That's a crazy opportunity.
Imagine if DLUX token price hits just 0.01$. You'll get 1700$ for your initial 10 STEEM donation.
And if DLUX hits 0.1$ you'll get an incredible 17,000$.
The more STEEM you delegate the bigger and crazier these numbers get.
For a 100 STEEM donation you might get over 100,000$ if DLUX tokens hits 0.1$ at some point in the future.
Sounds crazy but you never know :)
How to donate
If you want a piece of DLUX tokens donate some STEEM to @robotolux. That's three o's, be careful - just copy and paste.
This is not financial advice but to me personally this is an amazing opportunity that doesn't come often but it's up to you to decide of course. Everything is a risk and nothing is certain.
Eitherway I suggest you check out https://dlux.io/ and follow https://steemit.com/@dlux-io.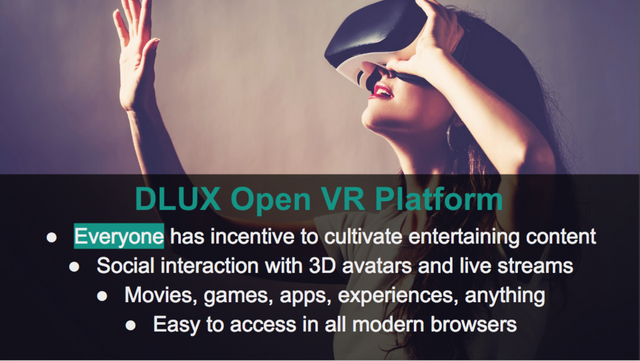 ---
Sponsored ( Powered by dclick )
Halloween Night is almost here are You ready for a S...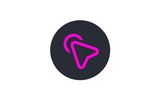 This posting was written via
dclick the Ads platform based on Steem Blockchain.