The Original September 11th Terror Event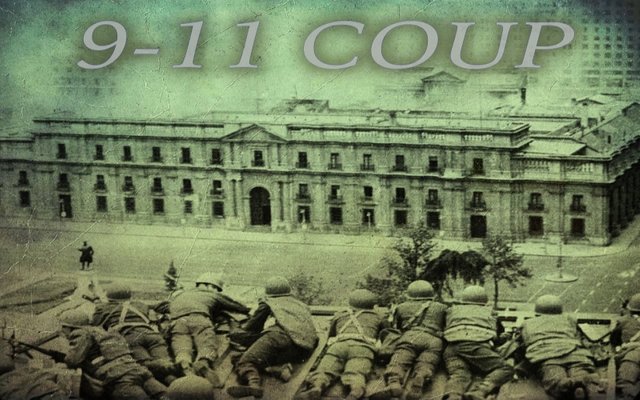 source
On September 11th 1973, democratically elected president of Chile lost his life in a military coup that brought army general, and soon to be dictator, Augusto Pinochet to power. Following the coup, the military Junta brought a tyrannical reign of bloodshed, suppression and political reprisal. Pinochet would go on to rule Chile with an iron fist from 1973 until 1990.

The Official US position on the coup was that although the United States government (USG) opposed the Allende government, it was not involved in the coup to remove the far-left socialist government.

The following passages from the US government website of the Office of the Historian describes the US position on the 1973 Chilean coup.

Debate continues on whether the United States provided direct support for Pinochet's coup. The United States had a long history of engaging in covert actions in Chile; it had provided funds in support of electoral candidates, run anti-Allende propaganda campaigns, and had discussed the merits of supporting a military coup in 1970. A Senate committee was convened in 1975 to investigate U.S. covert involvement in Chile during the 1960s and 1970s. The report found that the United States had carried out covert actions in Chile during these years and had even considered a proposal for Track II, a covert action meant to organize a military coup to prevent Allende coming to power. However, it concluded that there was little evidence to link the U.S. Government to covert support of Pinochet's coup.

Although the Senate committee denies US involvement, direct or indirect, in the coup, it clearly demonstrates a "long history of engaging in covert operations in Chile". Furthermore, it openly admits that the US had considered proposals to counter Allende's rise to power.

In this single paragraph we can highlight:

A long history of engaging in covert operations in Chile
Funding opposition candidates and campaigns
Conducting anti-Allende propaganda
Consideration of a military coup to prevent Allende from taking power.

Over the years, the notion that the US had no role in the Chilean coup has been vigorously contested by academics, researchers, journalists and historians from around the world.

Even Wikipedia includes a section on the evidence of US involvement in Chile's 9-11 citing the work of numerous academics including Tim Weiner (Legacy of Ashes), Christopher Hitchens and Peter Winn. According to Winn,

the role of the CIA was crucial to the consolidation of power after the coup; the CIA helped fabricate a conspiracy against the Allende government, which Pinochet was then portrayed as preventing. He stated that the coup itself was possible only through a three-year covert operation mounted by the United States. He also points out that the US imposed an "invisible blockade" that was designed to disrupt the economy under Allende, and contributed to the destabilization of the regime.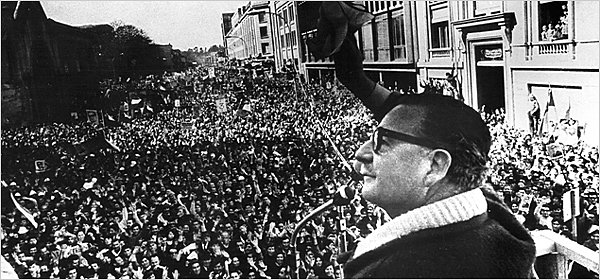 A long running covert CIA campaign of propaganda, economic disruption and destabilization is well documented.

From the moment that Pinochet seized power after the bloody coup on September 11th, democracy was effectively terminated in Chile for the next 17 years and replaced with a fascist dictatorship.

Returning to the official USG account of the Allende coup, we find a very telling introduction to the crisis leading up to the coup.

Relations between the United States and Chile deteriorated in the 1960s due to U.S. concerns regarding the Chilean Left and the rise of Chilean nationalization of certain industries, especially copper. The Alliance for Progress, signed in 1961 by President John F. Kennedy, was designed to prevent the spread of socialism throughout the hemisphere. The Alliance allowed for monetary investment in Latin American countries that would help bolster infrastructure, education, and champion democratic governments, and Chile was one of the primary recipients of aid. The prospect of the nationalization of two of the leading Chilean copper companies, Anaconda and Kennicott—both owned by corporations based in the United States—along with the growth of socialist sentiment throughout the hemisphere led the United States to overtly and covertly send aid and assistance to the Chilean Government, as well as to political parties such as the Christian Democratic Party (PDC).
Fear of Chilean nationalism of industries, esp. copper mining
Fear of nationalization of US owned copper mining corps. - Anaconda & Kennicott
Growing anti-Americanism
Alliance for Progress - Prevent the spread of socialism throughout hemisphere
Chile received aid for democratic elections and various social programs
Support to Christian Democratic Party (thought to be the party with best chance of defeating Allende in the 1970 elections)

A key take away from this passage is that the US was very much concerned with the nationalization of industry. A fear of democratically elected governments seeking to reclaim control of their national resources and by extension interfering in the corporate profits of US companies is a reoccurring theme closely connected to US-led regime change and interventionism.



---
Declassified Files


Ample evidence supporting the idea that US interference in Chile was driven not by altruistic ideology of promoting democratic values and upholding human rights but rather to support US economic interests can be found in the archives of the CIA library and from Wikileaks.

Below is a selection of government cables and emails that highlight US intervention at various levels in Chile leading up to the coup and the relationship of the USG and GOC (Government of Chile) after Pinochet took power.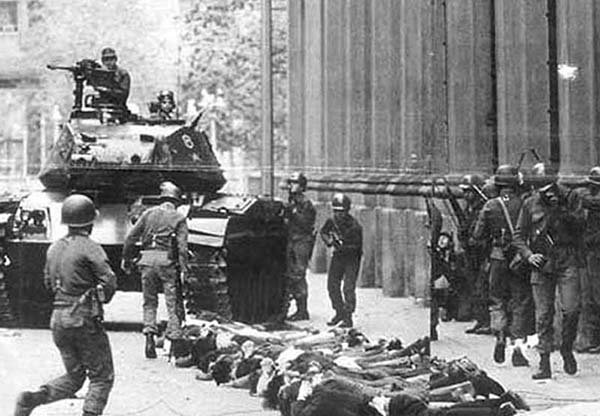 ---
CIA Operating in Chile


This document outlines CIA support for the opposition in Chile in the years before the coup and discusses the perspective of Ambassador Davis who was at the US embassy from 1970-1973. The article appeared in the Washington Post Magazine in 1985 - "Allende's End - The Ambassador's Own Story". Along with Davis' middle-of-the-road assessment of what occurred during the period it also has some interesting comments by the CIA director at the time about testing economic warfare in Chile.

The Agency's operations from 1970 to 1973 were considered a test of the technique of using heavy cash payments to bring down a government viewed as antagonistic to the United States.
-CIA Director William Colby
---
USG and CIA Support for Opposition

Calls for US intervention were commonly accompanied with an imperative to defend democracy. "This is a Fight for Democracy, It must be won". Simultaneously, the USG continued to fund and support the PDC opposition in hopes of preventing an Allende government.

Allende complains bitterly that US copper companies bankroll the opposition, that CIA agents photograph everyone who visits his campaign headquarters.US diplomats pointedly avoid contact with him.

**Partially Redacted

---

An article in the Berkley Barb claiming that a Bay Area professor spoke with a member of an American assault group as part of a military special forces operation. The special units were stationed a secret bases in Panama - Fort Ord and Fort Gulick.

AN AMERICAN INVASION FORCE OF GREEN BERETS AND U.S. ARMY RANGERS, UNDER THE DIRECTION OF THE CIA, STORMED THE MONEDA PALACE AND MURDERED CHILEAN PRESIDENT SALVADOR ALLENDE
---
US Corporate Interests in Chile

Leading up to the coup in September of 1973, the USG frequently sought guarantees of compensation for US mining companies that were expropriated through nationalization by the Chilean government.

US embassy cables include talking points in regards to resolving monetary disputes around expropriated US corporations - ITT and CERRO.

CERRO SETTLEMENT: WE BELIEVE IT WOULD BE BENEFICIAL FOR YOU TO MENTION TO ALLENDE THE POSITIVE EFFECT WHICH A RAPID AND FAVORABLE CONCLUSION TO THE CERRO NEGOTIATIONS COULD HAVE. BEGIN FYI. YOU WILL RECALL THAT A SETTLEMENT INVOLVING ABOUT DOLS 61 MILLION IS INVOLVED FOR THE CERRO CORPORATION' S COPPER MINING PROPERTY WHICH WAS EXPROPRIATED IN 1971. END FYI.
** Classification: Secret
Date: May 23rd 1973

Allende government willing to pay compensation to nationalized US copper mining companies.

ON THE OTHER HAND, IT IS HIGHLY SIGNIFICANT THAT ALLENDE AND HIS TOP ADVISERS ARE REPORTED TO HAVE TAKEN THE DECISION THAT THEY ARE PREPARED TO PAY COMPENSATION TO THE COPPER COMPANIES, INCLUDING KENNECOTT. FURTHER, WE HAVE CONSISTENTLY TOLD THE CHILEANS THAT WE ARE INTERESTED IN AN EFFECTIVE SOLUTION AND HAVE SUGGESTED MORE OR LESS EXPLICITLY THAT THE 1914 TREATY MIGHT BE USEFUL IF A MEANS COULD BE FOUND TO ASSURE THE RESULT. LEVINE'S PROPOSAL IS RESPONSIVE TO THAT U.S. CONCERN. THEREFORE, WE DO NOT BELIEVE WE SHOULD IGNORE OR CLOSE OFF ANY FURTHER INITIATIVE ALONG THESE LINES. WE ARE INTERESTED IN EXPLORING ANY CHILEAN IDEA THAT MIGHT LEAD TO THE PAYMENT OF COMPENSATION AND THE RESOLUTION OF THIS PROBLEM.
** Classification: Secret
Date: September 5th 1973

---

US company ITT openly called for a coup to prevent Allende from coming to power.
International Telephones and Telegraphs (ITT) Pledges Millions to Stop Allende - Washington Post 1972.

International conglomerate
Desire to prevent 60% nationalizing of company
"Fervent Hopes for Military Coup"
CIA director of Latin American Division of Clandestine Services, William V. Broe, met with ITT vice president in NY to:
urge ITT to join in a scheme to plunge the Chilean economy into chaos and thus bring about a military uprising that would keep Allende out of power.
**Sanitized Copy

Astonishingly, ITT played a role in the 1964 coup in Brazil as part of a corporate-military group to overthrow president Joao Goulart.
The 1964 Brazilian coup d'état exiled Goulart and the military dictatorship of Humberto de Alencar Castelo Branco took over... The dictatorship, which killed hundreds and arrested thousands, tortured more than 10,000, and exiled thousands more innocent civilians, lasted until 1985.
---
"Make the Economy Scream"

Backed by information provided by former CIA agents and sources within the government, legendary investigative journalist Seymour Hersh penned an explosive article for the Atlantic back in November of 1982 identifying the role of president Nixon and Secretary of State Henry Kissinger in laying the groundwork for an eventual coup in Chile.

Hersh and his sources show that the US government used bribery, sabotage and murder in an effort to thwart the verdict of Chilean voters when they elected Allende president and after Nixon and Kissinger had failed in preventing Allende from coming to power they spent tens of millions of dollars to subvert his government ruthlessly cutting off aid and credits intervening in Chile to "make the economy scream" - a phrase that CIA director Richard Helms used in notes of a conversation with Nixon - and finally preparing the way for a fascist military dictatorship.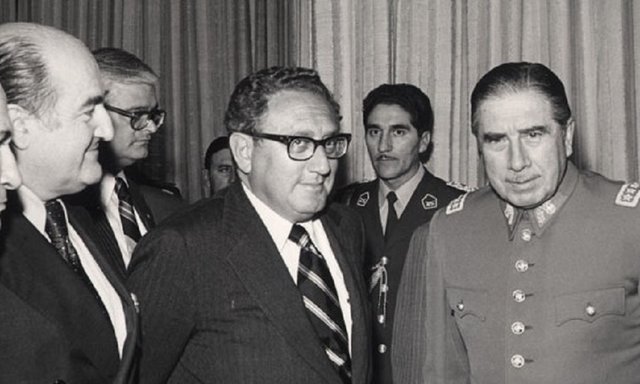 source

New Charges are Raised on Plots by the CIA to Topple Allended - New York Times 1982

Hersh names and quotes CIA agents and cites classified documents showing extensive contacts between American covert operations and Chilean coup plotters, including the passing of money to those Chileans subsequently convicted of assassinating Gen. Rene Schneider, the commander and chief of the Chilean army who stood in the way of efforts to overthrow Mr. Allende.
**Declassified in Part

---
Kissinger's 40 Committee

Further evidence of the involvement of the USG in the coup at the highest level of the USG was reported just 1 year after the coup in a 1974 Baltimore Sun article titled: Five Men Sabotaged Allende. The major take away from the article was the existence of a secret committee - the 40 committee - Chaired by Secretary of State Kissinger which answered only to the president. It is suggested that this group was intimately involved in the preparations for the Chilean coup on 9-11.

On Henry Kissinger's 40 committee group of 5
40 Committee super secret group of 5 military and intelligence members that answers only to the president
Henry Kissinger - Chairman of 40 committee

Large sums of CIA money were poured vainly into Chile to avert the election of leftist Allende. That money was followed in later years by even larger sums to destabilize the Chilean economy and topple the Allende regime.


The existence of the secret "40 Committee" is further corroborated by the work of Peter Kornbluh.

Mr. Kornbluh's work at the National Security Archives details communications between CIA director Helms and Secretary of State Henry Kissinger.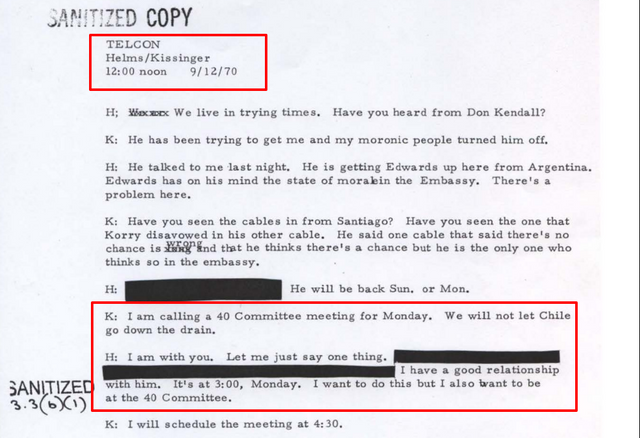 Henry Kissinger urged President Richard Nixon to overthrow the democratically elected Allende government in Chile because his "'model' effect can be insidious," according to documents posted today by the National Security Archive.
---
Wikileaks Cables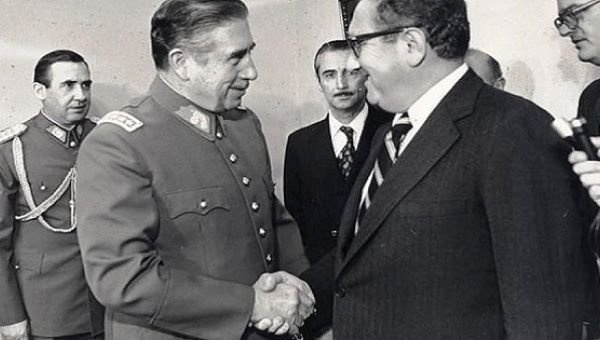 source

Within the Wikileaks PlusD archive of US embassy cables we can find a whole host of correspondence between American embassy officials in Santiago with various US government branches and agencies. Many of the cables out of the embassy before and following the coup are labelled SECRET.

Foreknowledge of Coup

One such secret cable dated September 8 1973 (3 days before Allende Coup).
It shows a US embassy cable from Chile addressed to the Secretary of State (Kissinger) outlining the preparedness of the different factions within the Chilean government preparing to launch the coup - 3 DAYS IN ADVANCE.


AIR FORCE SOURCE CLOSE TO CINC LEIGH REPORTS THINGS UNSETTLED IN NAVY AND QTE WE MAY HAVE TO MOVE IN TO HELP THEM END QTE. AIR FORCE STAFF AND EL BOSQUE AFB ON ALERT. (C) KEY ARMY PLOTTER GEN ARELLANO IS REPORTED TO SAY HE IS NOW READY TO MOVE, SUGGESTING HE HAS FIRMED UP SUPPORT AMONG KEY

REGIMENTAL TROOP COMMANDERS. (D) ADM CARVAJAL, CHIEF OF JOINT DEFENSE STAFF, AIR FORCE CINC LEIGH AND ARMY CINC PINOCHET MET AFTERNOON SEPT 7 AND AGREED TO MOVE AGAINST GOVERNMENT AT 0800 MONDAY SEPT 10 WHATEVER ALLENDE MIGHT DO.

(E) WE HAVE A REPORT THAT CIVILIAN GROUPS RESPONSIVE TO EXTREME RIGHTIST DIRECTION HAVE PLAN TO MOVE ON SANTIAGO MONDAY SEPT 10 DISRUPTING COMMUNICATIONS AND STAGING DEMONSTRATIONS.

SUPPLEMENTARY INFORMATION INDICATES GOVERNMENT AGENCIES AWARE OF MOVEMENTS INTO SANTIAGO FROM PROVINCES OF MEMBERS PATRIA Y LIBERTAD AND NATIONAL PARTY YOUTH BRIGADE. 2. GIVEN VOLUME AND CONSISTENCY OF INTELLIGENCE WE RECEIVING, WE MUST ASSUME ALLENDE ALSO AWARE OF THREAT FROM MILITARY AND WILL USE WHAT MANEUVER-ROOM HE HAS TO TRY TO PROTECT HIMSELF.

THOMPSON
SECRET

This Secret cable refutes claims by the USG that they were unaware of the coup planned against Allende. Commanders Gen. Pinochet, Gen. Arellano, Adm. Caraval and Leigh reportedly met on September the 7th and agreed to move forward with the overthrow of Allende.

"Key army plotter Gen. Arellano is reported to say he is now ready to move."

The USG seems to be well aware of the plotters, their meetings and their agreed timeline for the operation at least 3 days ahead of the coup.


---
Cables Between USG and Military Junta Following Coup
THE USG WISHES MAKE CLEAR ITS DESIRE TO COOPERATE WITH THE MILITARY JUNTA AND TO ASSIST IN ANY APPROPRIATE WAY. WE AGREE THAT IT IS BEST INITIALLY TO AVOID TOO MUCH PUBLIC IDENTIFICATION BETWEEN US. IN MEANTIME WE WILL BE PLEASED TO MAINTAIN PRIVATE UNOFFICIAL CONTACTS AS THE JUNTA MAY DESIRE. WE WILL HAVE RESPONSES TO OTHER POINTS
RAISED BY GENERAL PINOCHET AT AN EARLY DATE.
RUSH
SECRET
** Classification: Secret
** Date: September 13th 1973

A "clear desire to cooperate with the military junta" and to "avoid too much public identification between us", shows friendly reassurance by the USG to the military junta leadership.

PR Medical Supplies and Humanitarian Cover
SUMMARY: I CALLED ON JUNTA PRESIDENT PINOCHET OCT 17. CONVERSATION REVEALED GOC PREOCCUPATION WITH IMAGE IN U.S. AND SENSITIVITY TO NEED FOR BOTH U.S. AND GOC CAUTION IN DEVELOPMENT OF OVERLY CLOSE PUBLIC IDENTIFICATION. PINOCHET EXPRESSED WORRY OVER NEED FOR LARGE PRICE INCREASES BUT SAW NO ALTERNATIVE. PDC PRESIDENT AYLWIN AND CARDINAL SILVA PLAN VISIT U.S. TO TRY TO HELP WITH CHILE'S PUBLIC IMAGE PROBLEM. END SUMMARY

Again, this cable stresses the importance and sensitive "caution in [the] development of overly close public identification." In diplomatic affairs this is probably common place nevertheless the message coming from the USG is one of discrete support.

MENTIONING THE FACT THAT THE U.S. GOVERNMENT HAS NOW BROUGHT A SUBSTANTIAL AMOUNT OF EMERGENCY MEDICAL SUPPLIES INTO CHILE, I SAID I THOUGHT IT MIGHT BE USEFUL IF WE PUT OUT A SMALL PRESS STORY. I ADDED THAT WE WOULD BE HAPPY TO FOLLOW ANY PREFERENCE OR GUIDANCE PINOCHET MIGHT HAVE IN THIS REGARD AND WAS THEREFORE MENTIONING IT TO HIM. I SAID I THOUGHT IT MIGHT BE HELPFUL AT THIS MOMENT TO SHOW OUR INTEREST AND SUPPORT IN THIS HUMANITARIAN FIELD. PINOCHET SAID HE THOUGHT THIS WOULD BE A FINE IDEA. HIS COMMENT WAS THAT PUBLICITY ON STRICTLY HUMANITARIAN THINGS WOULD BE FINE BUT THAT WE SHOULD KEEP "PRETTY QUIET" ABOUT ANY COOPERATION IN OTHER FIELDS. I AGREED, AND MENTIONED OUR ASSISTANCE WITH MINE DETECTOR GEAR AS AN EXAMPLLE OF THE OTHER KIND OF THING.
** Classification: Secret
Date: October 18th 1973

One month after the coup, we can see that a new PR campaign is already underway. The narrative that the USG would like to portray inside and outside of Chile is one of humanitarian assistance in the country's time of need. Officials aimed to convey, "At this moment to show our interest and support in this humanitarian field ...Pinochet said...publicity on strictly humanitarian things would be but we should keep 'pretty quiet' about any cooperation in other fields.

Again, the narrative being pushed by both the USG and GOC was to highlight humanitarian relief and that all other cooperation should remain covert.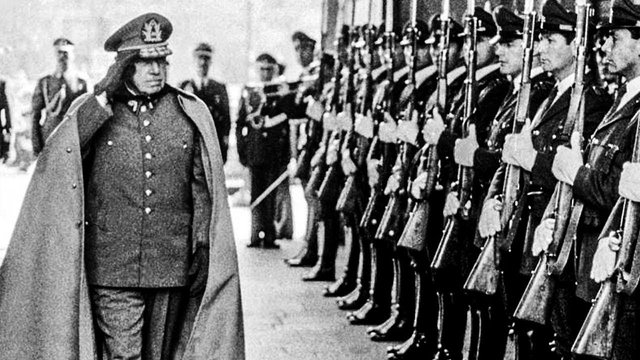 source
---
Subvert Democracy and Blame the Communist Threat

In his one year anniversary address to the Chilean people on October 1974, Augusto Pinochet squared the blame on the Allende administration and persistent the threat of communism for Chile's deteriorating social, economic and political predicament.

ECONOMIC FRONT - IN LONGEST SEGMENT OF SPEECH, PINOCHET DETAILED ECONOMIC CHAOS INHERITED FROM ALLENDE, THEN PROVIDED LENGTHY RECITAL OF JUNTA MEASURES TO CORRECT SITUATION. ECONOMIC SITUATION AFTER ON YEAR IS BETTER THAN EXPECTED, AND POLICIES ARE GETTING RESULTS, HE SAID, BUT ROAD AHEAD IS STILL DIFFICULT. IN SUMMARY, GOC ECONOMIC MEASURE HAVE CHILE ON THE RIGHT TRACK, AND "THESE SUCCESSES WILL BE MULTIPLIED MANY TIMES OVER- IF THESE POLICIES ARE CONTINUED.
COMMUNIST AGGRESSION - PINOCHET CLOSED BY WARNING CHILEANS OF "BITTER REALITY" OF COMMUNIST AGGRESSION AGAINST CHILE BEST TYPIFIED BY "INFAMOUS PROGANDA CAMPAIGN." REASON IS THAT INTERNATIONAL COMMUNISM IS STILL TASTING "DUST OF DEFEAT" IN CHILE. BUT CHILEANS WILL FACE THIS THREAT UNITED, AND WILL DEFEAT THE COMMUNISTS AS MANY TIMES AS NECESSARY. MILITARY SERVICES AND FOUR JUNTA MEMBERS CONTINUE TO MAINTAIN "GRANITE-LIKE UNITY", AND NOTHING WILL BREAK IT.

Here we see Pinochet fear-mongering the red menace in an effort to justify the coup and gain support of the people of Chile. The truth is, Chileans democratically elected Allende and the Military Junta lead by Pinochet were the true enemies of democracy. Pinochet promised that the Junta intentions were to stabilize the country and that elections would return in due time. In reality, Pinochet had no intention of bringing back democracy - the junta had ended Chilean democracy for another 17 years.

---
Words of Wisdom

Immediately following the overthrow and murder of Allende, some heads of state instantly felt that the overthrow had the consent of Washington and US special interest groups. This highly insightful statement made by the Prime Minister of Sri Lanka on September 13th 1973, just 2 days after the coup.

THE EVENTS IN CHILE ARE ONE MORE PROFF THAT THE REAL DANGER FOR DEMOCRACY COMES FROM THE VESTED INTERESTS AND THEIR POLITICAL LEADERSHIP. HISTORY HAS PROVED THAT THE VESTED INTERESTS ALWAYS COVER UP THEIR HOSTILITY TO PROSESSIVE SOCIAL CHANGE AND PICK ON ECONOMIC DIFFICULTIES WHICH HAVE BEEN CREATED BY THEIR OWN ECONOMIC SYSTEM AND THEIR ANTI-SOCIAL BEHAVIOUR TO JUSTIFY UNCONSTITUTIONAL OPPOSITION TO LEGALLY ELECTED GOVTS.
---
Summary

To this day, some still believe that US interventionism is driven by altruistic concerns for democracy and freedom. That may have been the case in WWII but even that is an over-simplified narrative of events.

When consulting the historical record, it's abundantly clear that US intervention in countries such as: Iran, Guatemala, Nicaragua, El Salvador, Vietnam, Chile, Iraq, Libya and dozens more are the result of 'protecting' US economic and political interests and not from humanitarian concern.

As was the case in Chile, the real forces behind interventionism are obscured in a smokescreen of propaganda, covert economic warfare, PR manipulation, private interests, and by the hidden hand of a powerful political class.


---