Seasoned With Sult N Papper 03/06/19> Can't wait to see what this is going to cost us …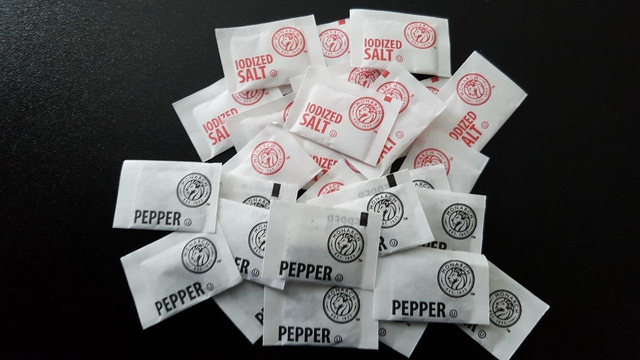 Everyone in the...
Everyone in the mainstream media right now is focused on President tRump and his Humpty Dumpty wall on the southern border, meanwhile he is moving forward with a plan he announced last summer about expanding the military and creating a sixth branch of the armed military services.
For those of you...
For those of you who may have missed that announcement or just dismissed it as crazy talk; it is happening. According to tRump and the military Chiefs of Staff over at the Pentagon it seems like our next big military foe will be coming from outer space and we just aren't prepared to do battle with the little green men in their flying saucers.
I happened to read a Presidential memorandum last night on the .gov website that was signed by tRump on February 18,2019 to start getting the ball rolling on budgeting for inclusion in the 2020 budget to finance this new branch of the military that will be known as the Space Command branch or some name like that.
If you think...
If you think laser guided bombs and jet fighters are expense (and those are) can you even begin to imagine how much a hyper-sonic interplanetary combat ready space vehicle will cost? I sure as hell can't but I'm guessing it will be at least $1 billion if not more. Then we also are going to need some Space Command military bases, in outer space of course, and those should at least be $1 trillion a piece for just a cheap one where we can park a few of those hyper-sonic combat vehicles.
But being the...
But being the shrewd guy that tRump is he said in his memorandum that he was going to do this and hold costs down and their wouldn't be a bunch of redundancy in this program or some bullshit like that. Something to the affect that where if one branch of the government / military had something that fit into this branch it would be incorporated into it, but NASA wouldn't be a part of it. Like that makes any sense at all, NASA is supposed to be all about space and space exploration.
Of course tRump...
Of course tRump might just know a thing or two more about NASA than the average guy on the street; like we can't even get to the moon and never have.
Oh damn, I have to correct myself here, the average guy on the street does know that we can't get to the moon. There is a belt of radioactive atmosphere known as the Van Allen belt that NASA can't seem to figure out how to get through safely, keep in mind though that they supposedly knew how in the late 1960's and early 70's… but someone in NASA evidently threw away the engineering drawings from those rockets.
Here is a ...
Here is a NASA engineer explaining three years ago in a video that the Van Allen belt is a serious issue, listen carefully around the 3:30 mark of the video when he starts explaining that " we must solve these challenges before we can send people through this region of space" and he is only talking about an altitude of 3,600 miles. Watch now.
This whole thing...
This whole thing with a new military branch smells to high heaven as far as I am concerned and I see companies like SpaceX and Lockheed / Martin and others getting some really big paydays coming in the near future. Space X especially, with their re-usable rockets or so they claim. I do know this much; tRump likes spending money; especially other people's money like our tax money.
Like I said, I can't wait to see what this is going to cost us…
Until next time,
@sultnpapper

Note: Thanks for reading this edition of Seasoned with Sultnpapper. Please check out this post by a favorite of mine @arbitrarykitten ; who couldn't use some extra time? https://steemit.com/life/@arbitrarykitten/want-some-extra-time