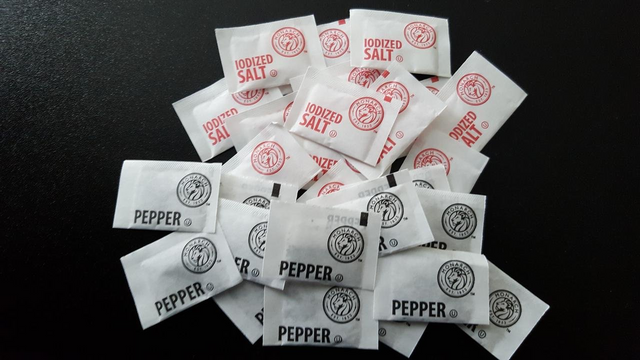 I'm set in my ways...
In case you folks haven't noticed in the last year, and some of you may not have as I have just joined #steemitbloggers, but I am pretty set in my ways and I use people and services I am comfortable with. This also goes for the hotels I stay at when I am on the road. I have one chain of hotels that I use and of the chain I have certain locations in each city or along my route of travel that I am comfortable with.
Decisions based on...
These decisions are based on a number of things when it comes to hotels. Location obviously is an important one and the chain I use has a number of locations that are quite convenient for me in the larger cities I cover like Austin, San Antonio, Corpus and the Rio Grande Valley. So for the last eleven years I have pretty much stayed at the same locations repeatedly numerous times.
First name basis...
Most of the locations I either know the general manager on a first name basis if they have been in that position for at least a year or so and the same goes for most of the people who work the front desk for check in. There are a couple places where I even know the food service people who are in charge of preparing the breakfast foods.
Biscuits and gravy...
One location like that has a woman who does breakfast named Rosa and she makes the best biscuits and gravy in my opinion and I have told her so on plenty of occasions. Her biscuits and gravy isn't an everyday item on her menu she prepares so for years it was hit and miss whether or not I would have biscuits and gravy on the next morning after I checked in.
On a lucky streak...
Most weeks my stay at that hotel would be one or two nights. So usually I would get biscuits and gravy at least one of those days. Then it got where it seemed that each time I stayed there I was always getting the biscuits and gravy even when I was there for only one night. I guess I was on a lucky streak but come to find out that wasn't the case.
The girls who work...
The girls who work the check in desk knew how much I liked the biscuits and gravy so that when they would see my reservation they made sure that Rosa knew I would be down for breakfast in the morning and so Rosa made sure that biscuits and gravy were on that days selection.
The extra mile...
That is some damn good customer service and they worked as team to make sure I am taken care of each time I stay there. I am nobody special but they make feel like I am. And I am sure I am not the only one they make feel special because I see a lot of other familiar faces of guests and vehicles in the parking lot. They know their customer's and go the extra mile to make sure every stay is a good one.
Free upgrades and...
Being that I use the same chain I am a member of their rewards program so that means I get free upgrades and a drink and snack when I check in. Last night when I checked in I got the familiar black bag and I knew in my mind exactly what was in there, a bottle of Ozarka Spring water and an Otis Spunkmeyer large chocolate chip cookie. It has been since they have been giving out these bags at check in since I achieved Elite status several years ago.
Did I mention...
Did I mention that this chain recently merged with another big chain of hotels? I didn't think I did, well they did. So now my points are good for free rooms at both brands of hotels. That sounds pretty good, double the selection and possibly some hotels in cities where my brand might not be. Well, I would gladly give up that double selection in a heartbeat.
Otis was missing...
It seems that the other brand is the major force in the merger, and that means changes are in the works. I found out just what one of those changes are a little earlier before I started writing this. It seems that even as tasty as the Otis Spunkmeyer cookie is the management of the major force partner doesn't like that chocolate chip cookies aren't what would be considered a "healthy snack".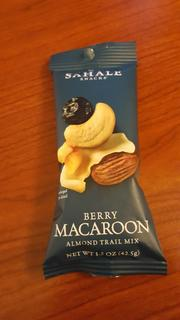 So that cookie I was expecting wasn't in my bag, it had been replaced with "Berry Macaroon Almond Trail Mix", with their "Snack Better Promise" and it also says on the bag that "100% of the electricity used to make our snacks is offset with renewable energy certificates."
I will give them...
There a plenty of times that I never eat the snack or drink the water and I will give them away when I see some homeless person on the corner panhandling for money. When I do decide though that I want a late night snack I damn sure prefer Otis Spunkmeyer cookies I can tell you that, so I was pretty disappointed to say the least.
I really don't...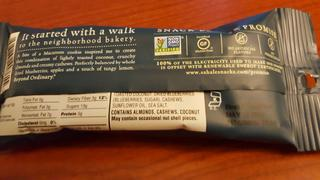 I really don't give a damn where Sahale Snacks get's there electricity or that they are buying certificates to offset the fact that their electric supplier isn't a "green energy" provider of electricity. That makes no difference to me one way or another all I wanted was the chocolate chip cookie.
A bad rap...
I eat food for taste; Otis Spunkmeyer cookies taste great and are filling for a late night snack. I haven't been back to the location were Rosa works since the merger but I can tell you that biscuits and gravy get a bad rap when it comes to "healthy"; if I can't get biscuits and gravy any longer at that location I might just be searching for a new supplier of rooms to sleep in when I am on the road.
So in the morning...
So in the morning there is going to be a homeless person in San Antonio who is going to get a healthy snack and a bottle of water. Should I feel bad for having given them some Otis Spunkmeyer cookies in the past?
I hope that homeless person reads the label, "May contain occasional nut shell pieces."
Healthy?
Until next time,
@sultnpapper
Photos are the property of @sultnpapper