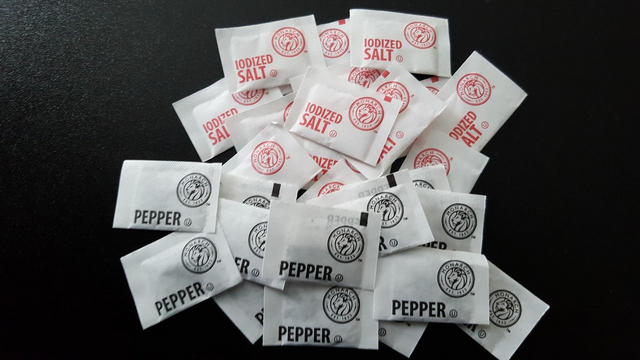 Open 24 hours...
What a difference 24 hours can make in a person's life, as you know if you were with us here for the daily dose yesterday, my Tuesday just flat sucked. From the minute I woke up until the very end of my day; if it could go wrong it damn sure did. So if you weren't here then, you now know it anyway and I will spare you all the details. Also, if you want the details you can read about them using this link.
No longer pond scum...
I am happy to report that Wednesday was a good day, not one problem that I couldn't overcome and there was even very many of those. I also got some good news to report on the state of the sultnpapper, I am officially now no longer pond scum. That's right; I finally have reached the status of "minnow III", a real teeny tiny minnow, which probably wouldn't make an appetizer for a dolphin or a whale. But hey, if small steps are what it takes sometimes and if that is how I am supposed to do it, I will.
Decision time is now...
So, I have some decisions to make and time is running out, the girls of the sultnpapper family have some real good friends who are going to Orlando in November and they have been invited to go. When I say "friends" you could really substitute "family" in its place because these people we think more highly of than some of our actual family members. I have been holding off as long as I can but in life, just like in poker, you can't always wait until you have a pair of aces in the pocket to play the hand.
No aces, but all in...
I recently got dealt a pair of jacks if you will; I picked up some additional project work for an engineering firm that will cover the cost of the trip and it wasn't money that I had any plans for; so in that regard it isn't hard to commit the money for the trip.
Life's lesson # 1...
The hard part is that it is a girl's only trip and so the two boys will be left out. I try to be fair and this time though I have decided it is time for another one of those "life's lessons" for the boys. You all know that lesson I am talking about, right? Sure you do, and as much as I have told them in the past, the kids just can't seem to comprehend it. Life isn't fair, let me repeat that again for the kids, life isn't fair.
Meet Patty, a friend of the Papper's...
This time the lucky ones are the females in the family because I have decided that it is a trip that they need to make with one of Mrs. Papper's dearest and oldest friends, Patty. She and the wife have been friends since the wife was about 5 years old. Patty raised four daughters and one son and has a whole bunch of grandkids, more than I even care to try and count right now, but anyway, Patty and one of her daughters and her granddaughter are going. So if they boys start squawking about unfair I can easily point out that there is a bunch of Patty's kids and grand kids that aren't going so they can go over and cries with them about life being unfair.
Now I will mention...
I don't know just how long Patty has left her in her lifetime, well none of us do know either, but in Patty's case we have some real concern since she was diagnosed and operated on for stomach cancer a few years ago.
I think there are also some things that she just might not be telling us about the cancer too. The wife would go with her to all of her cancer doctor's appointments up until about six months ago and then Patty stopped asking her to go with her. She would always have some excuse or reason but we think she might be keeping something from us and her family; so this type of trip may not be available for my wife and her best friend in the future.
All they do is cut and treat......
I am not going to get into all the cancer stuff right now, but I will just say that in Houston we have some of the most world renown cancer hospitals and doctors that have been "treating" cancer patients for far too long. I know damn well there are plenty of cures that are available as I type this daily dose that are being kept from people here in the USA all because big pharma can't make a dime on those cures, they are natural plants and common things that can cure cancer.
Doctors and hospitals don't make any money curing people they make money treating people and they will treat them all the way to the grave in order to get every last dime out of them they can.
" Cancer history", my ass...
So M.D. Anderson Cancer Center you can quit with the slogan you use, "making cancer history", because you damn sure know that isn't the truth. The only truth in that slogan might be for the amount of money the hospital is making, that I'm sure is "cancer history" as people from all over the world come to that hospital. When those patients are done there, most don't survive but only three to five years from what I have seen, the chemo that they talk people into having is probably worse than the actual cancer, and a lot of people don't even survive the chemo treatments.
Patty is in that three year...
Luckily for Patty she decided not to do the chemo, even if her cancer is back she is still lucky since her outcome would end up probably the same, 3 to 5 years. I am just speculating though right now, we don't know if her cancer is back or not, but she has really been pushing to get the Papper girls to be able to go on this trip.
Another good decison made...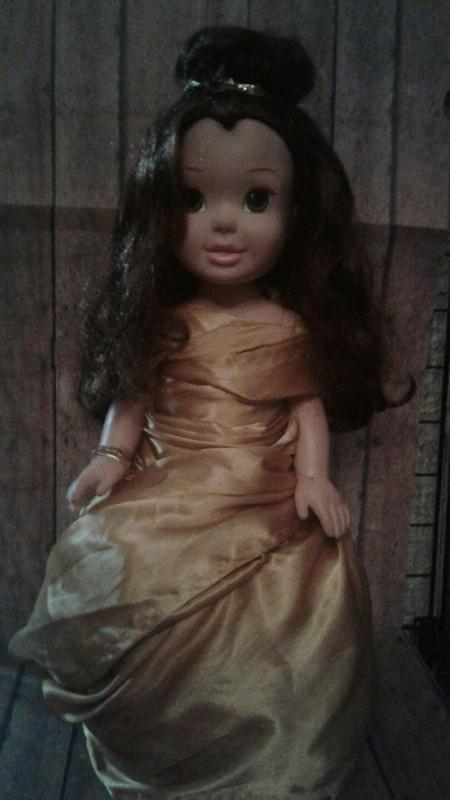 Speaking of decisions let me tell and show you one that I know the Mrs. and I got right last December when we got Shortie a nice sewing machine for a Christmas present. This is one of Shortie's dolls she likes to play with. That fancy dress and the bracelet that doll is wearing are both original creations made by the youngest little Papper in the clan, Shortie.
Yea, just a little proud...
She also did the hair and took the photograph too. I might just be sounding like a proud daddy right now that is because I am. This girl makes her own patterns, cuts her own material and stitches it altogether herself. Not too damn bad for just turning eleven last week don't you think?
She has a whole bunch of doll clothes designs she has sketched in a note book and when she finds just the right material for one of her designs she will buy a little of it and make an outfit for one of her dolls.
Grandma Papper would be too...
I think her grandmother Papper would really be proud if she were alive today too, my mother really was a good seamstress and she made a whole bunch of her own clothes. She also made some really fancy dresses for bride's maids and proms when she was alive, one thing she loved to do was sew, and I think the genes have been passed on to Shortie.
i've stitched some things...
I used to do some sewing myself, but all of my stuff was leather goods. I still have my old leather sewing machine in the garage and someday I might just get a new belt for it and let Shortie try it. It is a real old non-electric treadle machine made by Singer back in late 1800's, I bought it from an estate sale of the local shoe repair shop back when I was a teenager to make bridles and halters for the horses. I can't remember exactly what I paid for it but I know that it wasn't a whole bunch, less than $100 for sure.
One last decision...
All right one last decision to tell you about and I will wrap this up, this decision is also running out of time. I will be closing in a my one year here on steemit next month. I have been trying to decide just what I want that final post to be for my first year and I think I have settled on it.
A book review by Sultnpapper...
I am going to do a book review, I haven't done a book review yet and I have just the right book picked out. I read it several years ago and I have been picking it up from time to time and re-reading certain chapters that really interested me. I won't tell you much about it right now, but I can assure you this is one book you probably have never read, so you will hopefully want to get my take on it before you decide to read it. I hope you like fiction.
Until next time,
@sultnpapper
The photo associated with this post is the property of Shortie Papper, used by the author with permission.