I hope you'll forgive me the use of Drax's brilliant remark in The Avengers: Infinity War, when he asked: "Why is Gamora?". And I hope you'll forgive me for not considering many of you who may not have seen that film, and will therefore never be able to appreciate the weird construction of the sentence in the title of today's post...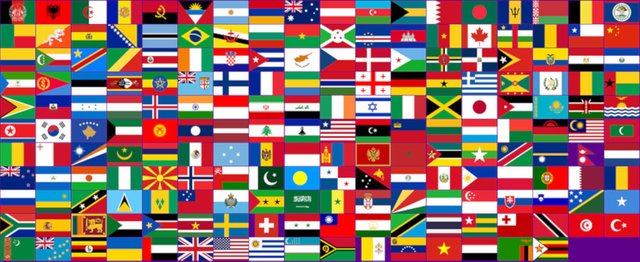 Image by JooJoo41 - source: Pixabay
Those of you that haven't had the pleasure of seeing the aforementioned film are not part of the "in-group" of MCU-fans who immediately get the brilliance and silliness that are combined in Drax's remark. But I hope all of you will agree with the reasons why patriotism is both brilliant and silly at the same time. I'll be short about my reasoning behind this, as I mainly wanted to introduce the below linked video. In my opinion it does a brilliant job in fully explaining how patriotism could be seen as something silly; and I agree with most of it.
But I want to also see the positive side of the power to unite people. And how this unification is achieved through the narratives shared by a historically and culturally cohesive sub-set of humanity. The narrative behind a nation's flag might have been shaped and dictated largely by the countries' leaders, but they're a shared narrative nonetheless and they expertly demonstrate the power these myths and legends have to unify a multitude of fundamentally unique minds. "Mob behavior" has many ugly faces, but we must not forget that the mob isn't representative for the unique minds inside it, and that the mob has the power to do good as well. I have faith that one day in the far future, we will have these narratives for the entire set of individuals that make up humanity. Part of that faith comes from the same place that gave me the assurance that I could indeed use a variation on Drax's words, and that a good part of my audience would recognize it as such...
Now, for the answer to the question "why is patriotism" I invite you to watch this 23 minute video by Canadian YouTuber Mexie who in my opinion brilliantly describes the silly side of patriotism. An old joke I remember from an ancient South Park episode and the South Park motion picture, is that Canada isn't a real country; I think it's a stroke of brilliance that this Canadian YouTuber starts with saying that this is true... Enjoy!
"C-U-C-K" is now "soft-banned" from YouTube comments - PSA
---
Thanks so much for visiting my blog and reading my posts dear reader, I appreciate that a lot :-) If you like my content, please consider leaving a comment, upvote or resteem. I'll be back here tomorrow and sincerely hope you'll join me. Until then, keep steeming!

Recent articles you might be interested in:





Thanks for stopping by and reading. If you really liked this content, if you disagree (or if you do agree), please leave a comment. Of course, upvotes, follows, resteems are all greatly appreciated, but nothing brings me and you more growth than sharing our ideas. It's what Steemit is made for!





I am a proud helpinaut! @Helpie is looking for new members! Helpie has been growing nicely and we are always on the lookout for new valuable members. We are very supportive and community oriented. If you would like to be scouted for @helpie , please drop a comment on THIS POST or contact @paintingangels on discord at paintingangels(serena)#3668.




Just for Full Disclosure, I'm invested in these crypto-currencies:

Bitcoin | Litecoin | EOS | OmiseGo | FunFair | KIN | Pillar | DENT | Polymath | XDCE | 0x | Decred | Ethereum | Carmel | XYO





@helpie is a WITNESS now! So please help @helpie help you by voting for us here!