Zcash (ZEC) = Total Payment Anonymity: Mining Starts Tomorrow
Hash Rates Available on Genesis - Discount Code - Jaxx Wallet Support Coming

A new cryptocurrency, Zcash (ZEC) will go live tomorrow. Unlike the myriad ICOs launching every time you turn around, though, this one is different. You can't buy Zcash yet (though futures are available), the only way to start acquiring them tomorrow is to start mining.
Many have been attempting to perfect their mining rigs over the past couple of months as Zcash worked out some bugs. Now, with the launch looming, several companies are offering mining opportunities and what is probably a huge number of private miners will fire up as soon as the whistle blows.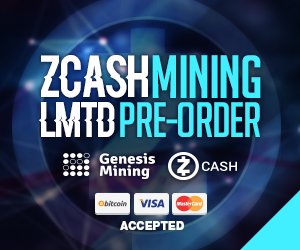 One of the companies offering their mining services is Genesis. Well-known for offering mining of several other cryptos, including BTC and ETH, Genesis has a track record of being able to deliver. What isn't clear is how much competition they'll get and how that'll pan out for customers. It's really a speculative venture for everyone involved.
Zcash is a decentralized and open-source cryptocurrency that offers privacy and selective transparency of transactions. Zcash payments are published on a public blockchain, but the sender, recipient, and amount of a transaction remain private.
Here's a great intro to Zcash at devcon two.
A couple of disclaimers:
If you click on one of the banners and sign up, I may get a kickback of some sort. Of course, the link might not work right and I might not too. :P
Regarding Genesis - I can't recommend them from a profitability perspective. From all I've seen, they will deliver what they promise. But they don't promise profits. I dipped my toe in their Ethereum mining, which hasn't really been very productive. It started out fairly promising, but has dropped off substantially (maybe 75%) since starting. If I get 50% ROI I'll be surprised.
Having said that, I did decide to go with Genesis for Zcash mining. I don't have the ability to set up my own miner and I know they can be trusted to perform, so it's a speculative move on my part.
You can learn more about Genesis mining of Zcash in the video below.

Zcash Mining Pre-Orders Available! from Genesis Mining
Zcash is currently in testnet (testnet coins have no value and will never hold monetary value); our engineering roadmap is publicly available here. If anyone says that they will pay you Zcash before October 28, 2016, then there must be some mistake, because Zcash will not exist until then.
Please note, Zcash is still an experimental technology, and this is only the beginning of its (hopefully) long life. It is based on peer-reviewed cryptographic research, and built by a world-class, security-focused engineering team, but there is risk involved. We are consistently focused on building and maintaining an open, permissionless system that is viable, robust, and justifiably reliable and secure for users.
Zcash seems very organized and has plenty of information for those who want to investigate further:
Since the contents of Zcash transactions are encrypted and private, the system uses a novel cryptographic method to verify payments.
Zcash uses a zero-knowledge proof construction called a zk-SNARK, developed by our team of experienced cryptographers. These constructions allow the network to maintain a secure ledger of balances without disclosing the parties or amounts involved. Instead of publicly demonstrating spend-authority and transaction values, the transaction metadata is encrypted and zk-SNARKs are used to prove that nobody is cheating or stealing.
Steemsters' opinions
Older
Mining Articles
Not everyone is happy about it though!
Note: There are a lot of articles about Zcash on Steemit, but some are old with information that might be out of date.
It's interesting to note that there will be the same number of ZEC mined as BTC, 21 million. In this case, 10% will go to the founders during the first four years. Apparently they had to get some VC investors on board, so they need to take care of them. Some folks squawk, but that's business. If I can get in and make a few bucks, I certainly have no problem with those who helped make it possible getting rich off it.
Jaxx Wallet Support
One of the challenges for new cryptos can be the ability to store and transfer conveniently and efficiently. Jaxx has stated that it's on the ball with preparing their wallet to support Zcash. It likely won't make it to the iOS platform anytime soon because of Apple's asinine rules, but looks like it'll be ready for other platforms shortly.
As an aside, I exchanged a couple of notes with CEO of Jaxx, Anthony Di Iorio, not too long ago. He said Steem was on the table for them, but when pressed he wouldn't offer a direct quote since there was no commitment yet. Here's to hoping. :)
He did offer these insights regarding Jaxx's commitment to Zcash on Finance Magnates though.
Zcash has garnered a lot of attention from all around the world and we at Jaxx have received a lot of interest from our users to have it available as soon as it launches. We will be able to offer Zcash on a number of different platforms, and are working well with the developers to enable a seamless integration. VCs have invested in Zcash, there's cutting edge security technology behind it and that's resulted in quite a lot chatter in the crypto community. Zcash holds an extraordinary amount of promise.

Genesis Mining Discount Code
If you're interested in checking out Genesis mining, you can click on one of the banners in this article or go here. You can see what they have to offer and make your decision as to whether you want to get into Zcash mining before it starts tomorrow. If you do it now, you get a bonus month (the first month will ramp up slowly, so they give it as a bonus).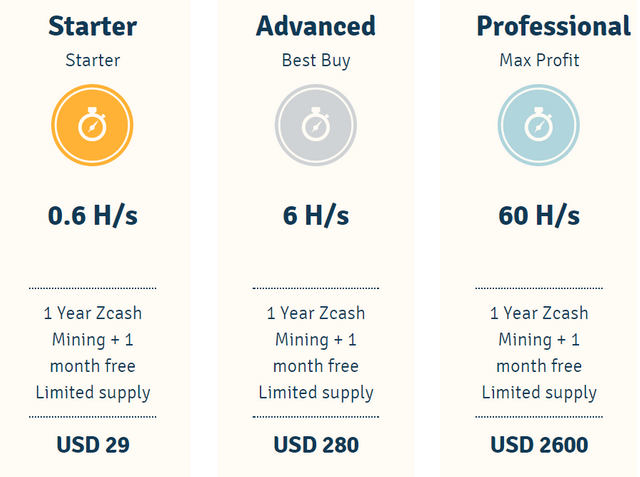 These aren't the only plans available. They have a sliding scale so you can pick a contract that fits your risk tolerance and goals.
Whether you sign up for the Zcash miner or one of Genesis' other miners, you can use the following discount code to get 3% off. And, yep, I get a small kickback too. Just plug laSQiV into the discount field on checkout and we're all set.
Discount Code
laSQiV
Disclaimer - Cryptos are risky and I consider this speculative. Of course, if you're into Steemit then you probably get it. But, in order to make sure I cover my bases, this isn't advice. I'm just sharing some of what I've been able to dig up in my own effort to decide if I wanted to jump on this one. I decided to, but it might not fit your risk tolerance. As always, it's best not to invest anything you can't afford to lose.
Thanks to my friend @kevinwong for introducing this one to me. Woot!
Thanks to YOU for reading!!
Steemin' on,
Another Joe

---
Logo courtesy of @oecp85
---