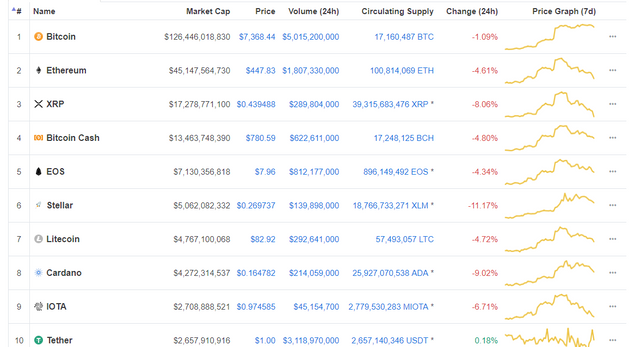 Since Wednesday, bitcoin, the most dominant cryptocurrency in the market, has performed relatively well against the US dollar. Its volume, which remained below $3.5 billion last week, has rebounded to $5.2 billion, and tripled on the global market's largest crypto exchange Binance.
As of July 20, the price of bitcoin remains above the $7,470 mark, down less than 1.5 percent from its weekly high at $7,570.
But, other major digital assets such as Bitcoin Cash (BCH), Ripple (XRP), Ether (ETH) and Cardano (ADA) have performed poorly against both bitcoin and the US dollar, dropping by over 5 percent in the past 24 hours.
Ripple, in particular, has struggled to sustain any momentum from its slight increase in value on July 18, while others have managed to at least hold their support levels.
Since July 19, the price of XRP has been in free fall, dropping from $0.52 to $0.46, by more than 11.5 percent. After recording a large sell-off on major exchanges less than 48 hours ago, XRP has not been able to demonstrate signs of recovery in the short-term.
In early April, when the price of bitcoin surged by over 10 percent from $6,900 to $8,000, its rally continued to the $10,000 resistance level, which it failed to surpass and ultimately fell below the $6,000 mark two months after.