Hello everyone!
Since our launch we have been busy at work improving the service and listening to what our users have been telling us! We encourage you to leave a comment and let us know if you have any ideas!
Our core belief is that cryptocurrency exchange should be easy, fast and offer access to a ton of cryptocurrencies! As such, we currently offer over 140 cryptocurrencies!
How Does It Work?
Simple!
Step 1
Pick the cryptocurrencies you want to convert. The "FROM" asset goes on the left, and the "TO" asset goes on the right! Then fill out the address for the "TO" asset below.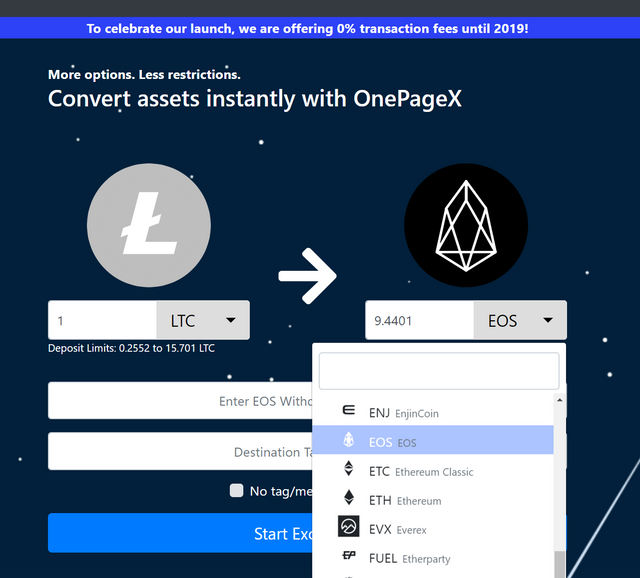 Step 2
Once you click "START EXCHANGE", a card will appear! In the example below it is a conversion of LTC to ETH. The user can then deposit LTC to the provided address, and receive ETH to their withdrawal address entered in the previous step!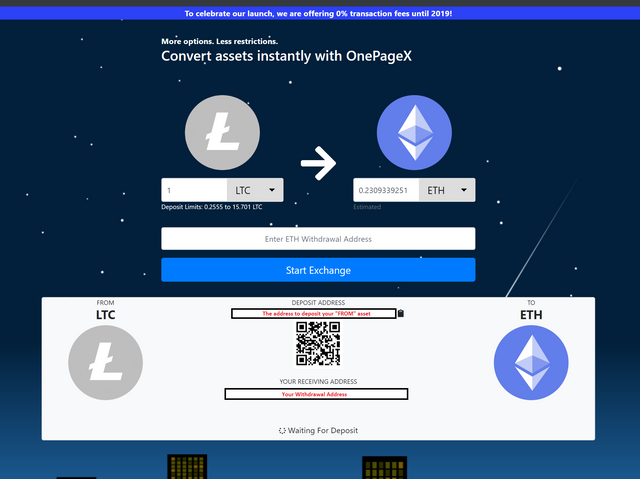 That's all! Once your deposit is confirmed, the exchange is made immediately, and your funds are sent out! The status indicator will let you know how many confirmation are required for your funds to be received!
Want to keep track of your trade?
Copy the URL on the website, and come back to your transaction any time! A unique OnePageX.com session id will make sure that your transaction is accessible to you anytime.
Do You Have Questions?
Feel free to ask here in the comments or just fill out a form on our "CONTACT" page!
OnePageX.com is excited to interact with the community here.