Some Long-Term Speculations I'm Excited About: AcademyToken, CryptoHunt, and RavenCoin (Part 3)
This is a continuation of part 2 here.
This is not financial advice! I'm just doing this for entertainment purposes and telling my personal story on my blog. Please don't make financial decisions based on what you hear from me!
Raven Coin

To start talking about RavenCoin, I need to back up to this Wired article from 2014: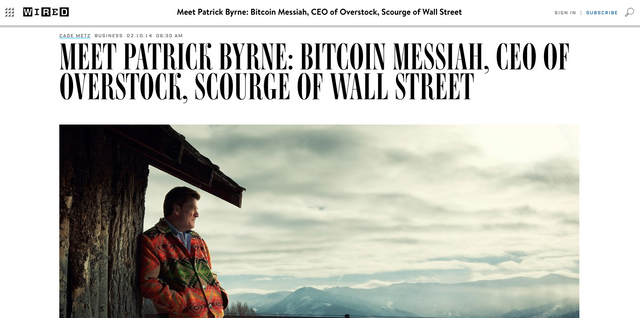 I read that article after being involved in Bitcoin for over a year. The first line says it all:
Patrick Byrne says the zombie apocalypse is coming, and there's one thing that can save us: bitcoin.

I learned how Patrick Byrne created https://www.deepcapture.com/ in an attempt to expose the corruption he was seeing first hand in the Wall Street space as he navigated the IPO process for his company. Read the Wired article for more details.
I remember him as a mavrick who gets it and understands how corrupted the system is and how much change is required.
Fast forward to 2018, and I read this article: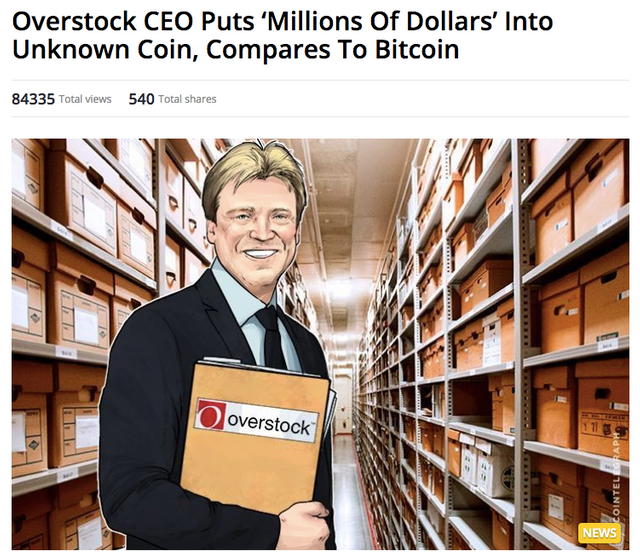 That really got my attention. The interesting thing to me in regards to RVN is the X16R mining algorithm it uses. It's supposed to be an ASIC resistant algorithm to help with the mining centralization problem we see with Bitcoin today. From the white paper:
The X16R hashing algorithm consists of 16 hashing algorithms operating in chain fashion with the ordering dependent on the last 8 bytes (16 nibbles) of the hash of the previous block.
This means it should be difficult to create an ASIC (Application-Specific Integrated Circuit) for this algorithm. The team is committed to "breaking" any ASICs that are ever developed for it.
Raven is a digital peer to peer network for the facilitation of asset transfers. Accoring to the white paper:
Raven is the reference implementation for X16R, which defines the number of algorithms, the specific hashing algorithms used, the order of the algorithms, and the order of and bytes used from the previous block hash.
So when I heard it's live and available on Crypto Bridge (which is just another BitShares front end like OpenLedger or Rudex), I took a big gamble and bought some. You can get to the trading pair here: https://wallet.crypto-bridge.org/market/BRIDGE.RVN_BRIDGE.BTC
Someone was asking me earlier how to purchase this coin so I put together step-by-step instructions I thought you may benefit from as well:
Sign up here: https://wallet.crypto-bridge.org/?r=luke-stokes You may need some BitShares in order to trade, so if you're stuck, let me know. Not sure if my referral link will work there, but hey, worth a shot, right?
Click Deposit/Withdraw (you may need to log in here)
Select BTC from the "PLEASE SELECT THE COIN YOU WOULD LIKE TO DEPOSIT:" drop down.
Click the COPY ADDRESS button to copy the BTC address under the Deposit instructions header.
Send your BTC.
Once you BTC clears (3 confirmations, I think?), navigate to https://wallet.crypto-bridge.org/market/BRIDGE.RVN_BRIDGE.BTC or find it by clicking Exchange and searching for the market pair you want.
If you want to buy, buy. If not, don't. It's up to you. This isn't financial advice.
You can also mine it, of course, but I'm not currently a miner, so I'll leave that to others to explain.
I've speculated on some things before, but this is probably my craziest one yet. Please, don't think this is a get-rick-quick thing. This is a long-term speculation that could very well go to zero. If you're looking for a pump and dump, please look elsewhere.
You can read more about this project from this Medium post which has been shared online by Bruce Fenton:
This coin and project are an experiment. We are simply working on ideas and writing code. If people choose to contribute, fork or run this code, we hope it will be beneficial.
I've been following Mr. Fenton for quite some time (probably since I got involved in early 2013), and I've learned a lot from him about bitcoin and cryptocurrency in general. My understanding of his desire for a more decentralized, free world also gets me excited about this project having his support. He shared this online: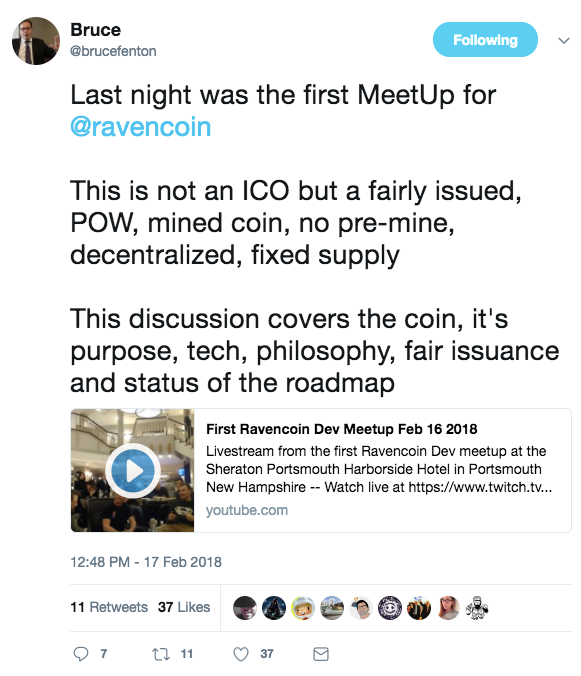 Which links to this meetup video with Bruce Fenton talking about Raven Coin:
About 45 minutes in, there was a question about performance and governance which reminded me again why I like DPOS so much.
He understands the importance of Cypher Punk (as I've talked about before). In the video he talks about never mentioning price or exchanges, because they are focused on writing code. That's pretty cool, because that mentality is how this entire cryptocurrency space came to be.
That said... We also can't completely ignore the importance of financial incentives because those incentives are what keep miners mining which secures a blockchain. This project is so early and so speculative, that it is quite possible there will be no value here for a long time (or if ever), but it is interesting to see a listing on cryptocoincharts already (though nothing on coinmarketcap yet):

As I said above, it's currently trading on CryptoBridge (which is just BitShares):

This blockchain is ten times faster than Bitcoin with 1 block per minute instead every ten minutes and though it does have 1MB blocks, they said they are open to increasing those without concern.
Anyway, this is me, putting myself out there on an obscure project being supported by some people I think are really interesting. I'm not suggesting you buy it because this isn't financial advice, but I did want to spread the word a bit on something I think is interesting.
I hope you find it interesting as well.
---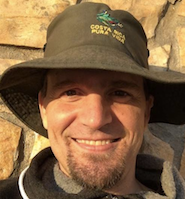 Luke Stokes is a father, husband, programmer, STEEM witness, and voluntaryist who wants to help create a world we all want to live in. Visit UnderstandingBlockchainFreedom.com







I'm a Witness! Please vote for @lukestokes.mhth