The Truth About Richard Heart AKA Richard J Schueler (Updated 1st Oct with Images of Conversations)

---
Here is a story that really shocked me when i heard about it today,
I had thought previously that Richard Heart (Real name Richard J Schueler ) as one of the most reputable crypto aficionado's.
He seems to be another well trained scammer sadly the crypto-sphere has no shortage of these and as the potential for cryptocurrencies is realized these numbers will continue to swell.
Luckily there are those experienced in crypto and of an inquisitive nature with a disdain for this kind of behavior which take the fight to those who try and pull the wool over pull one over on the everyday people trying to make it in cryptoland.
One of these is Jonathan Sterling who investigated rumors on Richard Heart and contacted him to discuss which he received threats for doing so.
I have contacted through twitter will give a whatever % of the payout Jonathan would like for posting.
---
TL;DR
I asked some questions to Richard Heart and mentioned to him that he raised some red flags for me. He revealed his name as Richard James Schueler with this article via Twitter. I still had questions regarding the red flags. He sent a thinly veiled threat to me. I let people know. I went on Bitcoin Uncensored to talk about it. I wrote this article to cover everything in an organised fashion.
This is mostly excerpts copy and pasted from Jonathan's site imnotdead.co.uk/blog/richard-heart with screenshots of proof added video with Chris Derose on bitcoin uncensored and Video with Richeard Heart under the name Richard J Schueler regarding the Methuselah_Foundation
How I Learned of Richard Heart
I first learned of Richard Heart a few weeks ago when he interviewed Roger Ver. I then went through and watched his interviews with Chris DeRose, and generally liked his content, although I disagreed with some of his points. I got in touch with him to get an outline of his upcoming book, and then joined his Discord community. I learned he was working on a token, and due to my technical background got into his private group of "Certified Geniuses" on his Discord. I liked his content, I liked his book, and his token stuff looked interesting - he had my attention. I read hundreds of pages of his book outline, and took the time out of my day to privately send him feedback, section by section. It's pretty safe to say that I was becoming a fan. And then shit hit the fan.
---
The Explosion
I have screenshots of all of the following messages (public and private) for verification, should they be called into question. All of the private messages were posted by Richard Heart on his own Twitter (he may have deleted them, I dunno, he blocked me). They were also posted in The Briar Patch Telegram group. My lawyer also has a copy. I've publicly left a screenshot of the veiled threat on my twitter. In Chris DeRose's Telegram group, The Briar Patch, which has about 200 members. Richard Heart was discussing the tech behind what he eventually wanted to do an ICO for, and I asked the question: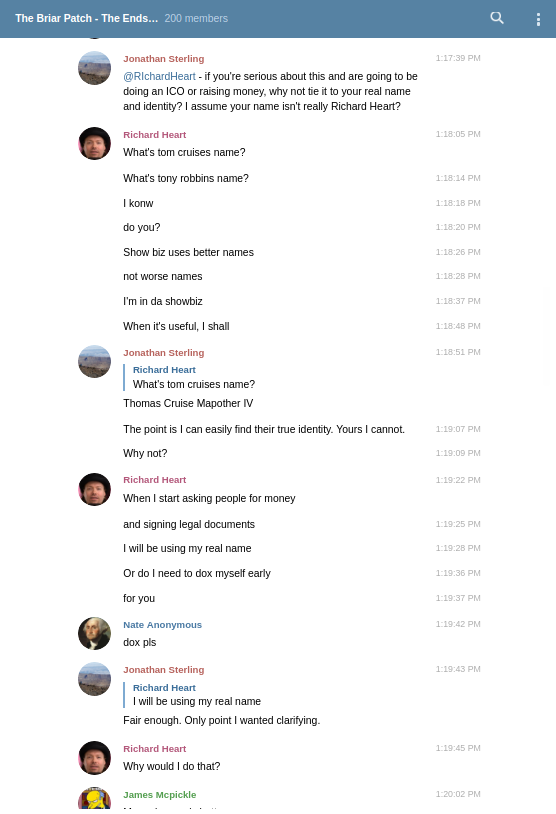 ---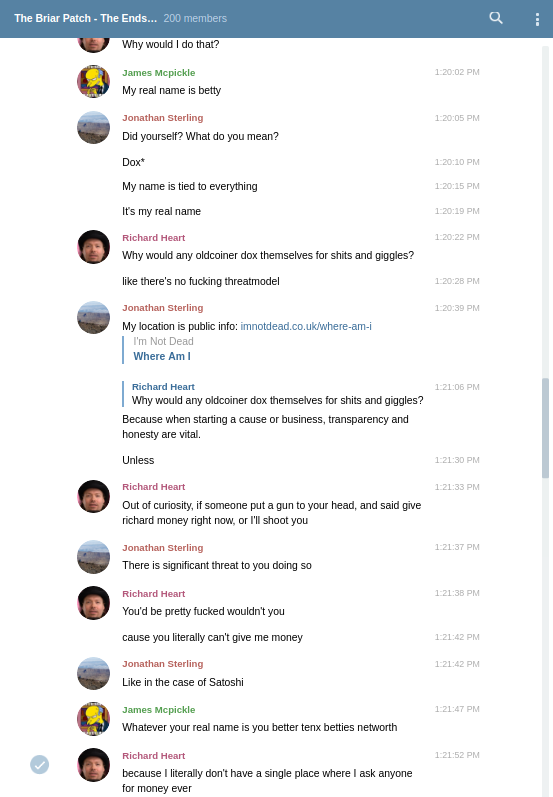 ---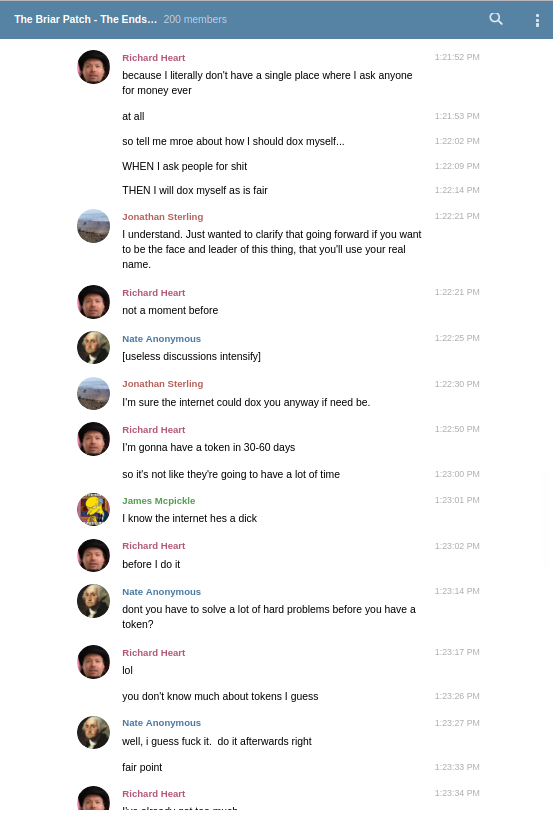 ---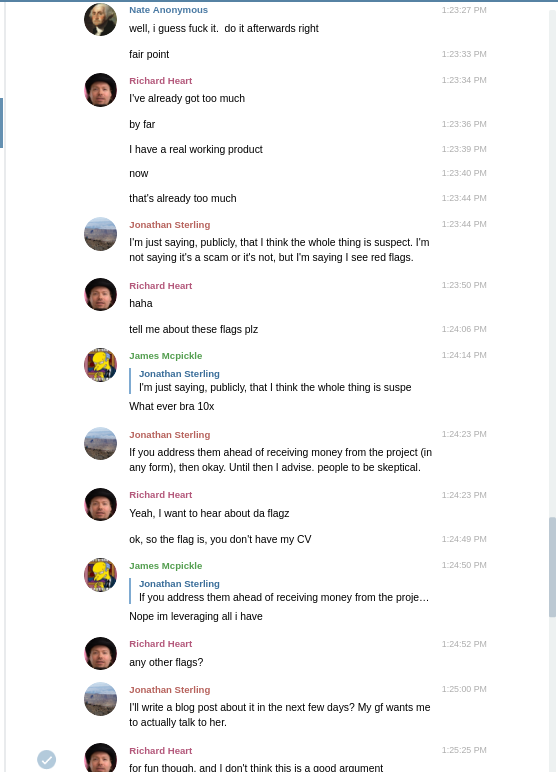 ---
---
---
I'd left when I said I was off and only saw that last part after the fact. It piqued my interest. The red flags I alluded to before weren't even necessarily to do with his identity, and I'll discuss them after I finish the saga. After I'd spoken to my girlfriend for a bit, I then sent Richard Heart this private message (all of the following messages are from our private chat until I say otherwise):
Hey dude. I'm gonna write this blog post over the next few days (if/when I find time - I'm finishing a project and moving to Bali in the meantime). I'm gonna release the full post to you privately beforehand. I sincerely don't want to damage your reputation - consider this an opportunity to further steelman yourself. I generally like what you're doing, and find your content thought-provoking and entertaining (even the bits I disagree with). If you see from the post that it might be damaging and there's stuff you want to do ahead of the public release to alleviate that, I'm okay to give you a few days to sort it out. Again, I'm not here to cause harm; I'm here to ask the questions that are in the back of the public's mind. If everything gets cleared up/explained, I won't release the post to anyone and will keep this message and further private discussions we have about it 100% private. You have my word. Sound fair?
---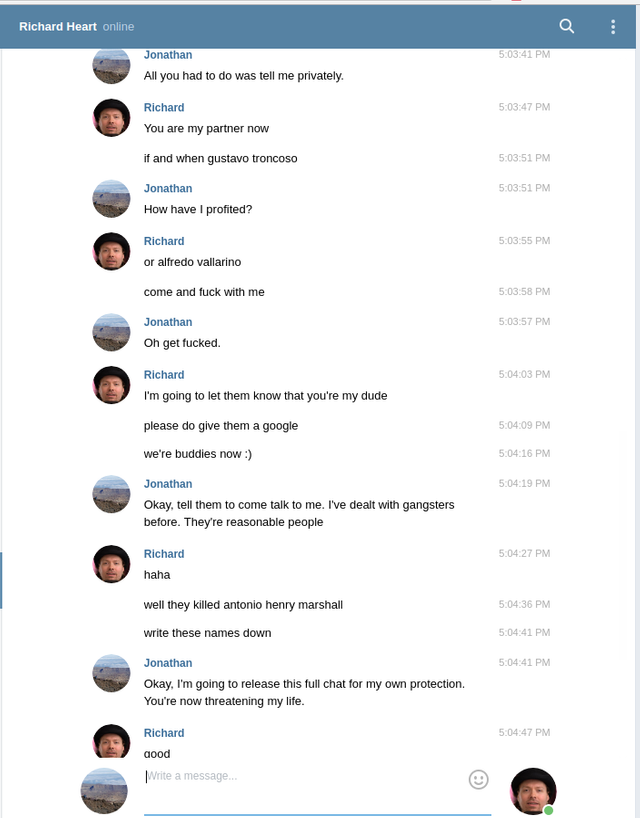 ---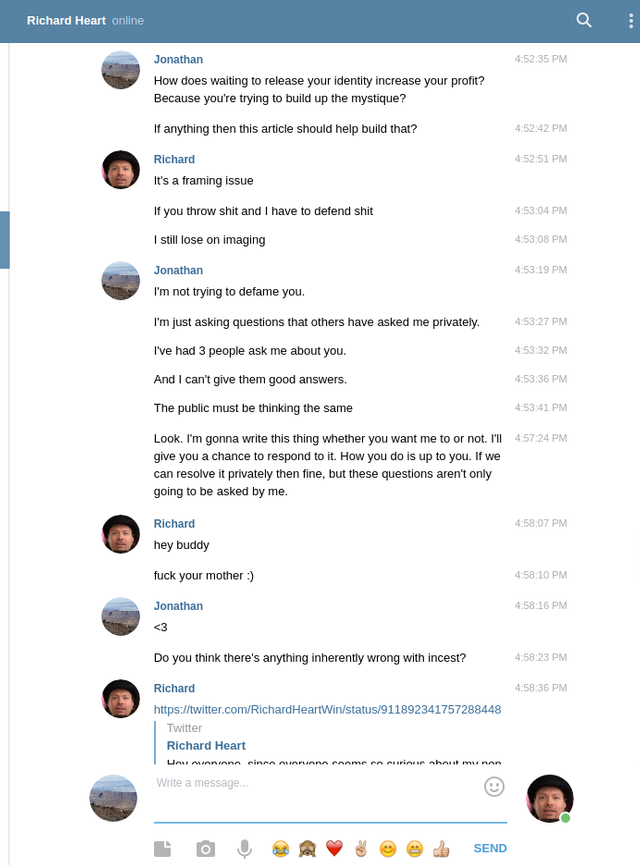 ---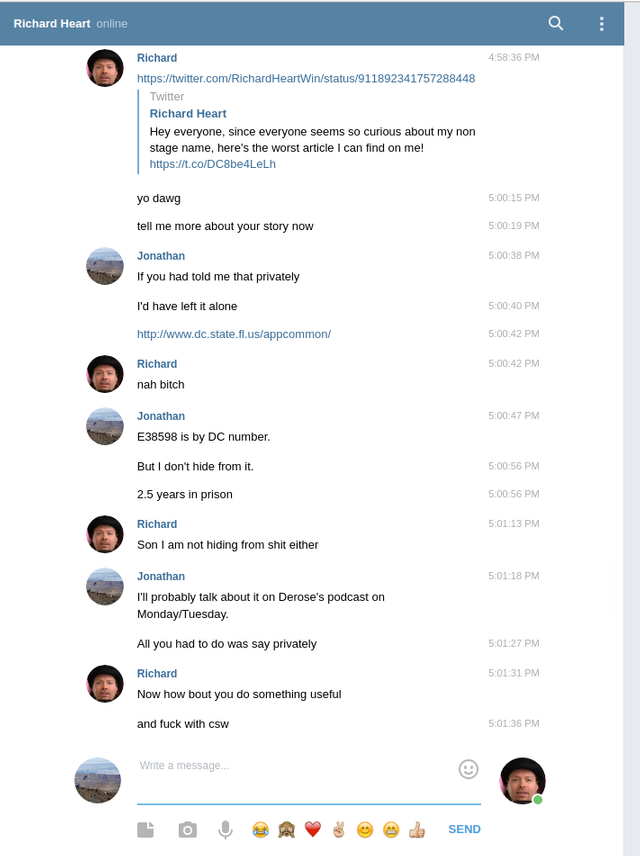 ---
He publicly Tweeted a damaging article about himself (http://www.panama-guide.com/article.php/20070926122502156) where his real name, Richard James Schueler is given.
--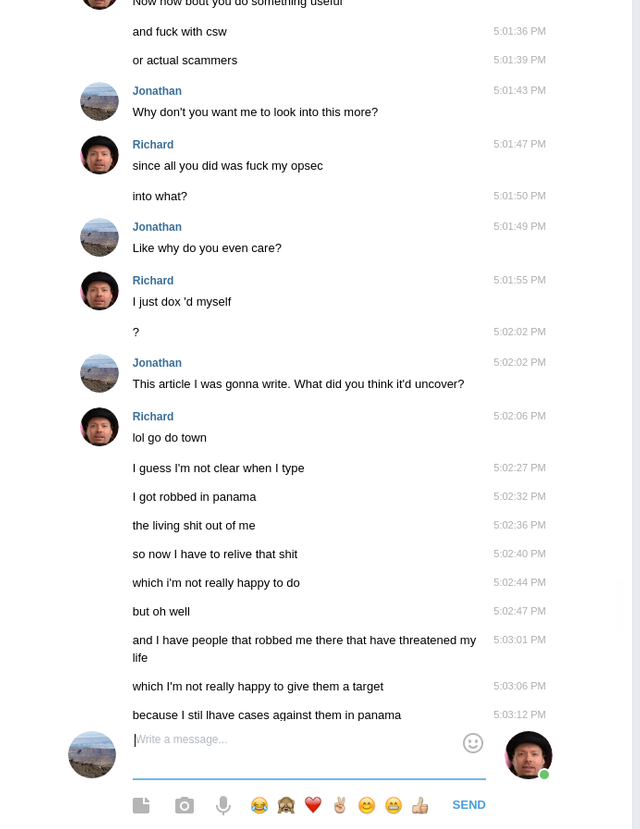 ---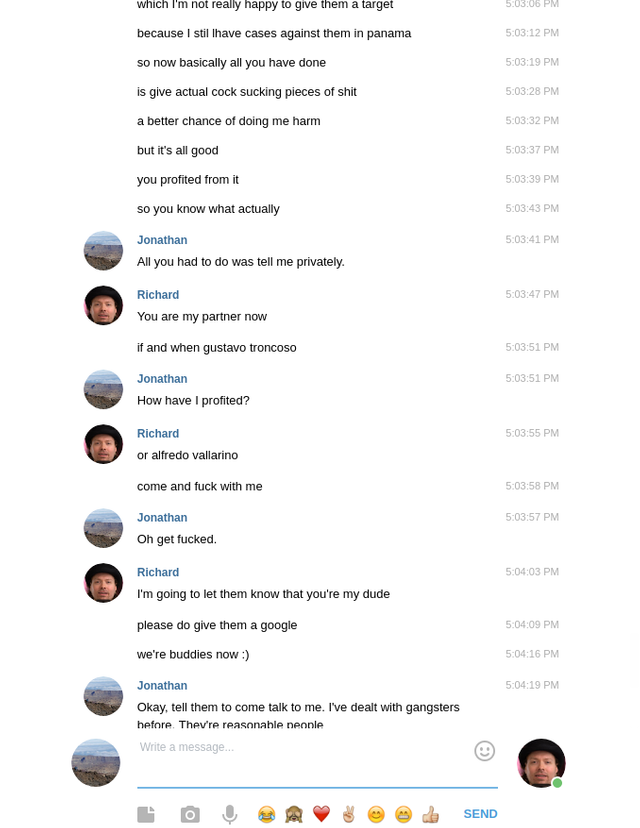 ---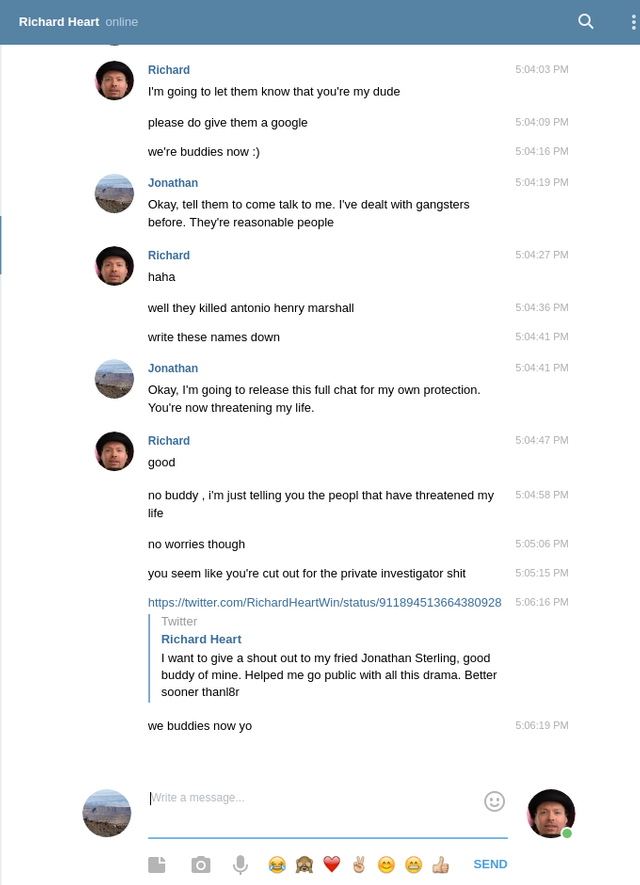 ---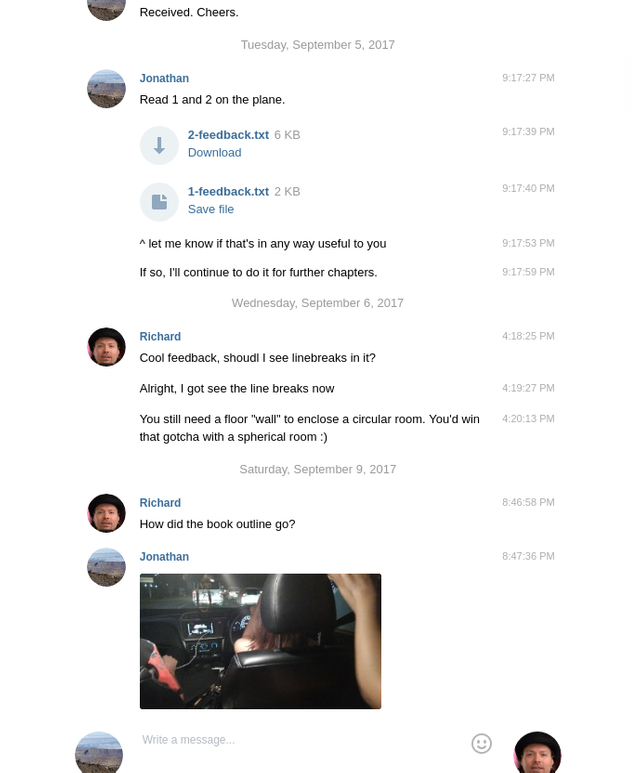 ---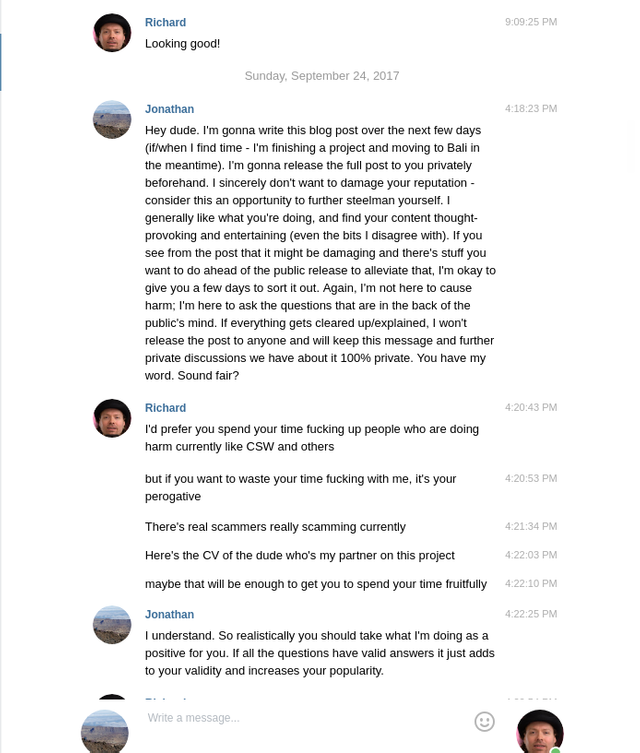 ---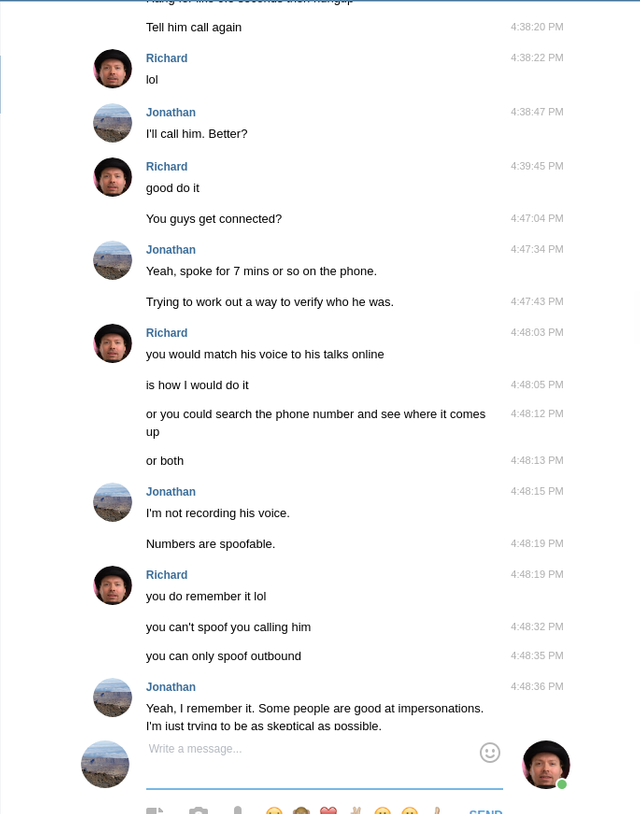 ---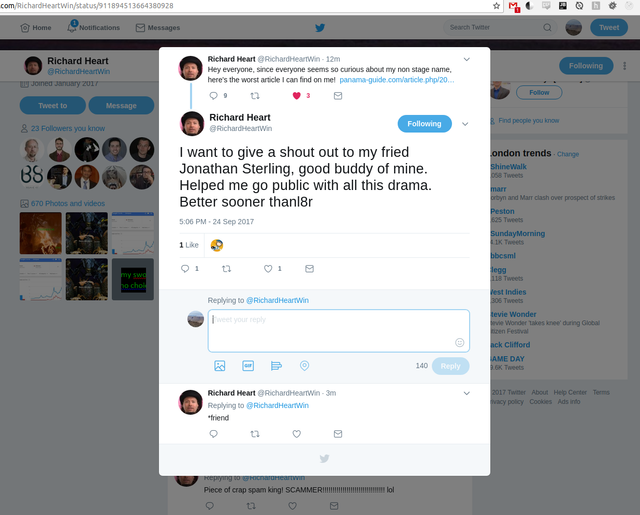 ---
He said he's going to tell people I'm his partner, and when some gangsters which are known for killing people come after him, he implied he's going to try to get them to come after me. That is why I released this chat on The Briar Patch. If what he was saying was legitimate, then it was vital that I get the truth out as soon as possible. I would never have released the chat logs if I didn't feel my life was in danger. That is the only reason I released them. If he did know these gangsters and they would try to kill me if I was associated with him, it would be very important to have everything out in the open so they could see that I am actually not Richard's friend and they have no cause to come after me. In retrospect, Richard's threat was probably not legitimate, as if anything happens to me in the near future, all eyes will be on him, as there's written evidence of his thinly veiled threat that I simply needed to send to some friends/family and my lawyer in case anything happened - doing that then informing Richard I'd done so would have been the best way to handle it. However, in the heat of the moment I felt this huge urge to protect my own life and genuinely felt the best way to do that would be to release screenshots of our private chat. I clarified with my lawyer that it was legal for me to do so. Again, in retrospect I could've handled the situation better, and will learn from this in case something similar happens in the future. This post is an attempt to be fully transparent about everything that happened. I don't make a habit of releasing private conversations.
---
Red Flags I Alluded To
So what were the red flags that I was going to write about? Here are 14 of them. I was going to raise both sides of the arguments for all of the following, but now I'm just going to list what caused me to ask questions and what I was generally going to write about (not including anything about his past that has now come to light):
Mocking people for asking legitimate questions.

Overly complicating the explanation of what he's doing with his token. I was in his private, invite-only chats where he posted what he's actually doing. It's very easy to explain simply. I'm not going to do it because, again, I think releasing private information and breaking trust is generally bad.

Encouraging sycophants and actively discouraging dissent/questioning. In his book's outline, this feels very dodgy: "An open mind learns better, there's time to argue after… We're lucky enough when we meet someone who is not only passionate about that which they speak but perhaps even knowledgeable as well. We would obviously want to impress such a person speaking to us, so as to be worth of the conversation… There is an easy way though, a shortcut to feeling important - destruction! Let him know why he's wrong. Let him know why it won't work, shouldn't work, can't work. This is great stuff, where in the original conversation, if you only added a small icing on his idea cake, you'd seem only to be an accessory. Now that you disagree with him, you are his equal or greater! Screw the quest for truth, that pays off only after many days, feeling important pays off right now! Think about the last time you tried to explain to someone that they were doing something wrong, and remember the mental gymnastics you might have witnessed. It takes a great man to skip the easy route, bide their time in silence, thinking of something great to add. When the gambit pays off, and you can construct with your speaking buddy instead of disagreeing, friendships are made." Oh how lucky to meet you we are Richard. Oh how terrible it would be for us to question you.

Virtue signalling (we must protect the dumb. Let's make the world better by prolonging life, etc.).
Weak arguments that appear to try and distract for the point (such as in the chat above, "Do you know Tom Cruise's name?").

Generally spamming nonsensical arguments to drown out other viewpoints and to distract from the main point.

Generally aggressive behaviour with anyone who even slightly disagrees or questions him.

Claiming that he wants to remain anonymous whilst putting his face on everything. Psuedo anonymity seemed strange. He gave Satoshi as an example of why anonymity is useful, but Satoshi was completely anonmyous, not partially. Satoshi also never asked anyone for money (i.e. did an ICO). Richard's identity is but one small aspect of what I was going to touch on, and I never planned to doxx him. I think Richard's got paranoid that that was my goal when he doxxed himself (because in his mind, maybe he thought it was better to beat me to it?).

It wasn't only me that thought something may be off. A few of my friends either messaged me or spoke to me face-to-face asking questions about who Richard Heart is, and to quote a friend, "What has he done other than just chat shit?".

Further consulting with people that have experience dealing with scammers/conmen and them telling me he gives off vibes they see commonly amongst scammers.

The whole way he handled me asking questions in general. Playing the victim when he doxxed himself. I was going to write about all of these red flags listed here. Identity was such a small part and I wasn't going to dig into who he was, only question and put up arguments as to potential motives.

Refusal to admit any wrongdoing on his part. This is very 48 Laws of Power or Red Pill-esque: "Never apologize. Never admit fault." Nobody is perfect and everyone makes mistakes. I question people who act like their shit doesn't stink.

Editing and deleting past comments. He's done this in The Briar Patch and people have noticed.

Mixing science with psuedoscience. Citing numerology and arbitrarily picking the number 3 in his book outline and describing it as "magic": "3 is a magic number. Think of how many things come in 3's. The magic of 3's. We all have height, width and depth. We see color with Red, Green, and Blue light sensing cells in our eyes. We describe sound as the highs, mids, and lows, we describe sizes as small, medium, and large." He goes on for over a page and a half about 3's alone. He does something similar for colour. This is all psuedoscience nonsense.
---
The Bitcoin Uncensored Show
Since it was relevant to Chris DeRose's audience, we both agreed we should chat about it on his show. I was scheduled to go on anyway to talk about having sex with transexuals and some LGBT stuff. Apologies for the camera angle - one of the small faults of the Dell XPS 13 is that the camera is at the bottom of the screen. I also took the show on a day where it was hard for me to find time and I didn't have a proper office; just a bed in a hotel room and my WiFi was spotty. Sometimes when I interrupt Chris it's because of large delays in audio. It's also my first time doing a livestream. Really happy to receive feedback. My contact info is in the section below.
---
The Panama Debacle
I've not had chance to look into it. I don't even know if I will. A lot of stuff came up and I don't know if I have the time to go through it. Again, I only intended to question red flags around Richard's current behviour, not dig up his skeletons or "doxx" him.
---
This is all from Jonathan Sterling, he states on his blog that he is still compiling additional information and will update when he finds out more.
here is link to doxed information from panama https://groups.google.com/forum/#!topic/accionciudadana/J2S6I5Vuguw
---