How to Delegate Steem Power the easy way if you have over 30 SP you can delegate. (Minnowsupport)
Hey steemers,
Quick video on delegation to any one who wants to share the love. Real simple way!
Thanks for watching.
Step 1:
In order to Delegate SP you need to convert to Vests its a bit tricky.
in order to find your numbers go to https://steemd.com and look for steem_per_mvests.
you want to calculate 1,000,000 and divide the steem_per_mvests and multiple by amount of steem power you want to delegate.
Step 2:
Here is an example where I delegated 100 SP to @minnowsupport you must use the link below from busy.org
https://v2.steemconnect.com/sign/delegateVestingShares?delegator=zeartul&delegatee=minnowsupport&vesting_shares=207998.115079 VESTS#
where it says my user name zeartul you would replace with your name and I will be delegating to minnowsupport and my vests for 100 Steem power are 207998.115079 make sure you have 6 digits after the decimal or you will get an error.
Step 3:
You copy that URL and paste into your browser and you will see a screen like this with your name and the account you are going to delegate to which for me is minnowsupport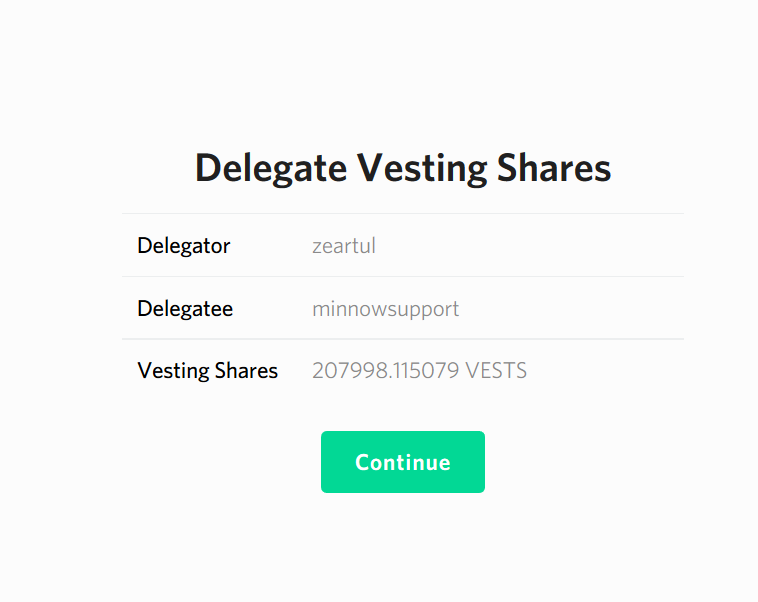 after you click continue it will ask for you user name and your active key, make sure to not use your owner key.
once its confirmed you will see a message saying succes.


You cannot power down delegated SP. If you want to take back the delegation just enter 0.000000 for the vests.
If you liked this video/ tutorial have a look at my previous posts.
IF THIS WAS HELPFUL TO YOU, PLEASE GIVE IT A VOTE.
Get informed and Join the future: https://discord.gg/HYj4yvw