There are a lot of cryptocurrencies out there that have some sort of reward distribution in place for holders. You may be missing out on profit, if you don't know whether the coins you're holding are distributing additional rewards. Luckily there are two amazing websites that can help you find out whether certain coins either have masternode functionality, or pay out dividends according to your stake (current holdings).
---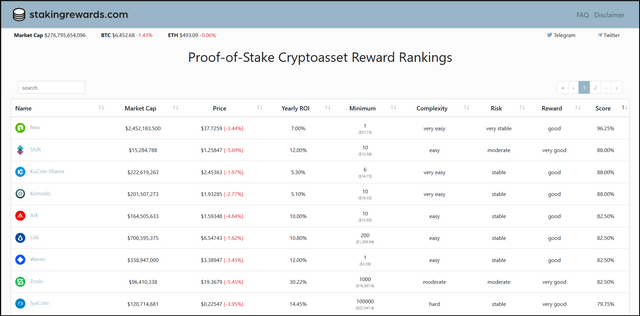 Source: screenshot from Stakingrewards.com
---
Here you can find an overview of all the crypto assets which pay out dividends to current holders or masternode operators. Stakingrewards has given each asset a score that is based on various parameters, such as risk, rewards, complexity, etc.
When you click on an individual asset, you'll find a lot of information about the coin itself, as well as an explanation about the reward distribution. There's also a very handy calculator to see how much ROI you'd get on your current holdings.
---

Source: screenshot from Stakingrewards.com
---

Source: screenshot from Stakingrewards.com
---
I had found this website after reading an announcement on Bitcointalk forum and the creator mentioned that this website has been around for just one month. It looks a little bit like Coinmarketcap, but then just for Proof of Stake coins. I just had to give this a shout-out here on Steemit, because I could see myself using this a lot. Not all POS coins are listed here, but they've clearly picked out the most recognizable ones. I do hope they'll add more in the future.
---
---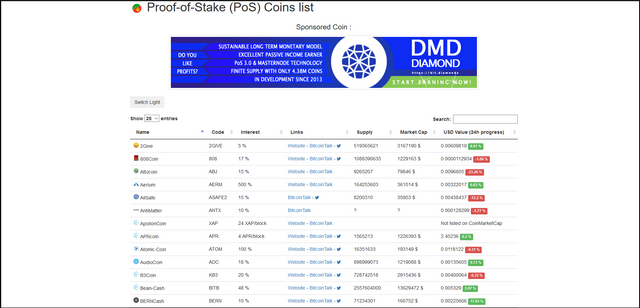 Source: screenshot from Poslist.org
---
Compared to Stakingrewards, Poslist has a lot more crypto assets listed on its website. The absolute majority of these are coins that are very risky to invest in. Still, it could be useful to find hidden gems that might be worth something in the future. No less than 118 crypto assets are currently listed on Poslist, but the amount of information given on each coin is minimal. You'll have to do some of the research yourself.
Some of the information given might be a bit outdated as well. I've found some differences between the ROI calculations made by Poslist and Stakingrewards.
I hope this article can help people choose the right coin to invest in. If you have any questions or remarks, please leave a reply in the comment section!
---

---

---