AltcoinsTalks - the best alternative to the Bitcointalk forum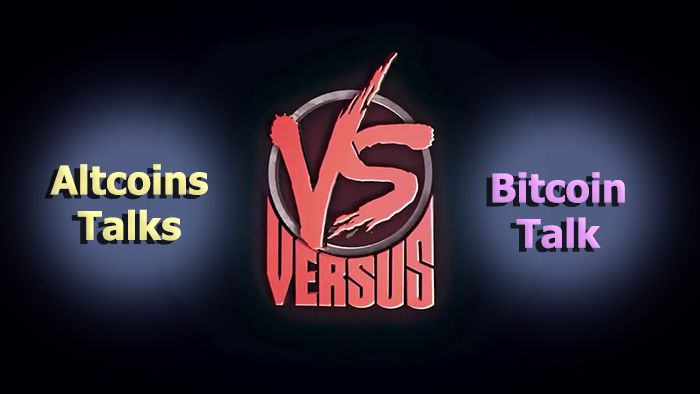 Greetings to the crypt community on my blog! Today I will tell you about the growing popularity forum on crypto-currencies - AltcoinsTalks.
And do not think, it's not about BitcoinTalk, but about a relatively new forum, similar to it in its subject matter, but different for the better.
I recommend to take a simple registration >>> Register
Next, a little background, and then go to the main essence of the issue.
The convenience of finding information on AltcoinsTalks
BitcoinTalk has long gained its popularity and is the largest crypto-currency forum. There you can find absolutely any information about crypto-currencies, mining, exchanges, pools and many other information.
For a beginner in this field, it is very difficult to find there the necessary information, since there is created a huge number of identical trash topics, among which it is not really possible to find actual information. To do this, you will have to dig through hundreds of topics before you find something you need.
The forum AltcoinsTalks now only contains the necessary and relevant information, no spam and garbage. All topics are well structured and it will not be difficult to find the necessary information. This is one of the advantages of this forum.
The situation with the forum's ranks
I hope you've heard about such a concept as Bounty?
Bounty is a reward for carrying out various activities related to the promotion of various projects.
Bounty Hunter - the hunter for the awards. Bounties come in different types and directions, here are the most popular of them: Social networks, Videos / Articles, Signature campaigns.
The biggest reward you can get is for participating in Signature campaigns, the size of the award in which depends on the rank of your profile on the forum.
At the Bitcointalk forum, signatures can be worn by the following ranks: Jr.Member, Member, Full Member, Sr.Member, Hero Member, Legendary.
Earlier, ranks were raised by posting messages and increasing the number of Activity. In each two-week period, 14 Activity was accrued.
So the rank on Bitcointalk could be obtained:
Jr.Member - in 1.5 months
Member - in 2.5 months
Full Member - in 4,5 months
Sr.Member - in 8.5 months
Hero Member - after 1 year
Legendary - in 2-3 years
But starting from January 2018, the forum introduced the Merit system, which is designed to reduce spam and aimed at improving the quality of content on the forum.
The idea is that users with a Member rank and above received a certain amount of sMerit on their accounts, which they can give for a quality post or comment that they liked.
The amount of sMerit given out is limited for each rank and is not restored after the transfer.
Now to increase the rank on the forum, in addition to the number of posts and Activity, you need to collect a certain amount of Merit:
Jr.Member - not required
Jr.Member + 10 Merit = Member
Member +90 Merit = Full Member
Full Member +150 Merit = Sr.Member
Sr.Member +250 Merit = Hero Member
Hero Member +500 Merit = Legendary
To summarize, we can say that raising the rank above Member is simply not realistic, since 10 Merit can still be earned, but 100 will already be a problem.
This news has generated a black market for the sale of Merit, where they sell from $ 10 and up for 1 piece. Also, unrealistically increased prices for accounts with high rank. For example, the Full Member account is sold for about $ 600-700, Sr.Member - from $ 1000 and above.
Crowds of people received a red trust for trading Merit and accounts.
Ranking system on the forum AltcoinsTalks
Here we came to the most interesting. At the AltcoinsTalks forum, there are no restrictions on increasing the rank of accounts, there are no two-week periods and no Merit. But believe me, it's not for long. Soon there will be tightening the rules. Tentatively this is expected this summer.
In order to start developing your account, you need to pass a simple registration >>> Register
After that, you need to fill in the information in the profile and start to write meaningful comments and create useful topics for discussion.
Messages counting more than 12 words are counted, but the rules are periodically tightened up. So I recommend that you join this forum as soon as possible.
Here are the criteria for increasing ranks in the AltcoinsTalks forum:
Jr. Member > 20 posts
Full Member > 60 posts
Sr. Member > 120 posts
Hero Member > 400-500 posts
Legendary > 500+ posts
As you can see in this system, the Rank Member is not yet available, which makes it easier to get ranks.
Some projects run Bounty campaigns in parallel in several forums, for example AltcoinsTalks and BitcoinTalk. In this case, you have the opportunity to participate equally with the high ranks of the BitcoinTalk forum.
This post I wrote to attract more attention and to promote the forum AltcoinsTalks. If I still have not convinced you that you need to register an account, as long as there is such an opportunity, then write your questions in the comments.
If you have a desire to get an account of high rank on the growing forum, then Welcome! >>> Register
My original article in Russian: http://bitcoingid.ru/new-projects-ico/bounty/altcoinstalks-alternativa-bitcointalk.html