ETH 05/12/2018
Good morning to all steemeans, I hope you have a good weekend.
Let's perform an analysis on the ETH crypto.
The ETH has had a good recovery a few days ago arrived around 830 usd, and at this time is making a healthy correction.
When analyzing the 1 day chart we clearly see this recovery movement, we have plotted fibonachi to see what levels it is in, and we realize that this correction is close to the 38.2% fibo zone.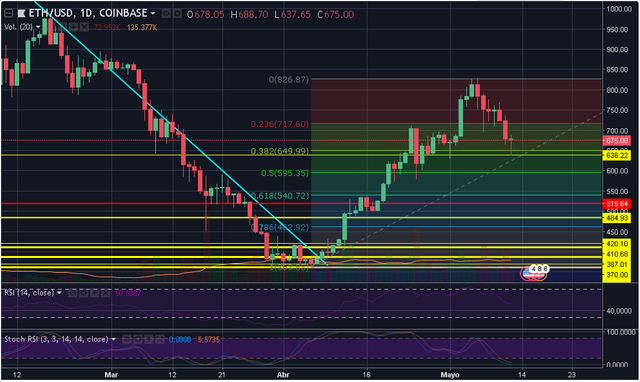 The stochastic is oversold and the rsi at intermediate level, for a long trade you could expect a setback and then a good rise, according to what this graph indicates, it would be good to wait for the rsi to fall around 30.
Let's go to the graph of 4 hours, in the graph you can see how the price bounces in the area of ​​38.2% fibo.
The stochastic is oversold and the rsi at 38, which indicates that the price may continue to drop and test the area of ​​38.2% and may be preparing for a pullback.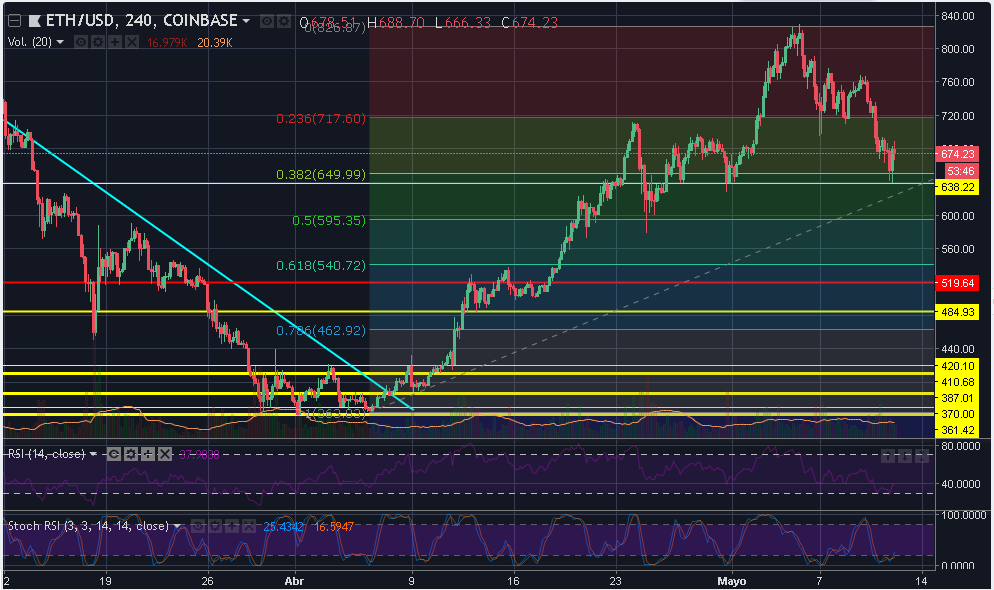 In the 1 hour chart we clearly see the bounce in the zone 38.2% a recovery and a pullback attempt to test or try to break the 38.2% level of the fibo.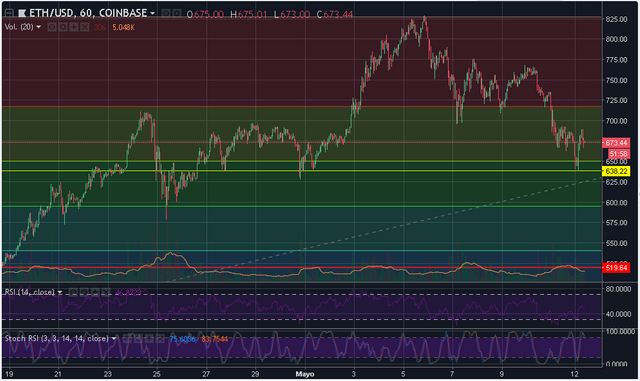 The stochastic is overbought and the rsi at level 50, which predicts a rapid drop in the price.
For now it's all friends later I'll be sharing my analyzes and market insights, cryptos, icos and more.
I say goodbye thank you for your attention, have an excellent week.
Legal Disclaimer: All my analysis are just showing possibile scenarios and not predicting the future. Technical analysys gives wrong signals very often and it just give clues to reason on the future development of a financial product. The price move often in a unpredictable way. Never invest basing only on my predictions which can be wrong and always use a correct money management. I do it for personal interest for free, I am not a financial advisor nor is any content in this article presented as financial advice. The information provided in this blog post and any other posts that I make and any accompanying material is for informational purposes only. It should not be considered financial or investment advice of any kind.