PixelProperty DApp Launching May 1st!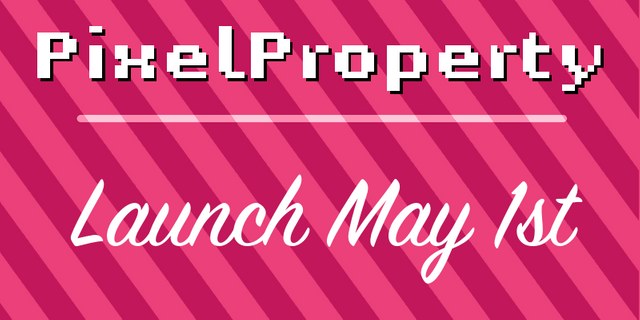 Launch May 1st
Get ready for the official launch of PixelProperty, coming very soon on May 1st at 5pm UTC!

Testing & Giveaway Ends Today
Today is the last day to test the DApp and enter into the PXL Giveaway for our Steemit testers. For more information on how to enter, visit our Public Testing & Giveaway post.

Why You Should Be An Early Adopter
Early adopters of PixelProperty get many perks, including:
| Bonus PXL While Playing | Discount Properties |
| --- | --- |
| Exciting Property Giveaways | Free Contribution Boosts |
For more information, here are Four Reasons You Should Be An Early Adopter.

How To Participate
PixelProperty is a DApp powered by Ethereum Smart Contracts, which users can interact with in a very similar way to how users play with other DApps such as CryptoKitties. Within the PixelProperty DApp are two Ethereum tokens, PXL and Property. PXL is the cryptocurrency of PixelProperty, while Property is the cryptocollectables.
For an average person to participate, they would simply need to download the MetaMask browser extension (an Ethereum wallet), have some Ethereum in the wallet, and then head to canvas.pixelproperty.io and click the "Get Started" button. The website will tell you if you missed any step along the way.
If you do not have Ethereum to fund into the MetaMask wallet, you can exchange for it on various exchanges, such as Blocktrades or Bittrex. This Ethereum is used to cover gas costs on the network or optionally buy Property.

Want To Learn More?
For more information on PixelProperty, visit our website at pixelproperty.io/, read our #introduceyourself post, or checkout our white paper overview!
---