Quick & Easy is: OnePageX
Quick & Easy is: OnePageX

You like to get all the information on the front page of your website, that is called OnePage, is considered this way to gain confidence to its customers, the world of crypto currencies has been revolutionizing given that the first step was taken by bitcoin, this way started the block chain, now that is OneOageX? "It is the exchange of cryptocurrency simplest with a wide selection of cryptocurrencies. The name OnePageX is the abbreviation for OnePageExchange". It's a quick and easy, unregistered way to enjoy the convenience of exchanging your coins.
You can start your operation from the top of the page, no need to register, but how it will work: OnePageX works like this: "Every time a user generates a transaction, their URL will be added in a "session". Simply bookmark the page or copy and paste the link back to it. Everything will be possible as quickly as your needs imply, for this see the image below where it explains how the selection will be.
OnePageX is very new for the use of us who trust in the block chain, it will help you and allow you to change as many currencies as you want from a single place and the best thing as I told you before is without wasting time in registering, which is new as users may interest us. "The vision of OnePageX is to allow the trading of most cryptocurrencies with a simple interface". In line with the simplicity of the interface, OnePageX allows multiple transactions from a single page. Your transactions are almost in real time, i.e. instantaneous. What more do you need in the world of crypto currencies?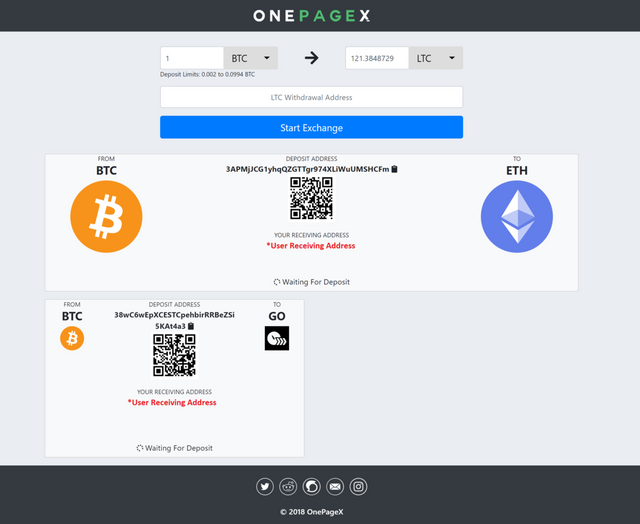 Case of use:
I am Gersson live in Venezuela, where I help to manage miners' farms of cryptocurrencies, my current job is the negotiation with the coins, that is to say to see when they go down to buy and to see when they go up to sell, for me the important thing in this country is definitely to be invisible, to pass in the anonymity and to have a fast, safe and reliable place for me, before doing this post, I gave myself the task to enter to the page and to make a transaction which was remarkably fast for me, I am confident in this new project where my security in the coins is primordial for me. Recommended.
---
More Information & Resources:


onepagex2018