1250 STEEM ~ Sponsored Writing Contest: OnePageX.com
Welcome to the @OriginalWorks sponsored writing contest! Status: CLOSED (Late submissions will be accepted if they are within 24 hours of closing time to accomodate areas with electricty outages.) Accepted Languages:
Start Time: ~9 PM ET, Saturday
End Time: ~9 PM, ET, Tuesday
Special Twitter 0.5 STEEM bonus!
Special CateredContent 250 STEEM bonus pool!
Details outlined at the bottom.
This is a call to all great Steemit writers! OnePageX has sponsored a Steemit writing contest!
Please make sure to read the contest topic carefully. Good luck!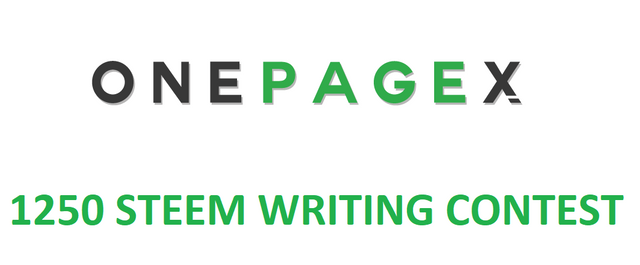 Prize Pool Total: 1250 STEEM Prizes: 1000 STEEM + 250 STEEM (100 bonuses of 2.5 STEEM!) + Twitter Bonus (Details Below)

1st Place: 80 STEEM
2nd Place: 71 STEEM
3rd Place: 68 STEEM
4th Place: 63 STEEM
5th Place: 52 STEEM
6th Place: 47 STEEM
7th Place: 44 STEEM
8th Place: 41 STEEM
9th Place: 38 STEEM
10th Place: 34 STEEM
11th Place: 31 STEEM
12th Place: 29 STEEM
13th Place: 28 STEEM
14th Place: 26 STEEM
15th Place: 23 STEEM
16th - 20th: 15 STEEM
21st - 25th: 12 STEEM
26th - 30th: 10 STEEM
31st - 40th: 8 STEEM
41st - 50th: 6 STEEM
51st - 150th: 2.5 STEEM Bonus

Deadline: 72 Hours
All articles must be submitted within 72 hours of this post to be considered!
Changes in submission rules below
OnePageX is the simplest cryptocurrency exchange with a wide selection of cryptocurrencies. The name OnePageX is short for OnePageExchange. The philosophy behind OnePageX is to simplify the process of trading and converting cryptocurrencies. OnePageX does not require any registration. Simply pick your cryptocurrency of choice and get started!
OnePageX - No Registration
OnePageX does not have registration. Every time a user generates a transaction their URL will add on a "session". Simply bookmark the page or copy and paste the link to come back to it. The addresses generated can be used indefinitely, and you can also come back to see the status of your transactions!
OnePageX works by integrating with exchanges and finding the best prices for any given cryptocurrency.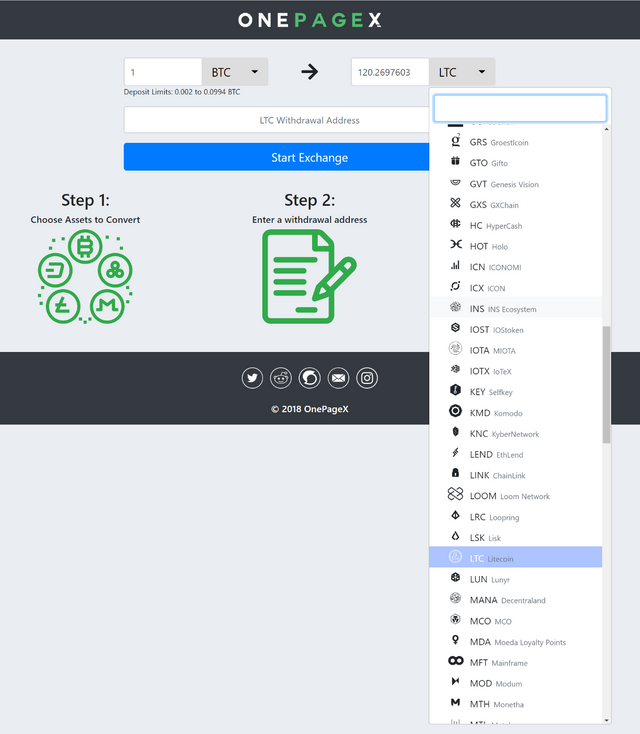 With OnePageX users are not limited to a select few cryptocurrencies. As of now, there are 140+ cryptocurrencies available.
OnePageX has only just launched. There are numerous upcoming implementations that will allows users to convert more cryptocurrencies. While in this initial launch all the cryptocurrencies are converted from Bitcoin, other assets are actively being added. Plans for the future include an implementation for STEEM as well!
The OnePageX vision is to enable trading most cryptocurrencies with a simple interface.
In line with keeping the interface simple, OnePageX allows multiple transactions from one page. Transactions are added in the form of cards that users can come back to and use any time.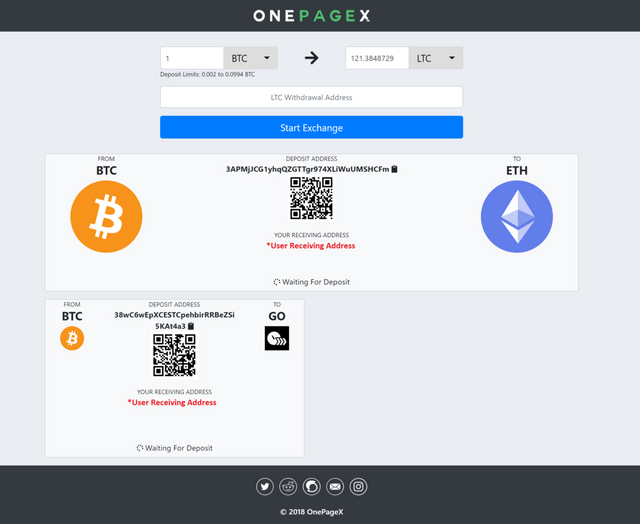 Transaction Status Indicators
The transaction cards indicate the status of each transaction. This is to provide the user with an accurate idea in regards to the state of their transaction.
Freshly created transaction card.

Bitcoin sent, awaiting 2 confirmations.

Exchange is complete! Starting Withdrawal.

Withdrawal Complete! The transaction is done.

OnePageX Widget & Integration
OnePageX has a widget that websites can implement just by copy-pasting a snippet! This will allow websites to provide their users with the ability to do quick cryptocurrency exchanges!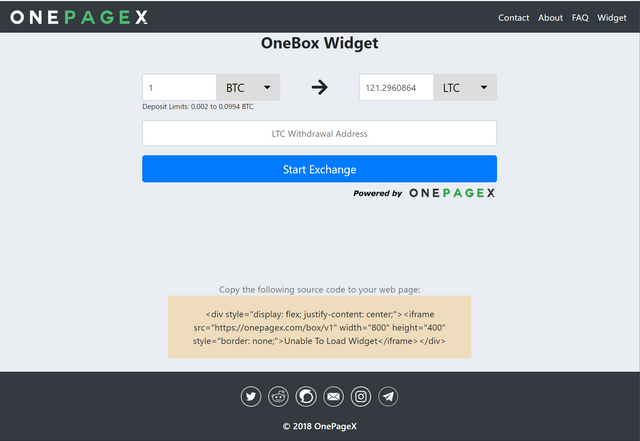 The widget is called OneBox! The OneBox works just like the OnePageX page, but within the widget.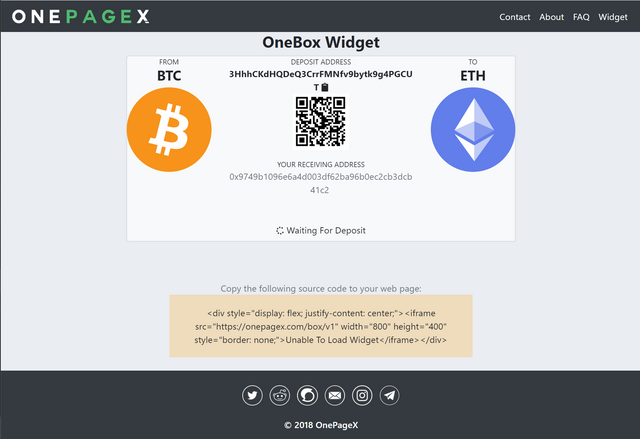 How long do OnePageX Transactions Take?
The transactions are almost instant once the deposited currency is confirmed. In order to ensure faster exchange speeds please use appropriate fees when sending Bitcoin.
Use-Case
Individual
Bob is a busy businessman and also a crypto-enthusiast. His anonymity is important to him, and he is constantly working with various cryptocurrencies.
Bob needs an exchange that is anonymous, fast and offers a wide range of cryptocurrencies.
Bob finds OnePageX!
With OnePageX Bob is able to make multiple transactions to all his favorite cryptocurrencies! Not only that, he is able to do this from within a single page.
Business
Mary owns a website that allows users to keep up with the latest cryptocurrency news! The news articles often include descriptions of blockchain projects. When her readers find a particular project interesting, they want to buy some tokens.
The readers must then navigate off of her page and go onto an exchange, register, show proof of identification, exchange and then withdraw to their private wallet.
This caused Mary to lose a lot of users who would leave the website and forget to come back. This is when Mary found out about OnePageX! She implemented the OneBox widget, and now her users can do everything from the comfort of Mary's website!
Share your article on Medium and Reddit to win bonus Steem. A prize pool of 250 STEEM is up for grabs on CateredContent!
Make sure to add a Steemit username to your profile in order to receive your prize!
More Information & Resources: Submission

Write an article about OnePageX! Why is it important to have a wide selection of cryptocurrencies? What is the benefit of being able to perform multiple exchanges from one page? How does the number of assets available stack up against other exchanges? Why is it important that OnePageX does NOT require registration? Maybe come up with some use-cases! There are many applications, so feel free to give a few! As always, the topic is fairly open-ended, so be creative!

To submit please do the following:

Add the word "onepagex2018" (without the quotes) at the very end of your article.
Link this post in your submission.
Post the link to your article as a reply to this post.
Resteem this contest post.

Rules

The article must be at least 250 words in length and it is recommended(not mandatory) that the length is under ~1500 words.

At least 70% of the submission must be original. Using "article spinners", and other word substitution tools is also not permitted.

All copied text must be in quotes. Feel free to copy links to resources from the contest post, but please be sure to not copy from other contestants.

Please keep discussions relevant to the contest topic. We would like to encourage a good vibe in the comments!
Please note, any users caught copy pasting or word spinning material without clearly showing that they took the work from somewhere, such as using quotes, will have their submissions disqualified.
Video Bonus

Feel free to use images and media from their website. You can even make your own video and have it in your submission! Videos have a chance of winning a separate bonus based on quality. Videos should be uploaded to YouTube. DTube or IPFS. Please do not remove the videos, or it might impact future eligibility. Feel free to make a new YouTube account for these. We really wanted to use DTube, but sometimes the videos were not view-able at all. We may change this in again in the future. For the time being please ensure whatever service you choose to use is working.
OnePageX would love to see some videos of users performing a transaction!
Twitter Bonus
For the Twitter bonus:
Tweet the link to your article on Twitter.
Tweet should contain article link, mention @OnePageExchange as well as one of the cryptocurrency related hashtags such as #blockchain, #crypto, #exchange etc
Add the link to your tweet at the bottom of your competition Steemit post!
At the end of your article, add the word "onepagextwitter", without the quotes!
This is great because it will also encourage Twitter users to come join Steemit as well!
The bonus for this 0.5 Steem for every article that tweets and meets a level of quality and contest conditions.
How the winners are decided
The submissions will be passed along to the team at OnePageX , and they will decide the best method for picking winners and the winning articles.
This can mean that the team judges the submissions, or they ask our team to judge it. Regardless of the method, the final say always lies with the sponsor.
More information & recommendations:

Pay attention to spelling and grammar!
Feel free to use informal language such as "I would, etc"
Use information and resources above to learn more about OnePageX!
If you copy something, use quotes. This is an @OriginalWorks contest after all :)
Link the company's website: OnePageX so that your readers can do research for themselves.
Articles can be edited up until the deadline.

After writing an article, within a few minutes you should get one of these as a response to your article post:

If you don't get one, let me know by adding a quick message after you submit your link as a reply here and it will be done manually. Sometimes it can take some time, so don't worry if it isn't instant! Rest assured, as long as your link is shared as a reply here, everything is double checked at contest close to ensure that all articles are submitted!
100 submissions will get 2.5 STEEM each. The article must meet the contest conditions such as word length and a level of quality.
Disclaimer: @OriginalWorks makes no claims as to the legitimacy or operating procedures of contest topics. @OriginalWorks does not offer any sort of investment advice. This is a writing contest. @OriginalWorks only guarantees prize payout. The contest topic company may choose to share the contest submissions that receive prizes. If for whatever reason there are over 500 submissions, new submissions will not be considered.
Good luck to all the contestants!