LUN/BTC (My trade plan for this week)
They say buy low, sell high, thats the magical mantra to make profits by trading.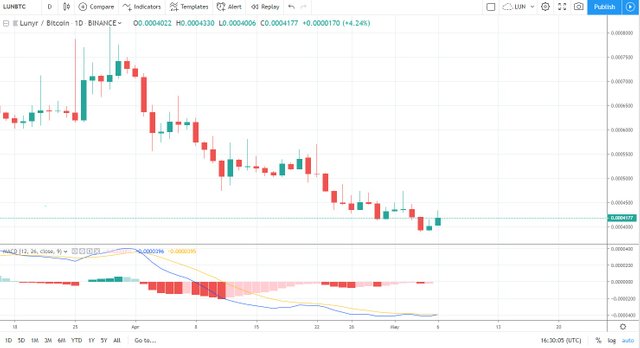 That's why with the hope of making some profits I have invested some small amount in LUN.
I bought at 0.0004175 BTC
I'm hoping to make a profit of around 15% from this trade, so my sell order is set at around 0.0004800 BTC
I think this might be a successful trade as the price is taking off after hitting its latest bottom.
Investment into crypto is always risky and have burned me a lot in the past, thats why on this specific trade I'm willing to risk as much as 5% so my stop-loss is set at around 0.0004 BTC
If the price hits off and puts me on a profit level, I plan to lock it by changing my stop-loss. Also I plan to HODL this trade for a week.
What do you think of this investment plan, if you got any suggestion or advice for me, feel free to drop by a comment, also let me know which coins are you trading today, and especially if you are also trading LUN.