The information provided here explores facts that are not widely known about the night Seth Rich was murdered.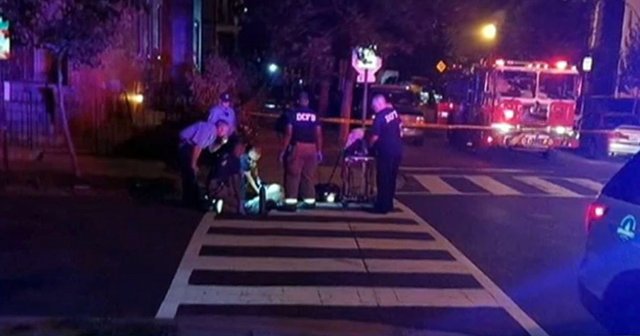 A private detective hired by the Rich family says there's evidence that Seth was in contact with Wikileaks.Obviously, this would suggest that Seth Rich was in fact the DNC leaker as many have long speculated. Wikileaks has not officially confirmed it as such but they did Re-Tweet the Fox News story today.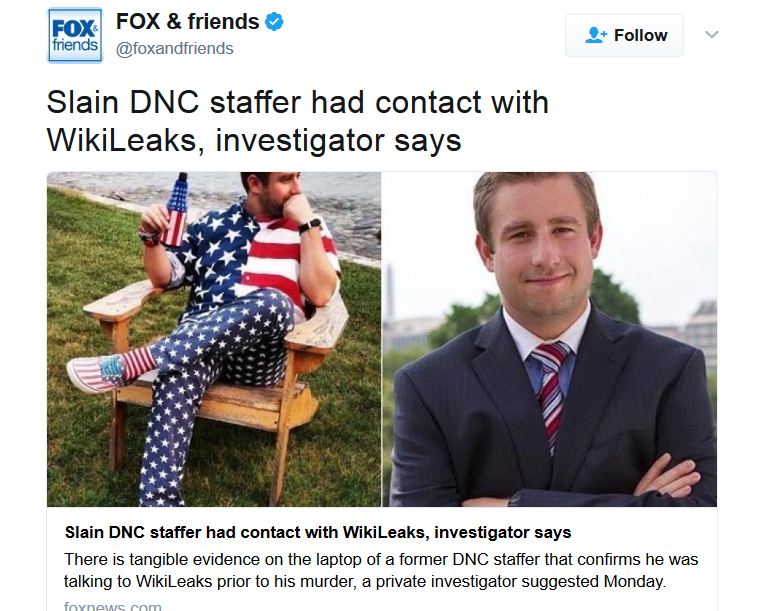 The implications are obvious if Seth Rich is confirmed to be be the source of the DNC leak, so I will not rehash those here.
(cough...cough...HRC).
Instead, my intention here is to bring some of the circumstances surrounding his death to your attention. I posted the following remarks in comments of @shayne's post (see below) about the Fox news report. I think the details I shared in the comments, and in a previous post of my own, are worth repeating.
First, I'd like to summarize the key aspects of the shooting.
---
Key Points
Seth Rich's face was bruised, suggesting a struggle took place
Nothing was stolen in the incident
Seth was shot twice in the back
Seth was in a lot of pain but did not realize he was shot
Seth lived for almost 2 hours after being shot
He was conscious and speaking with 'people' (police/EMTs) after the shooting
Seth did not die at the crime scene, he died at the hospital
The police officers were 'surprised' he didn't make it
A convenience store across the street partially captured the attack on video
Interview with family of Seth Rich (June 2016)
https://www.youtube.com/watch?time_continue=3&v=LOn09bhDXMo
---
Comments from @shayne's original post
Breaking Seth Rich Had Contact with Wikileaks Prior to Death
Thanks for posting this!
I think I can help clarify your questions about the details of Seth Rich's murder. You're right he was not robbed but also he was not killed 'execution style'. There was a struggle and he was shot twice in the back.
Here is an archive link to a January 2017 WaPo article about his death
After being shot twice in the back at 420am Seth Rich was STILL ALIVE, coherent and talking to people (police/emts) until he died just before 6am.
No word as to what he may have said to police and emergency staff.

There is also a CCTV video from a convenience store across the road that partially captures his shooting.
WaPo
Pieces of what might have happened were starting to come into focus as the family spoke to police, who suspected a botched robbery, and other emergency responders. The parents saw bruises on Rich's face when his body was sent home to Omaha to be buried. They surmised there'd been a struggle.
Police told the family, Joel Rich said, that a security camera from a small convenience store across the street captured a grainy image of their son collapsing and the feet or legs of two other people — possibly his killers.
Officials with D.C. police declined an interview request. A police spokesman would not confirm the existence of a video or reveal what Rich may have said after he was shot, saying that that information could compromise an ongoing investigation.
The Riches also learned that their son's watch and wallet had not been taken, although the watchband was damaged. There was something else that wasn't taken: an expensive Jewish chai pendant that Mary Rich had initially given to Joel, inscribed with the word "ditto," an inside joke from their courtship.
Officials told the Riches that their son, who died at a nearby hospital less than two hours after being shot, didn't know he'd been hit in the back by two bullets. He wasn't in pain, they were told. But he was confused. When Seth Rich was asked where he lived, he gave a previous address, Joel Rich said.
"They were very surprised he didn't make it," Aaron Rich said emergency responders told him. "He was very aware, very talkative. Yep, that was 100 percent my brother."
I was shocked to read some of the details, like how he survived for almost 2 hours before succumbing to his injuries and that the police were surprised he didn't make it.
What did he say during in his final minutes and hours?
This just adds another dimension to his murder...was he later finished off at the hospital?
---
https://steemit.com/pizzagate/@v4vapid/seth-rich-crime-scene-awan-brothers-saga-deepens-a-webb-companion-day-171